I always try to be prepared when we go out family hiking. I suppose you must be when there are young children are involved. I'm sure there may be a few essential hiking items that I take with us that you may not find useful. However, on a family hike, I like to be prepared. If there is something missing that you always take with you while out hiking with kids, then please let me know in the comments below.
What I Take When We Go Out On A Family Hike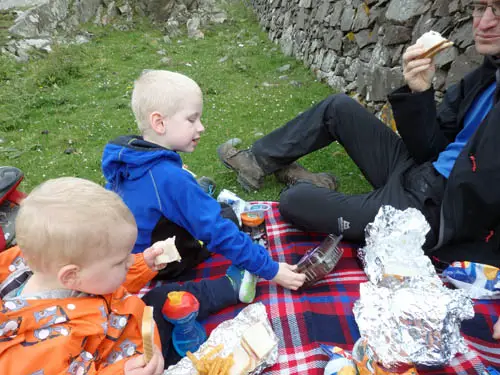 Food & Water
My first hiking essential is food and water. I always make sure we take enough food, snacks, and water/juice for everyone who is going on the hike. There is nothing worse than a hungry child and knowing you still have a while to go until you can get more supplies.
Spare Clothes
Depending what the weather is like when we set off will depend on how many extra layers we take with us. I find layers always work best when outdoors. Again, weather depending I find a base layer, mid-layer and then a jacket works best. If you have a non-walker in your family, then I would advise another layer if it's chilly. Although always check on them to make sure they are not overheating in their layers. Also, make sure that I take waterproofs, so everyone is dry if the rain does come!
First Aid Kit
The just in case hiking essential. I haven't had to use our hiking first aid kit so far, but it is always best to go prepared. Anyone can have a fall and hurt themselves. Even more so little ones as they never seem to walk…they always love to run! Big K is known to fall over and if he does fall over then it is usually the end of the world. We haven't done many long hikes or hikes in the mountains yet, but if we did I would also add in a bothy (emergency shelter) and a whistle.
GPS/Map
Before I had the boys, I didn't tend to use GPS devices. However, now I always have a GPS device with our route on it so I can reference against, but also a paper map. My dad is old school and uses the map while I tend to use the GPS. I am still trying to learn how to use a compass and map to get about but I always forget what I have learnt. There are a great couple of videos on YouTube from OS Maps which I found helpful for learning more about a map reading.
Sun Protection
The number of times we have been out hiking and have been burnt even though there hasn't been any sun. I have now learnt our lesson and always take sun protection with us in the form of creams and sun hats. As I have mentioned it is always best to go prepared.
Backpack
Kind of obvious but I need somewhere to put all the above items. Depending on how many of us are out on the family hike I either take my 20 litre backpack, and/or my mum's 30 litre backpack. Big K also has his own hiking backpack which he loves as it makes him feel more grown up.
Is there anything that you take out hiking that I haven't mentioned?