Welcome to my monthly family travel series where you can find out about other Bloggers favourite family travel destinations. Whether it be in the UK or abroad you will find out just why these bloggers love their destination and what you can get up to while there. If you are a blogger and want to take part then you can send us an email and we will send you more information. My next blogger is Ranji from Tooting Mama.

Favourite Family Travel Destination – Paris
Destination: Paris, France
Age of Children at time of Visit: Two children, Wonder Boy aged 11, and Super Girl aged 9
We have been living in Paris for almost two years. Our time here has given us a great chance to explore this beautiful city and curate for you a list of our favourite things to do in Paris with kids.
Paris is a brilliant city for kids. If you are coming to Paris to visit Disney or the Eiffel Tower then pop a couple of extra days onto your stay and venture into the city yourself. You won't be disappointed. Here are a few our favourite suggestions to help you on your way.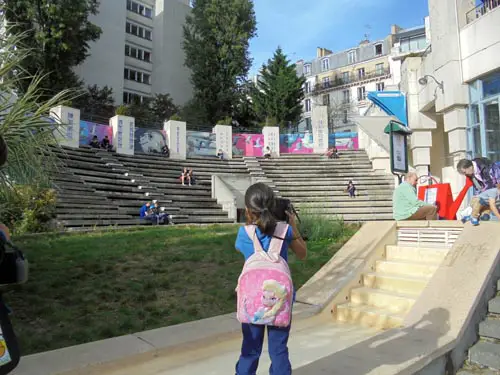 Our favourite park:
It has to be Jardin du Luxembourg. My kids love it here. It's a pay for park, so pull up a seat and relax while your kids play.
Jardin du Luxembourg is great for big kids and little ones. There is a loo on site, free water fountain, and a small kiosk selling refreshments.
And if you want to be a real Parisian, hire a miniature sailing boat to sail across the lake in the park. It has to be done.
Our favourite museum for kids in Paris
Without any doubt it is Cite des Enfants. The museum is in North West Paris, a part you may never normally get to see.
What's great about this museum is that it is designed entirely with kids in mind. The museum if totally interactive, giving the kids the chance to play and learn about science at the same time. Our favourite exhibit is measuring how fast we can run! My kids love trying to beat each other's times!
There are two different aged groups 2-7 and 5-11, you book online for your 90 minute slot then unleash your children. Afterwards, take your kids to the playground in Parc de la Villette, they will love the 25m dragon slide!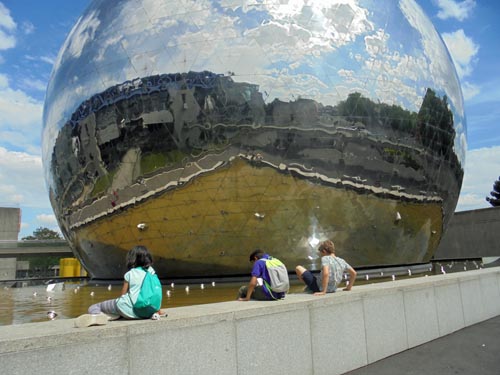 Our favourite view of Paris
OK you have a choice here, Eiffel tower, Montmartre or you could try from the top of Belleville Hill.
If you decide to opt for Belleville then you are in for a treat. You will arrive in the heart of one of Paris' Chinatowns (Paris has two). And along the way you will be treated to some of Paris' best street art.
To get to the view point, you need to go via Parc de Belleville, which funnily enough has an amazing playground for kids. You can tire them out here before climbing to the the top of the park, where you will reach the vantage point for a stunning skyline view of Paris. And while you are there you can admire works of the world famous street artist Seth Globepainter
By the way, I do recommend the cafe at the top of the hill, it does amazing cakes and pastries.
Our favourite French dining experience with kids
French kids are famed for eating everything put in front of them. In Paris there tends to be a dearth of kids menus. If there is it's usually steak hache et frites (burger, no bun and chips). Maybe jambon et frites (slices of ham and chips), poulet roti et frites (roast chicken and chips) occasionally  poulet nugget and frites (you know that that is!).
Finding Bouillon Chartier was a god send, a French restaurant that had something both of my kids would all eat. Bouillon Chartier will give you a chance to try the French brasserie experience.
When we have big groups of friends we bring them here. The price is reasonable, there's no reservation, and because it's popular be prepared to queue. But it's good fun and you will be seated. The service is brisk and jovial.
If you fancy stopping off for a coffee and a delicious pastry then I highly recommend you drop into A Lacroix Patissier. It's a patisserie started my an American mum living here is Paris. And yes it's very child friendly! And it just happens to be a stone's throw from Notre Dame.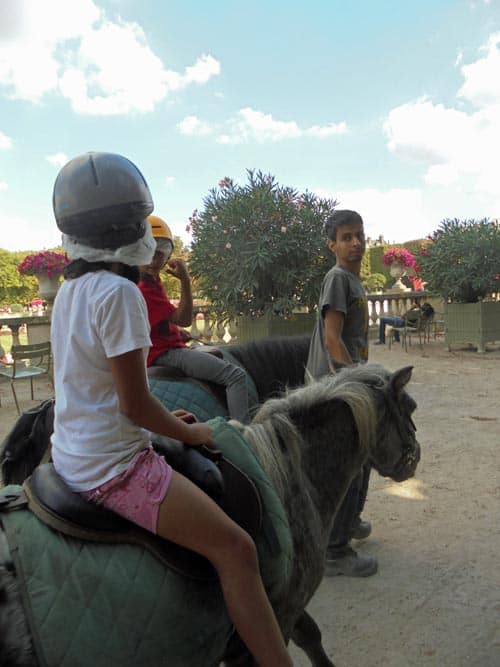 Top tips when visiting Paris
Paris is a walking city, pack good walking shoes for you and the kids. The metro isn't very buggy friendly, very few escalators and lifts. Bring a lightweight buggy – there's going to be a lot of lifting and carrying!
Address book
A La Croix Pâtissière
11 Quai de Montebello 75005
Nearest metro stop: St Michel, line 4
Bouillon Chartier
7 rue du Faubourg Montmartre
Nearest metro stop: Grands Boulevards, lines 8 & 9
Cite des Enfants
30 Avenue Corentin Cariou, 75019 Paris
Nearest metro stop: Porte de la Villette, line 7
Parc de Belleville
47 rue des Couronnes – 75020 Paris
Nearest Metro stop: Couronnes line 2
Jardin du Luxembourg
Rue de Médicis – Rue de Vaugirard – 75006 Paris
Nearest metro stop: Notre-Dames-des-Champs line 12
---
Thank you so much Ranji for telling us all about your favourite family travel destination. We visited Paris back in 2016 and spent all day looking around. There is so much that we missed, that I'm sure we will head back again! You can follow Ranji on Instagram, Twitter, and Facebook.