Welcome to my monthly family travel series where you can find out about other Bloggers favourite family travel destinations. Whether it be in the UK or abroad you will find out just why these bloggers love their destination and what you can get up to while there. If you are a blogger and want to take part then you can send us an email and we will send you more information. My next blogger is Emma from Our Fairytale Adventure.

Favourite Family Travel Destination – South East Asia
Destination: South East Asia
Age of Children at time of Visit: 3 & 2
As a family, we love exploring new places. We recently embarked on a four-month adventure backpacking around South East Asia, which has been such an incredible experience for us all. We have loved taking in new cultures, trying new foods and meeting people whose way of life is so vastly different to our own.
During our time backpacking around South East Asia, we have visited a mix of places, from bustling cities to quiet fishing towns and I've found it difficult to decide on just one that we have loved more than any of others. We loved Thailand for the beautiful temples, wonderful conservation work and incredible food. We loved Luang Prabang for its stunning natural wonders. We loved Cambodia for the ancient and iconic Angkor city complex and we loved Malaysia for the incredible people that inhabit it. Although if I had to pick just one place during our travels that I feel a piece of my heart belongs to, it would have to be Bali.
We have stayed in Bali for one month of our travels because, after 3 months of more fast-paced travel, we felt it was time to slow down and stay in one place for a longer period of time. My grandmother has always talked of a connection to Bali and told us that she thought I would feel that same connection when we touch down on Indonesian soil. She was right, the second we disembarked from the plane I felt a sense of being somewhere familiar. Almost like I had been there before.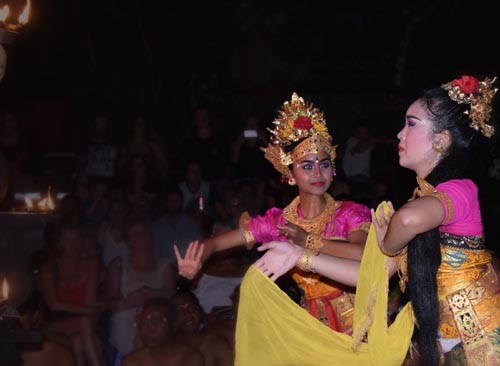 We started our time in Bali in Ubud, which is known for its beautiful rice terraces and spiritual temples. To be honest, I found it a lot more touristy than I was expecting, but we also found it a place steeped in Balinese culture and tradition. The people of Bali adore children and love to interact and play with the boys. It wasn't uncommon for wait staff in restaurants to find a football to kick around with the boys while we finished our food or for local street sellers to give them fruit as we walked past.
During our time in Ubud, we visited the beautiful 'Water Palace' which is one of the more centrally located temples (it is tucked behind Starbucks). We also ventured to a number of rice terraces including Tegallalang rice terraces. One of the best things we did during our time in Ubud was to see a traditional Balinese show. The show included the story of Ramayana, told through traditional dance. The show then ended with a fire dance, where a basket of coconut shells was set alight as a man walked through them with bare feet.
After our time in Ubud, we headed down to the south of the island to spend some time at the beaches and catch some truly stunning sunsets. We spent a week relaxing in the tourist hub of Seminyak, where we spent a lot of time by the pool, visiting some traditional restaurants and watching the crabs on the beach as the sunset.
We would love to have stayed longer in Bali, but unfortunately, our visa was running out and with it our time on the island. Although Bali is a bit of tourist hub generally, the kindest of its people, the beauty of its scenery and the strong cultural traditions still present there makes it a place that we will always hold fondly in our hearts.
You can see my full guide to Ubud with young children here
---
Thank you, Emma for telling us all about your favourite family travel destination.  South East Asia sounds like a great place for an adventure and it seems like you all had a lovely time as a family.  You can follow Jemma on Instagram, Twitter, and Facebook.