Welcome to my monthly family travel series where you can find out about other Bloggers favourite family travel destinations. Whether it be in the UK or abroad you will find out just why these bloggers love their destination and what you can get up to while there. If you are a blogger and want to take part then you can send us an email and we will send you more information. My next blogger is Alex from Better Together Home.

Favourite Family Travel Destination – Prague
Our favourite family holiday destination is Prague in the Czech Republic. We went for a week last summer when our daughter Lily was six years old.
I think most people shy away from city breaks with kids but I truly think that they can be incredible family trips if you do them properly! 
We spent a week in the beautiful capital city of the Czech Republic and we were lucky enough to stay with friends in their beautiful apartment in Mala Strana, which gave us a great base from which to explore the city.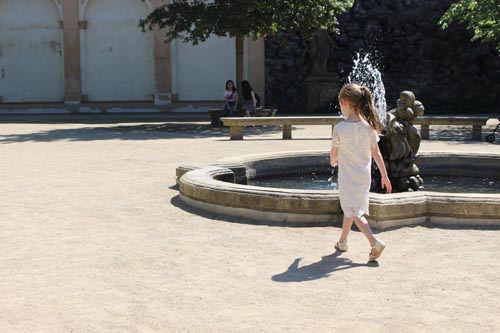 Prague is well known for its history, architecture and beer but there's also so much to do with kids in the city. Here are a few of our favourite spots:
Prague Zoo
Prague Zoo   was hands down the best zoo we have ever visited. It's just a hop, skip and jump from the city on the tram (a fun experience for kids in itself). It's huge, there are great facilities the animals have plenty of space and looked really well looked after. Our friends knew some of the zookeepers who work there so we even got to meet Eberhard the Galapagos Tortoise.
The zoo has plenty to keep children of all ages entertained, lots of places to eat and drink (and really reasonable prices for this kind of attraction). Lily loved the play park, the viewing tower and the chair lift which took you from the lower section of the zoo to the top and gave us incredible views over the city too.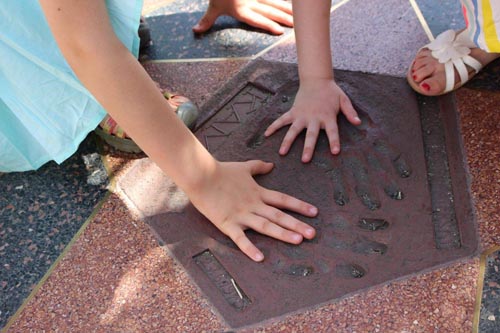 Wallenstein Palace and Gardens
Prague is an incredibly 'green' city and it felt as though we were forever stumbling across little parks and gardens. These made perfect pit stops for relaxing in between visiting different sights, or for having an impromptu picnic.
Our favourite of these was a short walk from the apartment we stayed in and was the Wallenstein Palace gardens. Here there were ponds full of brightly coloured fish and ducks, peacocks strutting across the grass, a hedge maze and a beautiful aviary. It was a great spot to enjoy the sunshine and the palace itself is beautiful (plus free entry when parliament isn't in session). Other great parks include the one on Kampa Island where you can also hire peddle boats in the summer and the Franciscan Gardens near Wenscelas Square – both have full playgrounds with slides/swings and other things to attempt tiring the kids out before bed time!
World War Two Tour
Depending on the ages of your kids the WW2 tour is a great opportunity to reinforce what they have learnt about the subject at school. Lily was a little young but I think older children would find it fascinating. Our tour explained the story of the Prague Resistance and allowed us access to the underground tunnels beneath the old town square. Our tour guide was great at explaining the war in a way that Lily could understand and she came out with a real thirst for more knowledge on the subject which was great.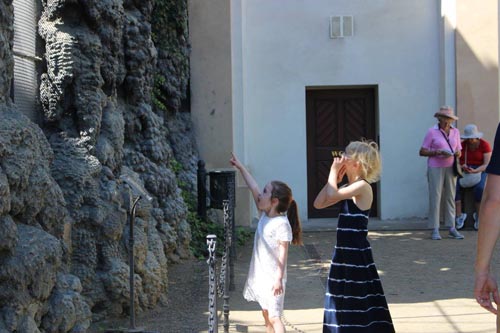 Petrin
Park and Mirror Maze
Petrin is a fantastic (if very steep!) park right in the centre of Mala Strana. You can take the funicular railway up to the top of the park which was a great experience for Lily. At the top of the park there are various gardens, an observation tower and a fantastic mirror maze. The mirror maze was great fun – all of the different mirrors distort how you look and it was a great way to spend an hour on a rainy afternoon.
Trdelnik
& Ice Cream
Two things you can't miss in Prague with kids are the trdelnik and the ice cream. Trdelnik are traditional sweet pastries topped with grilled sugar or cinnamon. We loved the cinnamon ones filled with Nutella. There are also some great ice cream parlours – our favourite made the ice cream into the shape of roses which was pretty exciting for Lily!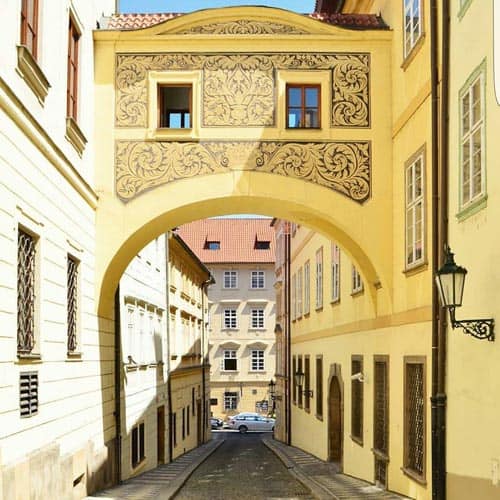 Prague really can be a great place to visit with kids, although I do suggest planning your itinerary well to avoid the busiest attractions at peak times of the day and building in plenty of rest time. It's also very hilly so if your little ones are small then you will definitely want to bring a buggy or carrier.
It is hands down our favourite destination that we've been to so far; it has a mixture of attractions that appeal to all ages and is just beautiful. It's also super budget friendly and the locals really love children.
You can read more about our travels here – Better Together Home Travels
---
Thank you so much Alex for telling us all about your favourite family travel destination. Prague has been on my list for a while, but we have heard mixed reviews from families. However, after reading about your experience we will be going now!  You can follow Alex on Instagram, Twitter, Facebook, Pinterest and YouTube.