We recently visited Venice while on a family holiday in Lake Garda. Venice has been on my to-do list for ages, so I was pretty excited to be finally going. There are always stunning pictures online and so I knew I needed to research the best things to do in Venice in such a short space of time. The top Venice sights are mostly in the San Marco district. My favourite places to visit in Venice are listed below, along with some tips!
Venice in 24 Hours or Less With Kids
About Venice
As Venice is a no-car zone, then it is a great place to take kids. Do not take a pram, as there are far too many steps and bridges. Take a carrier if your children are too young for lots of walking. If you arrive by train or bus, then you need to start heading towards the San Marco district. If you are time restricted like we were then you need to make sure you are seeing the major sights while you can.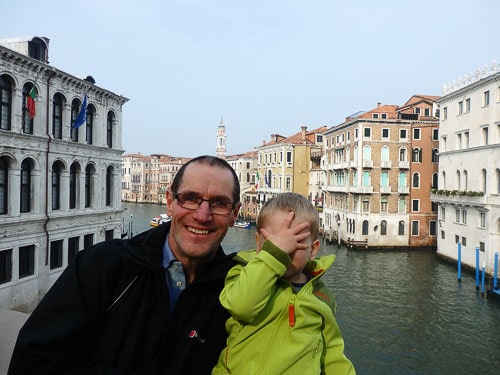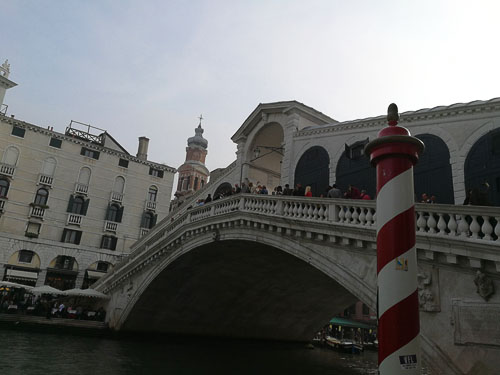 Rialto Bridge
Rialto Bridge takes you over the Grand Canal into the San Marco district. It is the oldest of the 4 bridges that spans the Grand Canal in Venice. It is very busy during the day, so make sure you keep your kids close by. You can also find many shops on the bridge, which just shows you how big this bridge actually is! If you are looking for good pictures of the bridge, then it would be best to head there early morning or late evening when most tourists will have gone.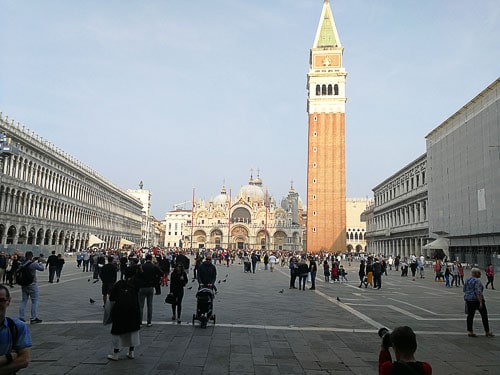 Piazza San Marco – St Mark's Square
From Rialto Bridge, you can make your way to Piazza San Marco known in English as St Mark's Square. Now you are in the main touristy area…which can mean it will be busy. We headed there in October and it wasn't too busy. However, I can imagine it being crowded in the peak season. One thing of note is that you are not able to sit down in any public spaces, people are actually hired to make sure you don't. You will also find places to shop and eat/drink in the square. Prices will be higher here than if you walked away from the main square. There are also many photo opportunities so make sure you have your camera!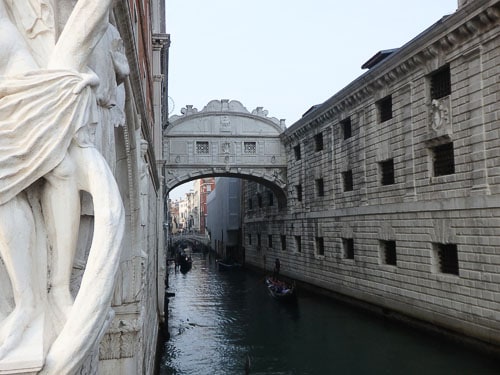 Doge Palace & Bridge of Sighs
Doge Palace is a beautiful Venetian Gothic style Palace and is another of the top sights in Venice that you should visit. Located in San Marco district, right near to the Basilica you need to try to get inside as it is absolutely stunning. To beat the queues you could buy your tickets online.
The Bridge of Sighs connects Doge's Palace with the prison over one of the canals. The bridge is made out of white limestone and is said to get its name from prisoners sighing with their last views of the beautiful Venice as they head to their prison cells.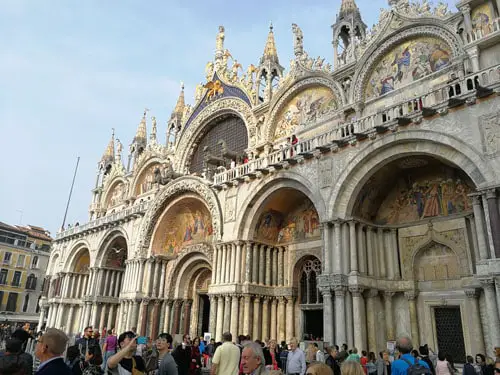 Saint Marks Basilica
The queues for going inside Saint Mark's Basilica can be very long, which is not ideal with kids. So if you plan on going inside then you could purchase a ticket online. Entry inside is actually free, so it depends if you want to skip queues you wait. If you wish to go into a few areas like on the balcony walk, then there is a small extra charge.
TIP: You are not allowed to go inside with bags. There is a bag drop off a building near to Saint Mark's Basilica. We had a couple of us wait in line, while two of us took the bags to the locker area. You don't want to wait in line to then have to get turned away to take your bags away. Inside, there is no photography allowed; although there were a lot of people doing this. You can see why people queue for so long to see inside!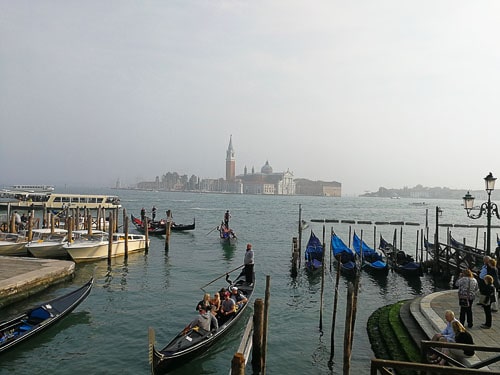 Gondola Ride
We didn't get time to do a gondola ride as we deemed it too expensive. Approx 80 euros and up to 100 after a certain time for about 40 minutes. You can share them as they take up to 6 people so that may help if you can find someone to share with.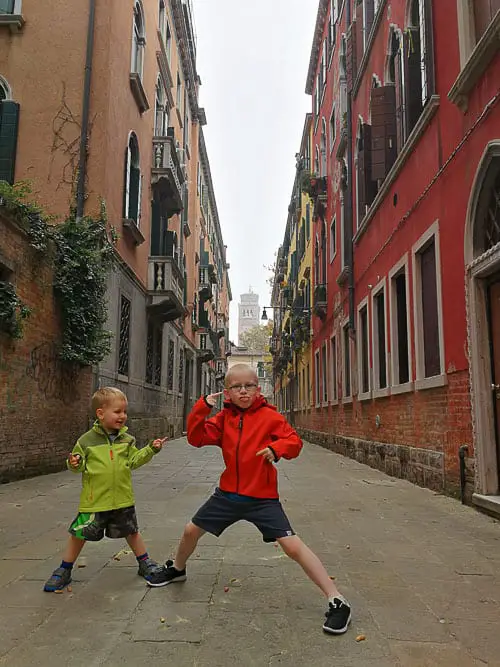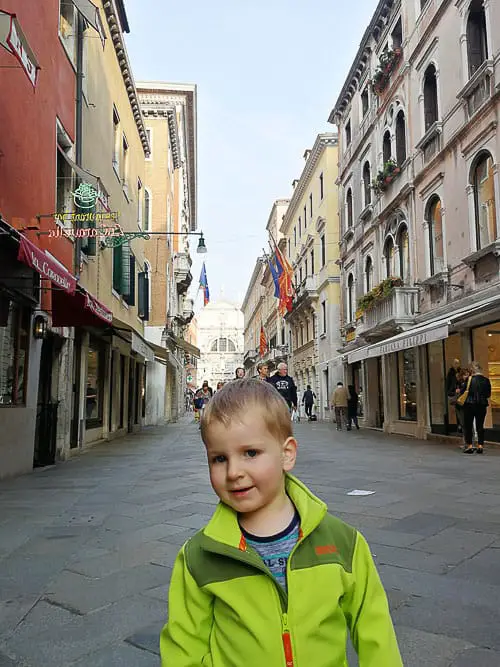 Explore The Streets
As I had a map we made our way towards San Marco through the streets of Venice. It is definitely not something to be missed as we found lots of beautiful streets, buildings and small canals.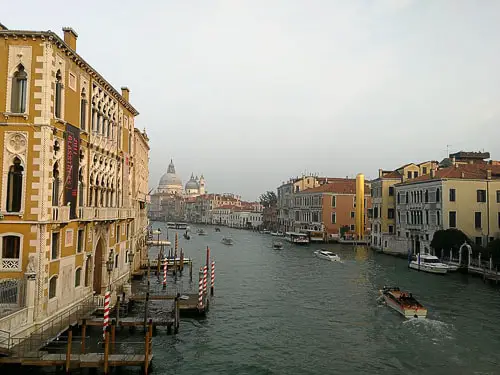 Getting Around While in Venice
There are a number of ways of getting around while in Venice. However, I would advise making sure you have a map; either paper-based or on your phone. Due to there being so many streets it can be easy to get lost and end up going in a different direction to where you want to go.
I made a map of all the top sights in Venice on Google Maps before we left, and had it on my phone. I then used it to navigate the streets and find our way around.
In Venice you will also find the following:
Water Taxi: These are bigger than gondolas but smaller than the Vaporettos. There is no set rates so they can be costly but a good option if you want to get around quickly.
Vaporetto: These are the big boats, and are water taxis but on a bigger scale. You can buy passes at the train station and are much cheaper than a water taxi or gondola
Gondola: As previously mentioned. About 80 euros for 6 people for 40 mins.
On Foot: We did it this way and found it the best way to get around. As mentioned before have a map, although if you do get lost then you may just find some hidden gems.
We spent about 4-5 hours walking around Venice seeing the top sights. This included stopping for lunch and also for drinks in the afternoon. It may feel a bit rushed and you may not see everything but it certainly is doable with kids.
Have you been to Venice with kids before? What did you get up to?