Let's talk about taking a once-in-a-lifetime trip with the whole family! Although Athens, Greece's capital, isn't always on the top of most people's lists for family vacations, you'd be missing out if you didn't visit this dynamic and historically rich city. It's a hidden gem waiting to be explored by your little adventurers! An enchanting city that has way more to offer than you could ever imagine, especially if you're a young family with adorable tiny children in tow. Get ready to join me on an incredible adventure through ancient wonders and modern delights that will be treasured by your entire family for years to come.
Museums for Kids: Learning Through Play
Museums? With kids? Absolutely! Athens boasts museums that are as interactive as they are informative. Imagine your kids stepping into a world where history comes alive before their eyes. The Acropolis Museum is a must-visit. Here, the past comes alive via interactive displays and fascinating narration. Young children may explore actual items from the past up close and personal. Other great alternatives with lots of interactive exhibits and activities made especially for kids are the National Archaeological Museum, the Museum of Greek Children's Art, and the Hellenic Children's Museum.
If this sounds like something your family would like, consider booking a vacation package with Exoticca, a reputable tour operator with destinations worldwide. They offer trips to Greece that feature, among other amazing sights and activities, a guided Acropolis Tour and a few nights' stay in Athens.
Parks and Outdoor Fun: Embracing Nature's Playground
Space for outdoor activities and fresh air are essential components of any successful family vacation. And Athens has plenty of both. The city has many beautiful parks where people can go on picnics and enjoy family-friendly activities. With the sound of children laughing as they run and play a passionate game of tag, parents can also relax under the cool shade of old trees, taking a break to appreciate the breathtaking scenery.
Tasty Greek Food: A Journey for the Taste Buds
Sampling Greek food in Athens is like going on a fun and exciting culinary excursion that the whole family can enjoy. Around a rustic table, warmth and laughter will flood the room as you and your family enjoy an assortment of mouthwatering mezes, each bursting with distinctive and enticing flavors. Other must-tries are tzatziki, a Greek dip made of yogurt, cucumber, and garlic, and Spanakopita, with the satisfying crunch of the spinach and feta cheese-filled flaky pastry. It's like tasting a flavorful symphony that's been fine-tuned over generations.
Crafting Workshops: Where Creativity Comes Alive
There's nothing like the satisfaction of creating something with your own two hands. It's like magic, and you and your loved ones can experience it in Athens. The entire crew can learn a variety of traditional handicrafts together at one of the many offered classes. A chance to make something completely unique, the family will learn about Greece's fascinating past and present, as well as show off their artistic skills. The joy on your kids' faces as they mold clay into Greek masks or paint miniatures of ancient artifacts will be well worth the effort.
Exploring Athens Together: Blending the Old and the New
More than a museum of antiquity, Athens is a city where the past and current coexist in perfect harmony. Visit busy markets to experience a sensory overload of sights, sounds, and aromas. Another easy yet unforgettable thing to do is to take lengthy walks in areas with both historic sites and hip restaurants. By getting out and about together as a family, members of all ages can experience the city through the collective energy of many generations.
Bringing Memories Home: Capturing the Magic
Every joyful expression, hearty chuckle, and special moment with loved ones should be captured and kept forever. Bring a camera or mobile phone so you can record your kids' emotions and reactions as they discover something new. These pictures will become visual narratives, cherished recollections that can be looked at and shared again and again. And while you're there, don't forget to bring home some mementos to show your loved ones back home and remind you of the wonderful time you had in Athens.
Tips for a Smooth Athens Adventure with Kids
In the mood to take the kids on an adventure in Athens? To make sure your family vacation goes as smoothly as a dollop of Greek yogurt, here are some tips from other parents:
Plan Ahead:
Preparation is the key because, let's face it, kids need routine. Create a plan that allows for some wiggle room, with stops at kid-friendly places and some leisure for those unplanned ice cream runs.
Pack Smart:
Remember to pack sunscreen, hats, and comfortable walking shoes for the whole family because Athens can get rather warm and sunny. And a first aid kit for the inevitable cuts and bruises.
Snack Attack:
Bring a selection of snacks to help keep the kids energized on their adventures.
Kid-Friendly Accommodations:
Pick a place to stay that addresses the needs of children. It helps immensely if there is a kitchenette and room for the kids to run around.
Learn Some Greek Phrases:
Teach your children the value of learning about other cultures and how even a simple "Kalimera" (good morning) can make someone's day.
Be Camera-Ready:
Children often have more stamina than the Duracell bunny. You won't want to miss any of the action, so make sure your camera or phone is fully charged.
Embrace Naptime:
If your kids still take naps, make sure to structure your day accordingly. The day (and your sanity) may depend on it.
Take It Slow:
Slow down! The world is full of delights that little feet and minds need to explore.
Engage and Educate:
Make your touring more of a quest. Use narrative to pique your children's interest in the past.
Be Flexible:
It's fine if your plans change unexpectedly. The unplanned side trips could end up being the most memorable ones.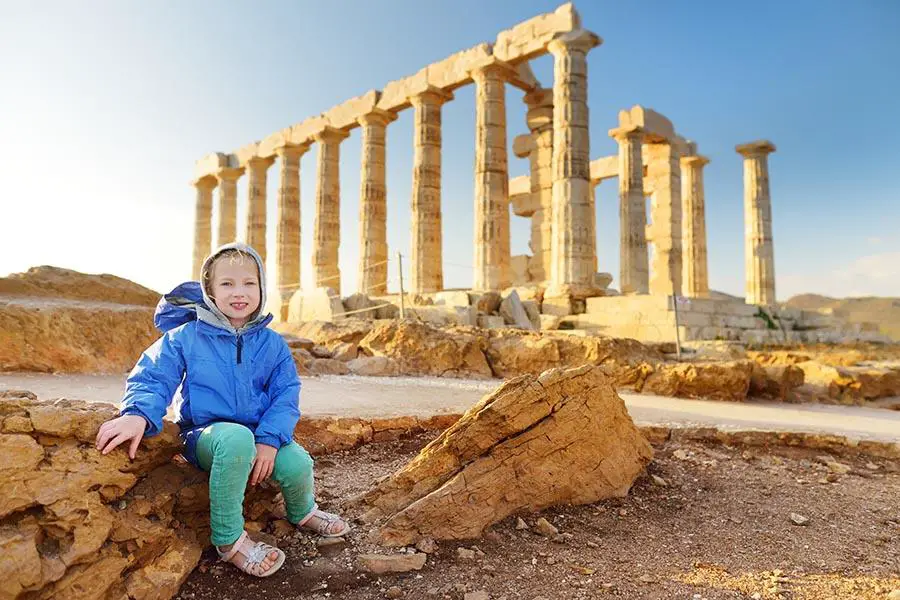 Athens: A Treasure Trove of Kid-Friendly Experiences
Just imagine the amazing experiences that await you and your loved ones in Athens as you plan your trip. Envision the sounds of joy and shared discovery reverberating through the old hallways as you and the little ones enjoy some time together. These moments create the backbone of your family's narrative, serving as a unique link between different generations. Athens is more than a vacation spot; it's a treasure trove of unforgettable experiences.