So you've just booked yourself a week-long holiday. Yay! (Cue happy dance).
Whether you are going for a week of fun in the sun on the beach, or a snow-filled adventure on the slopes, you'll no doubt be excited.
However, after this initial exuberance subsides, you'll soon have to turn your attention towards packing.
Obviously, you won't want to lug around multiple suitcases, with you on the plane. But equally, you are going to want to have enough clothes at your disposal to cover most eventualities.
So how do you pack light for a family holiday seven-day trip?
In this article, we'll try and answer that question for you by advising on how to avoid overpacking for your family holiday in 7 easy steps.
Important Note: This post may contain affiliate links. I earn a commission from qualifying links in this post. (Disclaimer)
How do you pack light when travelling with kids?
The thing about packing for a week-long family holiday with kids is that it can be as easy or as difficult as you make it. All you need to do is be smart and strategic.
In fact, it's entirely possible to travel as a single parent with a couple of kids, using just one suitcase and hand luggage only. Here are some tips on how you can do that.
Focus your mindset
The first thing you need to do is focus your mindset on packing light for a family holiday. If you have this goal in mind you are less likely to pack items 'just in case' you need them.
Once you have come to terms with this, it is a good idea to write down all the things you think you need to take on holiday for you and the kids.
Putting it in writing is a good initial process, as it helps you really think things through. Which in turn will make packing much easier when you come to do it.
Consider your luggage
Baggage allocation at airports goes on weight – with 23 kg being the maximum you can take in terms of checked luggage and 7 kg for carry-on luggage.
This is actually quite a lot, although you could lose a significant proportion of this allocation if you have a heavy old suitcase or backpack.
To maximise the number of items you can take, it is worth buying a new suitcase and/or backpack which is big, yet lighter to carry than the one you currently have. This way you will be able to fit more of your stuff in it.
Do not pack last minute
You will obviously have to put some last-minute items into your luggage. However, don't fall into the trap of waiting until the night before you fly to pack.
This is when panic mode could set in, and you start to just wildly pack everything you own into your suitcase and luggage.
Instead, start packing at least 3 – 5 days before you are due to head off. This will enable you to make sensible and considered decisions, in conjunction with the list you previously wrote.
Research what you can buy over there
Before you pack, it is worth researching what exactly you can buy either at your hotel or in the immediate vicinity.
Items like shampoo, conditioner, body wash, facial cleanser and sunscreen are just a few of the many things you will be able to purchase on holiday.
All of these are quite bulky items, which not only take up space where clothes can be in your suitcase but also a valuable weight too.
Therefore it is a good idea to work out what items you can get at your holiday destination and buy them over there.
If you have your favourite brands that you absolutely have to take with you, try and find smaller versions of them to pack.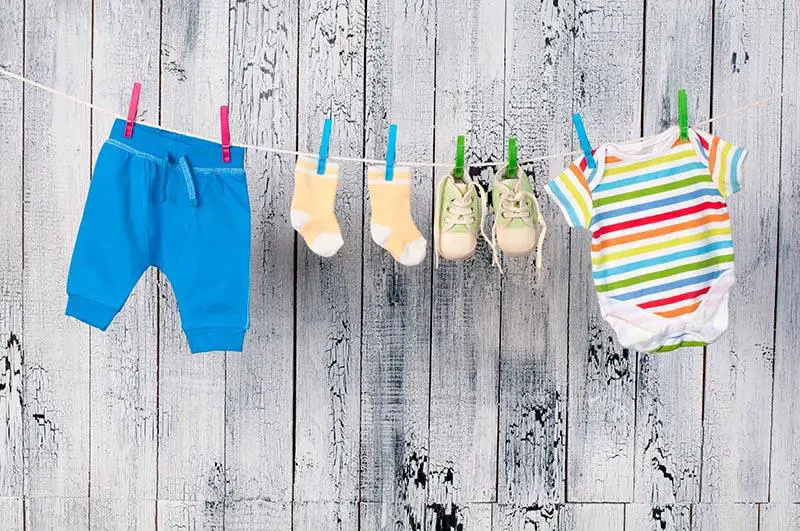 Think about the laundrette
Something else that is worth bearing in mind on how to pack light for travelling with kids is whether there is a laundrette either in your hotel or near it.
Whilst nobody wants to spend too much time on their holiday doing their washing, it is something to think about when packing. As you will be able to wear the clothes you pack twice if you wash them 3 or 4 days into your week-long holiday.
Some hotels actually do the washing for you, which although generally more expensive than going to a laundrette, might be a compromise you are willing to make when it comes to packing light.
Consider taking old clothes to chuck away
Who doesn't love clothes shopping?
Well if you and the kids do, then one clever trick, to reduce the number of items you pack for your holiday, is to take some old clothes with you.
Old clothes could be very useful to wear in and around the swimming pool, as well as on the flight over, or underneath jumpers or ski jackets as required.
Then after you have worn them once, you can always either chuck them away or donate them to a local charity (your hotel should be able to advise of one) and do some clothes shopping to replace them.
The new clothes you buy can then be worn in the second half of your holiday.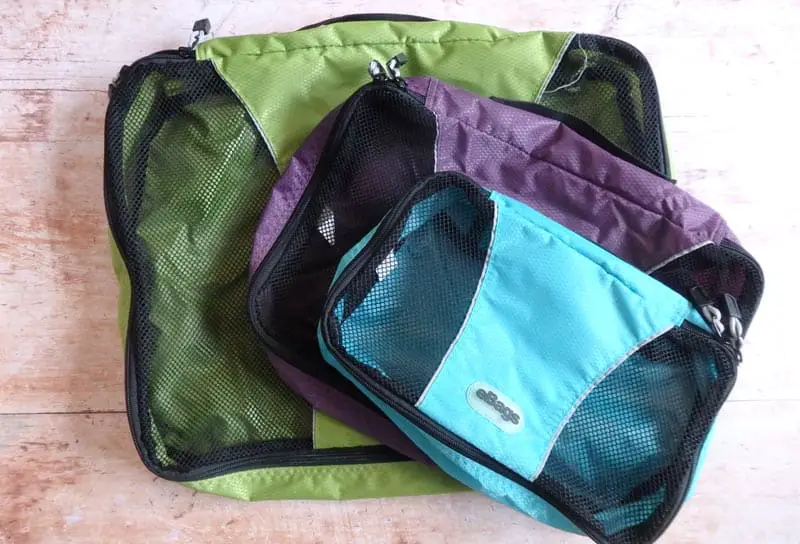 Packing
Irrespective of how big your suitcase is you will only have a finite amount of space to work with. So it is important to pack as light as you can.
In this respect, you may wonder, does rolling your clothes make your suitcase lighter? Well, it might not necessarily do that, however, it does allow you to pack more items when you condense them in this way.
When packing, try and be ruthless. For instance, you shouldn't need more than three pairs of shoes, including the ones you'll be wearing on the flight. You also probably don't need more than one jumper or pair of jeans either, especially if you are going to a warm climate.
Using Packing Cubes For Family Travel
Likewise, if you are planning to be on the beach or by the pool all day, be mindful that you will be in your swimming costume for most of the day. So will therefore require fewer clothes than you would if you were going on a city or snow break.
As a general rule, when it comes to clothing, the key is to take more tops than bottoms. If you or the kids have a black skirt, pair of shorts or jeans, for example, you can wear them with a wide range of different t-shirts.
For women and girls, dresses are a great thing to take, as are sarongs – which can also be worn as a dress, over the shoulders or a headscarf.
If you are worried about how to pack light for carry-on luggage, it is a very good idea to pack as many of your lighter clothes into it as you can in it. Reserve other items like food for a carrier bag which you can take separately, or throw away once consumed.