On our recent trip to Islay we had already walked Laggan Point on the previous day, so we decided to explore Bridgend Woods, Islay too. Myself and my dad had already walked the Standing Stones loop in the morning which only took us an hour. So after we had lunch at the Ardbeg Distillery we headed to Bridgend Woods to explore for a bit.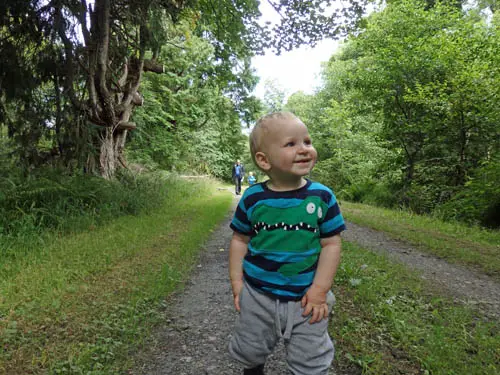 Exploring Bridgend Woods, Islay
We parked the car in a little car park at the road that goes to Islay House Square. It was empty when we arrived so we changed into our boots and put our bags on. This time I carried Little K in my Boba4G carrier which I find a lot more comfier than the big carrier used on the previous day.
The Woollen Mill
We started our walk heading towards the Woollen Mill, stopping to take pictures and letting Big K go explore. The Woollen Mill is the only mill on the island but unfortunately it was closed so we had to continue our walk without a look. If you are going to go for a visit then it is open Mon-Sat so may be worth a visit if you arrive on the right day!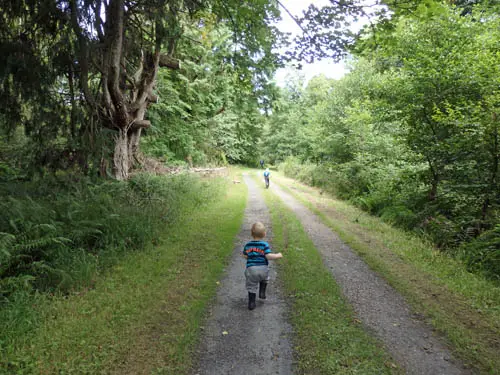 Little Legs
After we passed the Woollen Mill we decided to let little K down for a bit to stretch his legs. Normally at home he refuses to walk and it can be a task to get him to walk any distance. However, I have finally found a way to make him continue to walk…by singing Old MacDonald over and over. So if anyone was in Bridgend Woods for a lovely peaceful walk and could hear animal noises through the trees, then I do apologise as it would have been me and my family! ha! I think he managed about a mile of walking before I put him back in the carrier. Which for an 18 month old is pretty good.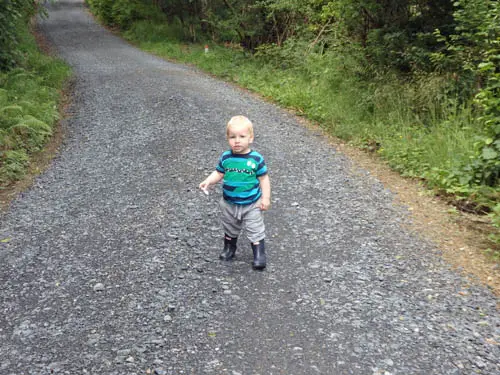 Claggan Strip
We had read online that this part of the walk could be boggy but we walked it anyway. I don't think we realised it would be quite as boggy as it was. We also had to climb over fences and trees (which isn't that easy with a toddler on your back). We all worked as a team helping each other around the boggy sections and catching each other as we jumped the biggest sections. Some parts took some amount of planning to get us all across, we found it funny as the 3 adults stood and planned the route across the boggy sections.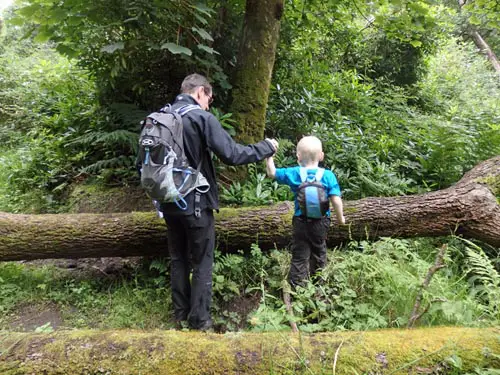 Overall
It was a great walk, about 4.5 miles in total i think. It was hard work with Little K on my back trying to climb the fences and there was one gigantic fallen tree to climb. However, big K announced it was the best walk he had ever been on, as it was so much fun. We really need to get out and do more walks like this as the kids enjoyed it so much. Once we arrived back at the car our legs were covered in mud and our boots were soaked but we all enjoyed it.
Have you ever been on a walk where you had to climb over trees and fences?