We recently went to the stunning Isle of Islay, in Scotland for a long weekend break. The trip was for business purposes, but as I am in a family business it meant my parents, and my two boys could come along too. Laggan Point from Bowmore is roughly 14km  walk and is pretty flat, so it is great for kids. Although if they are not used to walking that far then they may struggle.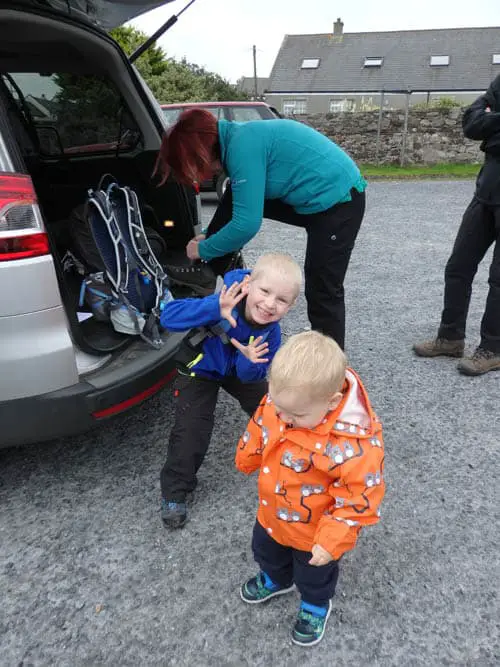 Laggan Point from Bowmore, Islay
We managed to park up in Bowmore behind the Tourist Information for the duration of our walk. The car park is free and was empty when we got there at 9.30am on a Saturday morning. We quickly got kitted out in our gear, nipped to the toilet (conveniently located near the Tourist Information) and then set off up the road.
The first part of the walk was uphill through the town, but once we joined the path at the top of the town the rest of the walk was pretty flat. The views were great however the only thing that was annoying was that the first part was on a single road going to the local tip, which meant we had to keep an eye out for cars coming. Not the best with young kids but once past the tip we were and onto the farm tracks Big K could then run about.
Taking Pictures
While out on our hike we had given Big K the task of taking some pictures. He was up for the challenge and some of the pictures he took were pretty decent. I can see him being a great photographer when he is older. He is not one for staying still for long so getting him to concentrate and keeping the camera still took some patience.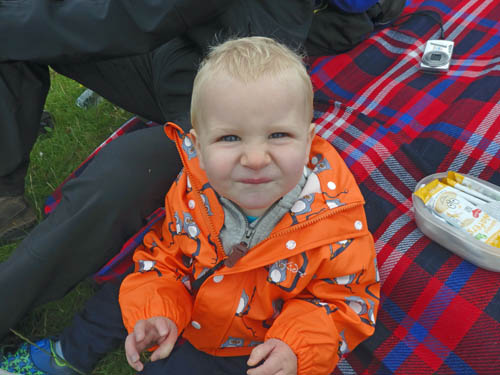 First Pit Stop
We walked for a bit longer and decided that once Little K woke up from his nap we would stop for a snack. We found a ruin (building) and set up our picnic blanket nearby to protect us from the wind. The boys were having so much fun and we took several more pictures while eating our snacks.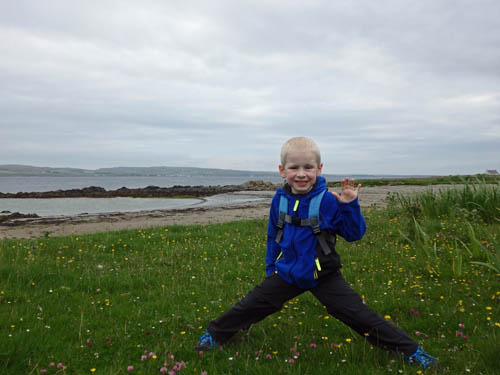 Stunning Scenery
You get sea views throughout this walk and its great to see such beautiful views. Unfortunately, it was pretty overcast on the day we walked but I am pretty certain the views would be even better when sunny. Little K was constantly shouting Baa at all the sheep (which did get slightly irritating after a few hours!) however it kept the boys entertained. Happy kids equal happy grown-ups!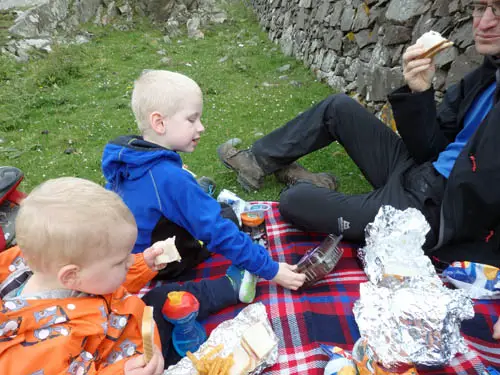 Lunch Stop
We had walked just over halfway and had just passed Laggan Farm, so we decided to sit down near a stone wall for some lunch. We got the picnic blanket out and got all our bits and pieces set out. At this point it started to drizzle, but we knew the heavy rain was forecast for 2pm. The boys enjoyed their little picnic; we don't have a lot of picnic's back home, we should  really do it more often.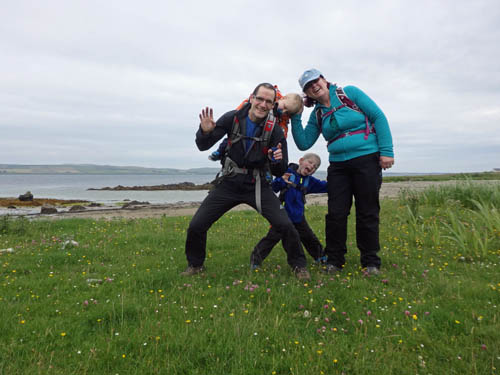 Working Together
The good thing about this route was that most of the tracks were farm tracks, which was safe for Big K to go and explore if he wanted. The first and last section was on roads, however, they are not as busy as the roads back home. There was one small section of track that was very wet in sections which meant we had to go off track and find our way through the boggy moorland. At one point we had to take Little K off my dads back and pass him across a boggy area. Then throw Big K across. Lots of fun and teamwork to make sure everyone got across.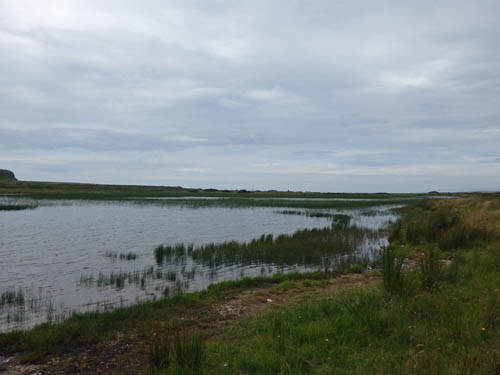 Final Stretch
Before reaching the main road and our final stretch, I took Little K as my dad was getting tired from carrying him. Big K was also starting to get tired. He has walked about 7 miles before but this was a long walk. We kept ploughing on. As mentioned above the last section was on the main road, however, we only saw maybe 6 or 7 cars for the 1.5km we had to walk. It also started to rain at about 1.30pm which meant we had to quickly stop and put our rain jackets on. We didn't have too far to go, so we kept moving and finally reached the car!
A Cake Well Done
Once back at the car we quickly took our walking boots off and successfully transferred Little K from the carrier to the pram (always feels good doing a successful sleeping child transfer!).  We then headed off to a little cafe for a cake and a drink.
We really enjoyed this walk and even though it might have been slightly too long for Big K, he still enjoyed it and wants to go out walking again!
Do your little ones go out hiking/walking?