France is a great place for a family holiday! Over the years I have done many family holidays in France. This is all about our stay at Le Belledonne in the Alps and also my view on the Eurocamp Esprit caravan. We stayed at this park for 3 nights and we had 2 caravans between 4 adults and 2 children. I love multi-generational travel so one of my tips is to make sure each set of family has their own space to retreat too. You can read more about how to travel with grandparents here.
When we stayed at this Eurocamp parc they only had available the 2 bed Esprit Caravans, Safari Tents and the Classic Tents. We decided the caravan was more our style as we are not too keen on proper camping in tents (wandering around in the dark to the toilets during the night doesn't appeal to me!)
My Views On The Esprit Caravan at Le Belledonne Camping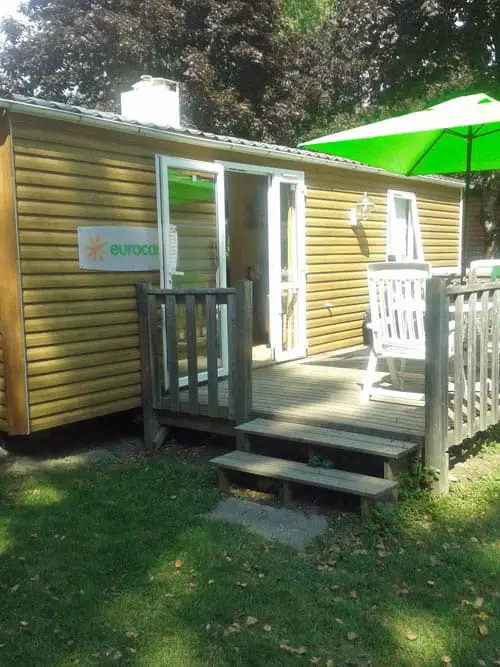 2 bedroom Esprit Caravan
Upon arrival at the park we were taken to our caravans and we were very impressed with them. We each had a modern looking 2 bedroom Esprit at Le Belledonne. Inside both had one double bedroom and one twin bedroom (with a bunk bed and one single bed). I had the impression the caravans would be cramped but they were bigger than I thought.
The open plan living area was spacious with the kitchen area having a full size fridge freezer, microwave, oven and storage areas. There was also a foldaway dining table and plenty of seating space in the living-room. If you love music then there was also a radio included. However, we never used ours. There was enough storage (especially wardrobe space) for all your things and the cot fitted in the second bedroom with ease. I thought the cot would be in the living area but one of the beds folds away to make space for the cot. Very handy!
From the living area, there were two patio doors which led out onto the nice decking area which had a table and chairs plus a parasol, BBQ and a clothes airer. Remember, for this type of caravan you have to pre-book bedding unless you are bringing your own.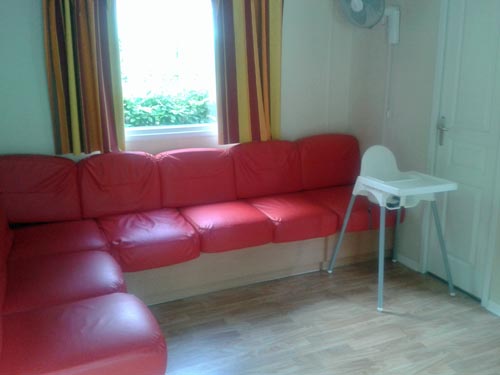 Now for the cons
Annoying whistle kettle as I call them. Would be so much easier for Eurocamp to invest in normal kettles for all types of caravans.
Our caravans at Le Belledonne had no A/C which was definitely needed. Such a shame, but didn't spoil our stay.
No toaster
As you can see there was not much wrong with the Esprit Caravan and the cons I've listed other people could be fine without. Eurocamp staff were much more helpful and friendly than others we have met on other trips. They gave a wonderful welcome meeting and gave us leaflets. That's how it should be done. Well done Trevor and his wife!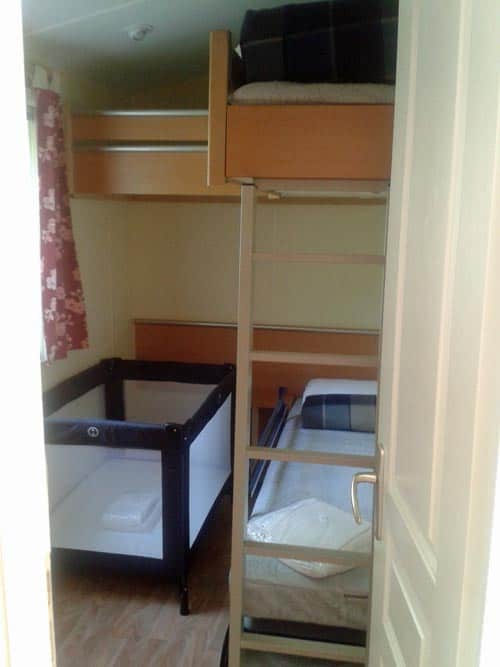 Esprit Caravan Features:
2 bedrooms
Living/dining area
Oven, grill and gas hob
Full size fridge-freezer
Mosquito nets and blackout blinds/curtains in all bedrooms
Stereo iPod dock
Microwave
Hairdryer
BBQ where permitted
Extras that you can book (if required):
Linen, towel and duvet hire
Essentials pack
Toiletries pack
Welcome pack
Bed guards
Potty
Highchair
Travel Cot/Linen
Changing Mat
Baby bath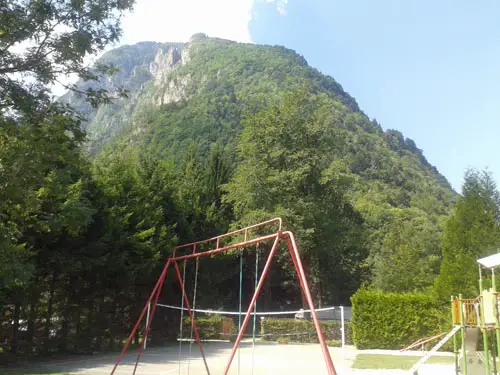 RNC Le Belledonne – Family Friendly Camping
We had some problems finding Le Belledonne but once we found it our first impressions were good. It was nice and clean, not overcrowded and well laid out. The pool was great, and my boys enjoyed it very much and had fun (my eldest son is scared of water and I have been trying for ages to get him to try and swim, so getting in the pool was a big achievement!) When we stayed we were given a card for the kids (if they are between 3 and 12 years old). With these cards, they can get free stuff with it. We didn't use it but it seemed a good idea.
We didn't use the Le Belledonne restaurant as we headed up Alpe d'huez one night and then into Le Bourg-d'Oisans and Allemont on the other nights. Although we had a look at the restaurant menu and it didn't look too bad if you didn't want to venture out or want to cook.
Only negative we had for Le Belledonne was there were only 2 washing machines on-site and one was broken during our stay. This meant there was a long queue for the remaining working washing machine. A full list of facilities can be found below or on their website:
Food & Drink Facilities at Le Belledonne:
Swimming, playing, sports and recreation at Le Belledonne
2 swimming pools
Recreational team (from May to September)
Playground equipment
Sauna
Hammam
Cinema
Tennis court
Volleyball field
Boules
Table tennis
Training circuit
Others
Shop
Library
Supermarket (7km)
Launderette
Bike maintenance workshop
Internet and WiFi hot spot
Adapted sanitary block for handicapped guests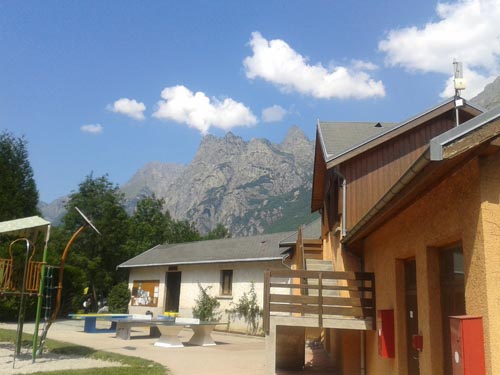 Nearby Le Belledonne you have:
Nearest Lake: 6km
Nearest Town: Allemont 2km
Nearby Towns:

L'Alpe D'Huez: 20km
Château de Vizille: 20km
Grenoble: 45km
The verdict of Le Belledonne
I would stay at Le Belledonne and in the Esprit Caravan again. I enjoyed it and wished we could have stayed longer!! As we only stayed a couple of nights we didn't get to explore as much as we wanted. Le Belledonne is by far the smallest caravan site we have stayed at and one of our favourites.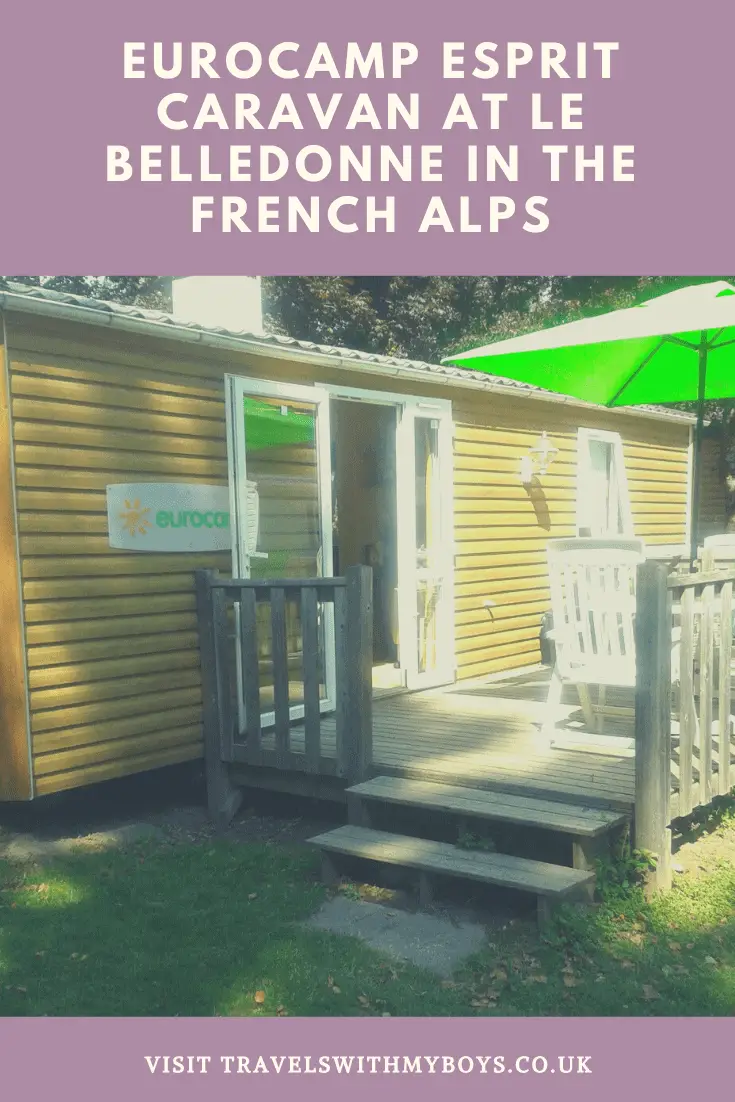 * Reviews are my own opinion. I haven't been paid in any way for writing this.