Having stayed at many caravan sites over the years, I thought we would write up our stay at Le Ranc Davaine in the Ardeche. While staying at the Eurocamp parc we stayed in the Euro Camp Aspect caravan. We stayed at this park for 7 nights and we had 2 caravans between 4 adults and 2 children in August 2015. This was the first stop of our 2 week holiday in France. The Aspect Caravan is the top of the range caravan, which also came at a price at this parc (just over £1600 for the caravan for the week, in hindsight I probably wouldn't book this type of caravan again unless it was under £900 for a week).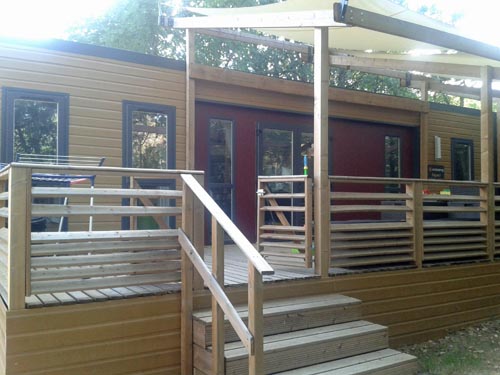 Aspect Caravan Review
Aspect Caravan
We had the 3 bedroom Aspect Caravan which consisted of 1 double bedroom, 1 twin bedroom and 1 bedroom with bunk beds. This is a very modern Caravan/holiday home, it has lots of internal living space (although a wardrobe is placed within the living room/kitchen area which is slightly out of place). From the living area there are two patio doors that lead out onto a lovely outdoor decking area with a gate; which is great for having young children around. The decking is also covered with a permanent canopy. Great for sitting out in the evening or just to escape the sun for a while.
You get given everything you need for cooking and there is also a TV screen (Its not a TV with channels, you can play DVDs on it), a kettle and toaster (I think this is the only type of caravan where you get a proper kettle and toaster!).
The things I found I didn't like were:
Lack of kitchen storage (I used the wardrobe in the living area, but if that was already in use then would be lacking in space)
The microwave is rubbish compared to some of the other Eurocamp caravans we have stayed in
Sleeping wise, the mattresses and pillows were shockingly rubbish. The pillows were too soft and mattresses were too hard.
Included in the price of the caravan, you get your own MIFI unit to use and you get your bed linen also included.  Normally you have to purchase this on top of the price of the accommodation.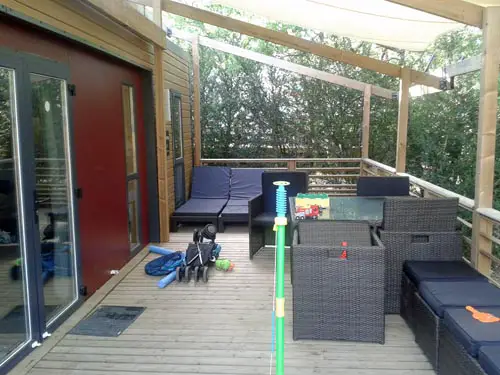 Problems we had while on holiday:
The following happened to our caravan only, my parent's caravan was perfectly fine.
No car park space next to the caravan (instead there was a dedicated car park), this meant countless journeys back to the cars to get everything out. On departure, we decided to reverse up the path…I don't think we were supposed to but it took half the time to pack the car back up.
With the new Aspect caravans, you get a WIFI (MiFi) unit for your personal use. When we arrived ours was completely dead and with no charger. Luckily we used my parent's charger which worked. If you want to read about how to get WiFi while on holiday we have written about how we get WiFi on holiday.
Our electricity kept cutting out on our first two days, which doesn't help when you're in the shower and then plunged into pitch blackness!
Our AC was broke and when we said to the Euro Camp staff they said someone would be round to fix it…nobody came. Not good in 40-degree heat and with 2 small children.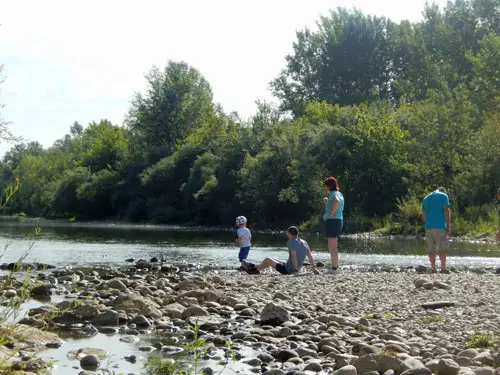 Our Biggest Complaint
One night we smelt gas, we phoned the emergency number which didn't work, I quickly went round to the Eurocamp tent and nobody was there so left a little note for them. Tried the emergency phone again upon my return to the caravan and it worked. Cut a long story short we had to stamp our feet and demand someone come out to see the caravan asap as we have a 6-month-old and a 4-year-old. Were they happy? No, they weren't.
They kept on telling us that yes they could smell gas, but we would be fine! Eventually, someone came out and checked everything over and everything was sorted. The Irish team leader seemed to be the only one with his head screwed on. He was nice enough to come to check on us the next day and apologise for his staff's lack of help.
Staff Attitudes
Another problem we had and found quite annoying was the Eurocamp staff (apart from the Irish team leader). When we have been to other Eurocamp parks, upon arrival we have been given a welcome meeting with the person handing out leaflets and telling us about the area…this time nothing. Although maybe things have changed since I was younger! We were quickly shown the caravans and then left.
In our caravan none of the beds was made (my parents on the other hand did), which according to the Eurocamp website all beds should be made for your arrival!
The young girl who was there we found very cheeky and she often spoke before thinking which often meant she said things that were insulting and rude. She also came round at 9am on departure (check out is 10am) and burst out with "you not left yet?!" What a lovely way to finish your weeks holiday!
Personally, if our Aspect Caravan had been like my parent's caravan then maybe things would have been slightly different. The caravan itself is definitely lovely though, with the feeling of space.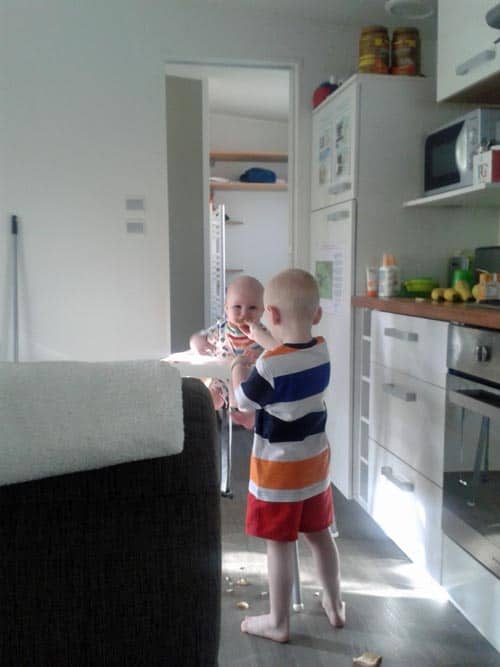 Le Ranc Davaine Campsite in the Ardeche
My family and I have been to this campsite before, although it was some 15 plus years ago. This was one of the reasons we decided to go back as we wanted to bring back some of the memories we had while there as kids. My older brother passed away in 2011, just after my eldest son was born so I thought it would be nice to visit the campsite again.
The campsite itself is lovely, although be it overcrowded and slightly cramped. It seems to have doubled in size since we last went.  This meant we found there was a lack of green space for the kids to play unless they play on the roads or go down to the football pitch etc. Which is no good for toddlers who need supervision. It has a big plus of having direct access to the river which is great for kids to play in (with adult supervision of course).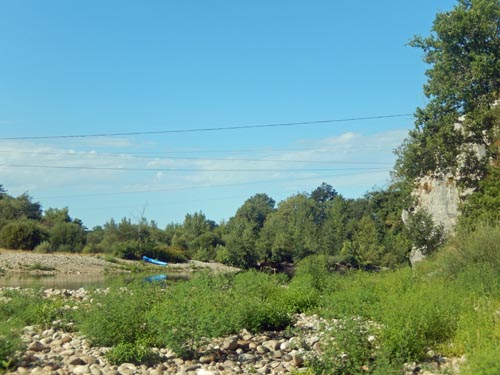 We could hear the evenings entertainment on several occasions and we were near the entrance to the park so not close up to the main area. It wasn't too loud though and we could sleep through it. Might be more annoying if you had a pitch closer to the centre of the park.
Swimming & Food
The pool we thought was overcrowded when we went, and we found the "no sandals/flip flop" to be quite dangerous. The walking areas were very hot and my mum burnt the bottom of her feet. Not good, so we wore sandals to go out. There was also hardly any shade and no sunbeds were available, so, unfortunately, we did not stick around for long.
We also ate at the restaurant on 3 occasions, each time the food was lovely and the staff were very nice. You get quite big portions which we never finished. The park also has a shop, and laundry facilities (6 euros for use of the washing machine).
Verdict
Overall, we would recommend the new Euro Camp Aspect Caravan, when we go to other parks we will be looking for this type of caravan, our experience definitely didn't put us off. The park we visited we probably won't go back to again mainly because of the distance to drive. But once my boys are older we would consider it again.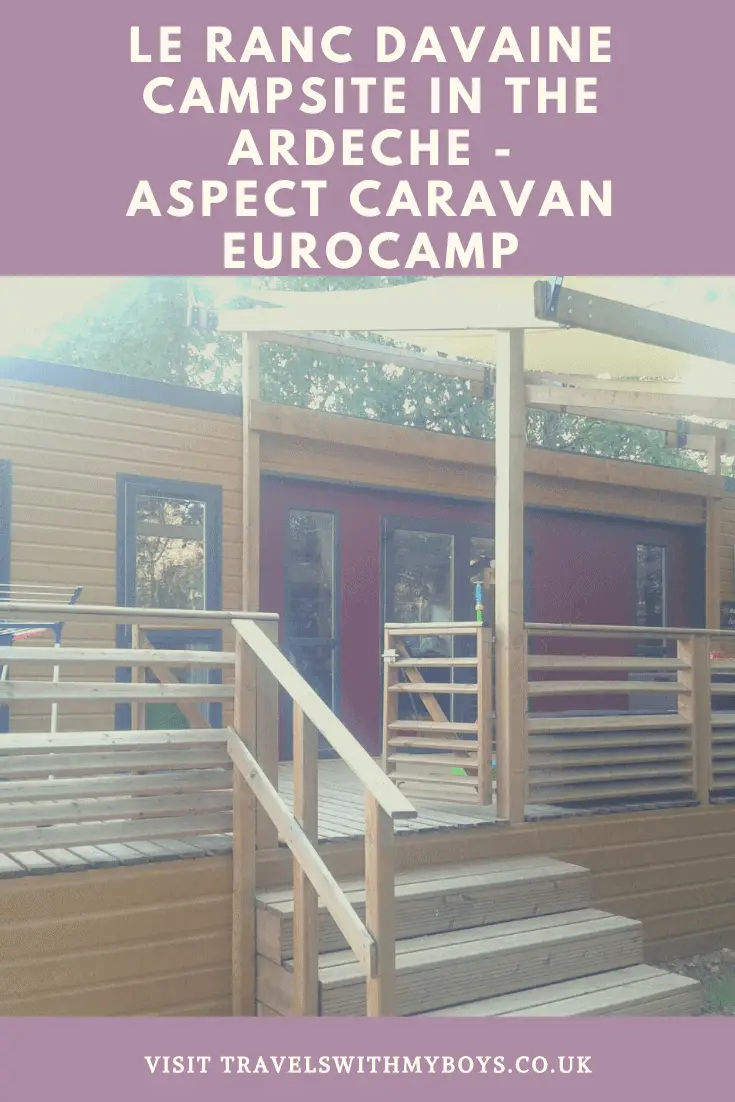 * Reviews are my own opinion. I haven't been paid in any way for writing this.