Blair Castle Caravan Park is located not too far from Pitlochry and is in the grounds of the beautiful Blair Castle. Blair Castle is a stunning white castle which looks like its come straight out of a storybook. Blair Castle Caravan Park offers many types of accommodation on site which are available to hire like Woodland Lodges, Caravan Holiday Homes and Camping Pods. You can also take your own Tourer and/or Motorhome.
We stayed here back in 2019, but I'm just getting around to writing this up!
COVID: Due to COVID-19, they are currently not accepting tents. The toilet blocks will be open for touring and motorhome guests. Please check directly with Blair Castle for up to date COVID information, as things can be changed on a weekly basis.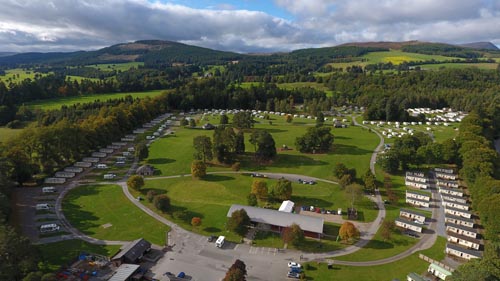 Blair Castle Caravan Park Review
About Blair Castle
This Scottish caravan park is situated in the grounds of Blair Castle (guests staying in the caravan park get free entry to the castle grounds for the duration of their stay). It is such a picturesque location and you don't need to leave the campsite in order to find trails for walking and cycling. Which is ideal if you don't want to go for a drive each day.
If you are looking for somewhere in a tranquil location, not far from the Cairngorms National Park then this is the place for you (and your family…unless you want to escape the kids for a bit, haha).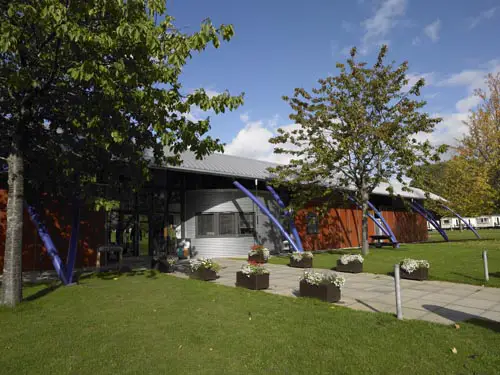 Facilities
The park is great for families as well as couples. It is a spacious and clean caravan park and you certainly don't feel closed in (overcrowded). There are many great facilities on the campsite including:
A small shop and games room are located in the reception building which is near the main entrance.
There is a laundrette which has machines for washing and drying. A drying room with lockable cages is also available for outdoor clothing (for if you get soaked in the good old Scottish weather while out exploring).
Wi-Fi across the park (charges apply) and free Wi-Fi in the reception building.
If you bring your own tourer or camper, there are toilet blocks (3 have disabled units), dishwashing facilities, chemical disposal points and baby change facilities.
In the centre of the caravan park, there is a large green area which has a children's play area, football pitch, putting green and plenty of space for the kids to run riot.
Beauty treatments and Segway hire are also available.
Currently, there are 2 electric car charge points, providing EV charging for up to 4 vehicles at a time (charges apply and app required).
The boys loved the play park and the big grass area. They enjoyed playing football and other games while making new friends. Some of the facilities we didn't use, so I can't comment on them all. However, we used the toilet blocks and the showers while we were staying and were very impressed with the cleanliness of them.
Accommodation
We stayed in my parent's motorhome so I cannot personally comment on the accommodation. However, from the pictures online they look really nice and we would definitely stay in either the Woodland Lodges or the Caravan Holiday Homes at Blair Castle Caravan Park.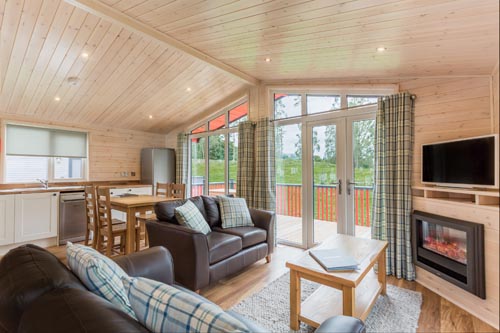 Woodland Lodges
Each of the wooden lodges looks stunning and have a Scandinavian style about them. Situated a little further away from the main campsite to give you a quieter setting for your stay. You also get free Wi-Fi when staying in the lodge which is always a bonus when travelling with kids; that downtime in the afternoon can be amazing!
There are also dog-friendly woodland lodges available (subject to availability).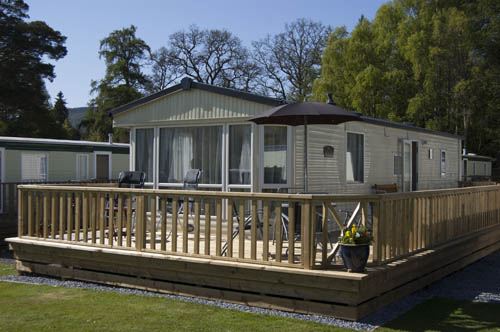 Caravan Holiday Homes
If you are looking for a short break self-catering holiday then the caravan holiday homes would be a great option. You can also book longer stays if you wish. There are two and three-bedroom caravans for booking which means they are ideal for couples, friends, and families. If you wish to find out more about the caravan holiday homes check out their website for what's included in your holiday price.
There are also dog-friendly caravan holiday homes available at Blair Castle Caravan Park (subject to availability).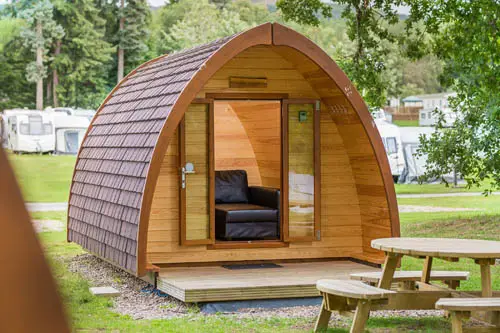 Camping Pods
The camping pods at Blair Castle actually look pretty cool. I think they would make a perfect glamping experience. They can accommodate 2 adults (sofa bed) and up to 2 children (on the floor). You will need to bring your own bedding etc but these are perfect if you don't have your own tent but want the camping experience.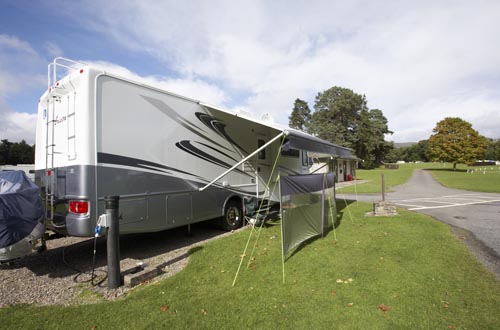 Touring and Motorhomes
The caravan park offers hard standing electric and fully served pitches of various lengths, including 18-metre super-sized pitches. We stayed on one of their super-sized pitches which meant we had my parents motorhome and my car, the motorhome awning and space for the boys to play. The pitches are also spaced out so you don't feel on top of other guests.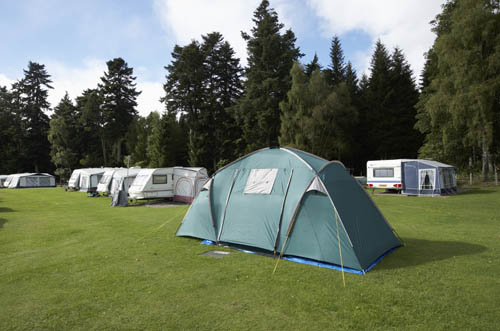 Camping (Tents)
Currently, Blair Castle is not accepting tent bookings due to COVID, but check out their website in case this changes.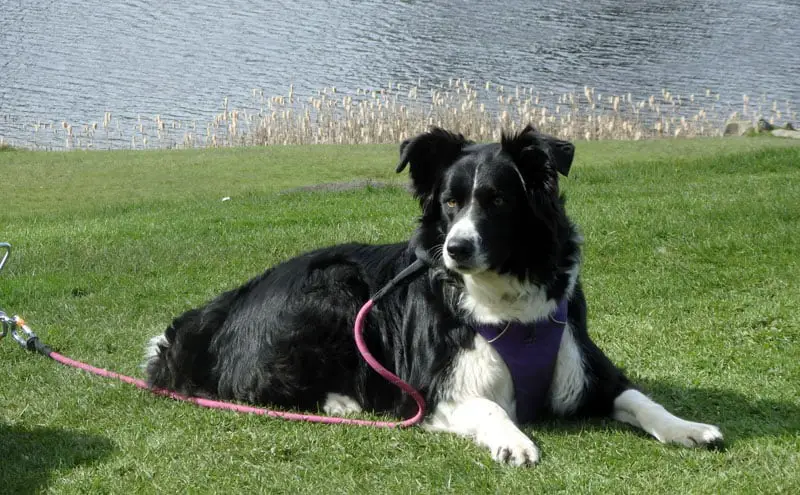 Dogs
Dogs are welcome at Blair Castle Caravan Park. A maximum of 2 dogs per pitch and that dogs are kept under control and on a short leash at all times. As Blair Castle is a working estate you must also make sure to not disturb the livestock. There are plenty of walks in the area for your dogs to get their daily walks (see below).
Word of Warning: My dogs did get ticks from staying here so make sure you take a tick remover tool with you just in case. It can happen anywhere but I didn't have the remover tool with me! Oops. Lesson learned!
Things To Do At Blair Castle Caravan Park
The park is rather quiet compared to some parks we have visited in the past. However, I found that was what made it such a great place. The boys and I stayed for 2 nights while my parents stayed on longer (to enjoy the peace and quiet haha). There was plenty of things to keep the boys entertained on the campsite as well as in the area. I've tried to keep the things to do as closest to the campsite as possible, but there is plenty to do if you wanted to travel further.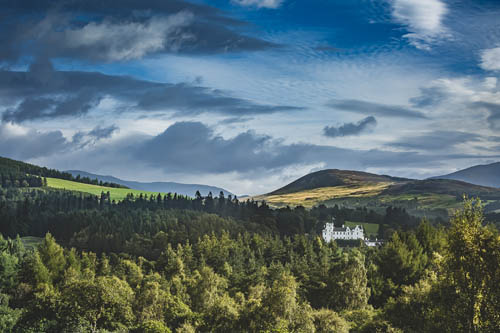 Blair Castle
If you are staying at the Caravan park then a trip to the castle and grounds is a must. We have visited several times now and still love exploring the castle. Remember to take your mask as due to COVID there are many guidelines to follow. Toilets are open and the cafe is open for takeaways only at the present time. Check directly with the castle for ticket options.
Relax and Unwind
On-site and located in the old reception is The Atholl Beauty Room. It is open to locals and visitors to the area and is a great way to relax after a day in the countryside. Booking is advisable in advance to save disappointment.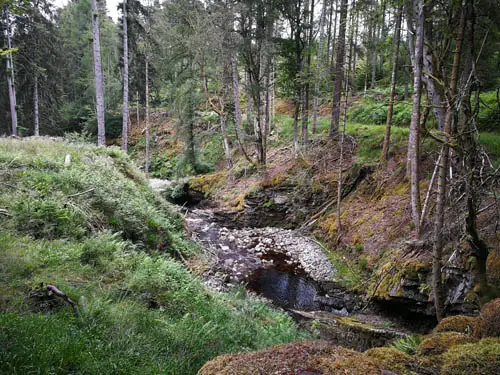 Walks
There are plenty of trails available directly from the caravan park. However, you could easily drive to Faskally Woods or even into Pitlochry to explore more walks in the area. It is definitely are a great place if you're an outdoor family.
Segway Hire
SegwayEcosse offers the newest, smoothest way to get around outdoors. Check out SegwayEcosse for more information or to book a tour.
Cycling
You can hire bikes at the caravan park (see facilities above) or if you bring your own bikes then there are plenty of options for biking in the area.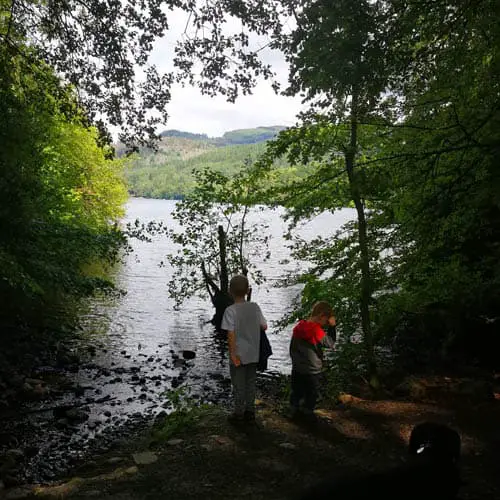 Pitlochry
Pitlochry is a lovely place to explore with your family. A great website which is full of information is Pitlochry Guide. We try to visit a few times each year. We have even stayed to go to the Enchanted Forest before too.
Have you been to Blair Castle Caravan before? What did you think? Personally, I will be taking the boys back at some point as it is a lovely place and a great base for exploring the area.
You can find holiday parks all over the UK. There are some great holiday parks near Great Yarmouth that you can check out too. If you love glamping and interested in the Cotswolds check out Moreton-in-Marsh.
Disclaimer: We paid for our stay at Blair Castle Caravan Park and have not been paid to do a review. 

Pin for later?