Pisa is pretty much world-famous, everyone seems to have heard of it. I spent less than 24 hours in Pisa with my eldest son back in 2014 when he was 3 years old. We got to see the sights we wanted to see although we didn't go inside the buildings. I wouldn't say you need long here to visit the sights, maybe 2 or 3 days max if you want to go at a slow pace and go inside places (we didn't go inside places when we visited, we just sat about in the sun after our bad journey getting to Pisa) If you only had a day and just wanted to do the well-known sights then it is achievable with the kids in tow too.
Important Note: This post may contain affiliate links. I earn a commission from qualifying links in this post. (Disclaimer)
Mini Travel Guide To Pisa With Kids
How to get there
Pisa is pretty easy to get to, it has rail access and an international airport. We flew into Pisa airport and then jumped in a taxi (okay maybe not jumped but you get the idea). It was only 10-15 mins to our hotel if that, which was right next to Piazza Dei Miracoli (Piazza Del Duomo).
Lucca and Florence are nearby if you are staying or going there afterwards and the train or rental car is probably your best bet for getting around if you have kids. The trains are very reliable and are pretty comfy
If driving then Tania from Larger Family Life advised us there is a very reasonable car park only up the road (that doesn't have a height restriction if you travel in a high-topped vehicle). If you are looking for information on parking in and around Pisa check out Discover Tuscany for parking information.
Where to stay
We stayed at Hotel Pisa Tower. The room we had was lovely and the prices were very good. Be warned there are two buildings one right next to Piazza Dei Miracoli (Piazza Del Duomo) and the other is roughly 500m away up the road. There was also no place in the hotel to have breakfast although their website now has a section for breakfast so maybe this has changed.
I booked via booking.com and got a great deal. It was great to be a 5-minute walk from the main Piazza Dei Miracoli (Piazza Del Duomo). It is in a great location if you are wanting somewhere close to the Leaning Tower of Pisa etc. However, there are plenty of other hotels around which may be better so best having a look around and see what you can find.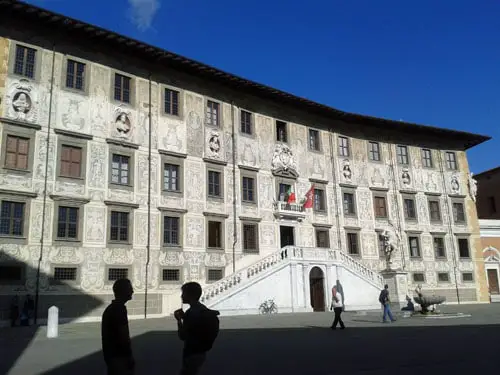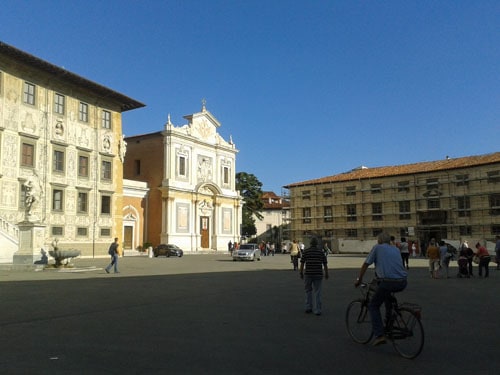 Where to eat
We ate our dinner at a lovely restaurant called Alla Goccia which was located near the Palazzo della Carovana. We had two pizzas and a pasta dish. It was amazing. It was a great find. There were many restaurants nearer to Piazza Del Duomo but we wanted to escape the crowds and go somewhere a bit quieter and we were happy with the price and service we received.
For our breakfast we went to the Mcdonalds across the road from the hotel (near the entrance arch to Piazza Del Duomo) It wasn't the best breakfast in the world but we survived. Hopefully, the hotel you stay in has breakfast and it will taste a bit nicer than ours did!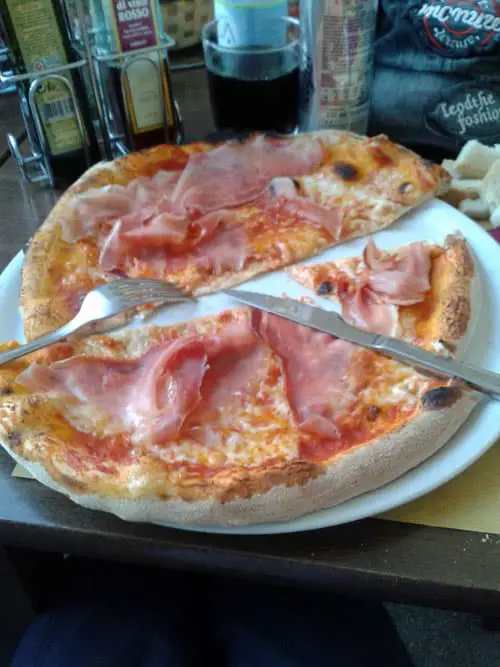 Getting around
I walked quite a bit and so did my eldest son who had just turned 3 at the time. We found everything was quite close by and didn't mind walking. There are lots of buses that we saw going on the roads. We also used a taxi from the airport and then from our hotel to the train station. We found the journeys slightly scary as the drivers drove so quick, they were also quite expensive.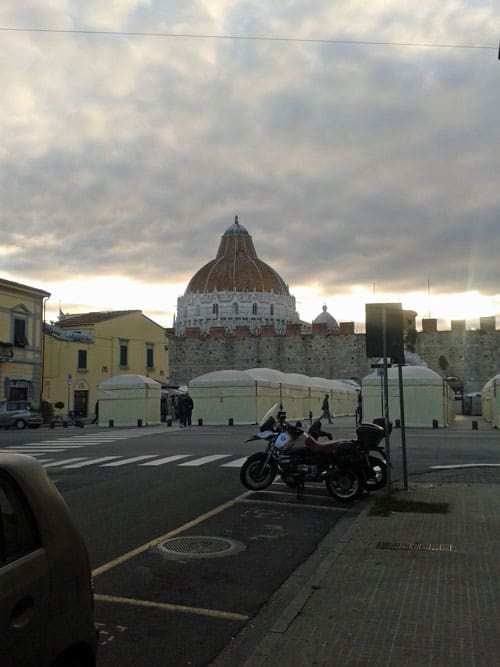 What to Do
Of course, if you are coming to Pisa then you are more than likely coming to see the Leaning Tower of Pisa and the  Piazza Dei Miracoli (Piazza Del Duomo) where the Leaning Tower is located. The city is great to walk around and explore the streets too. Here are a few options:
Leaning Tower of Pisa
Remember only children over the age of 8 can climb up the tower. You can pre buy tickets online so you don't have to wait in-line for buying tickets.  Make sure you get the normal tourist photo of you with the tower. My eldest son tried a few times and kept asking when Bob the builder was coming to fix the tower.
Piazza Dei Miracoli (Piazza Del Duomo)
This is where the tower is located but you can also find 3 other great buildings – the Pisa Cathedral, the Pisa Baptistry, and the Camposanto Monumentale. You are not allowed on the grass as it is sectioned off but it is great to sit and relax by the Cathedral and take everything in. Best time to visit is the morning before the crowds hit. Children under 10 are free apart from the tower.
Palazzo della Carovana (also Palazzo dei Cavalieri)
You will hardly find any tourists here which is a shame as this place is beautiful (you can see our pictures above). We only came across it as we were exploring but it is a great place to go look. It is known as Knights Square and the main building (Palazzo della Carovana) is now home to the University.
Go to a Museum
Okay so this all depends if you kids like museums or not. We didn't go to any but there seem to be a few. The National Museum of San Matteo seems to be the biggest and is located near the River Arno. There is also a museum in the Piazza Dei Miracoli
Go for a walk
Exploring the city by foot is a great way to get around. Just walking about and seeing the buildings is a great treat. A pram or carry will be fine to use. Even in the busy areas like Piazza Dei Miracoli, people will move out your way if you have a pram. Make sure you make your way towards the River Arno which runs through the city, you can get some great pictures.
Go to the Park
There are two parks that seem to be quite popular in Pisa these are Botanical Gardens (Orto Botanico di Pisa) (free) and the Migliarino San Rossore Massaciuccoli (Regional Park). Let your kids stretch their legs and waste some energy.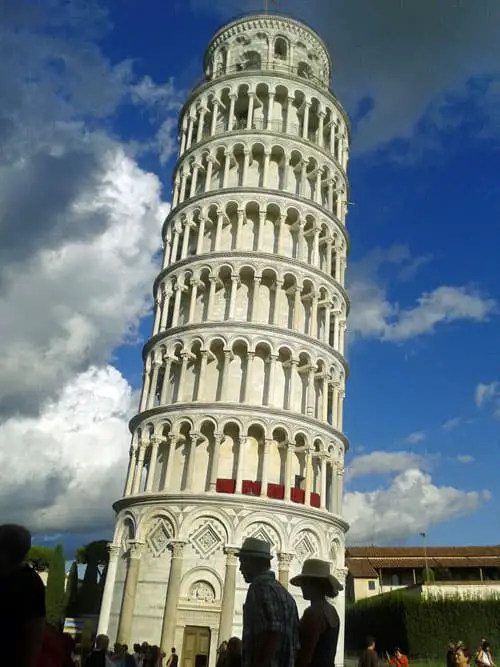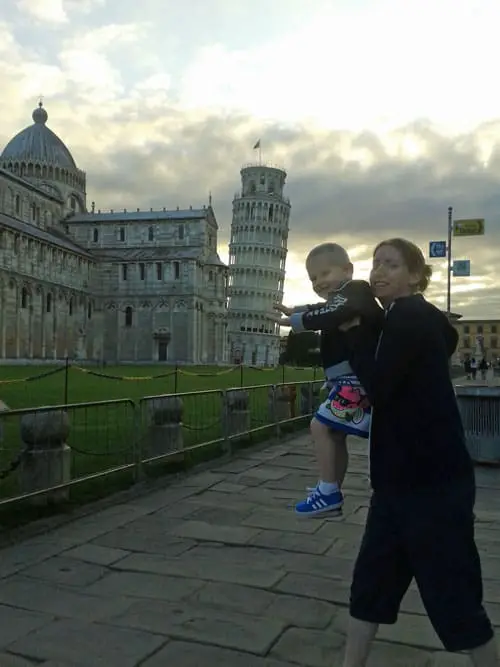 Family Friendly?
I would say Pisa is family-friendly but only for a short stay. There isn't enough to do for a week's stay or more. Italian's love kids and you will find some great accommodation and restaurants. I am sure Pisa is on your bucket list so make sure you go!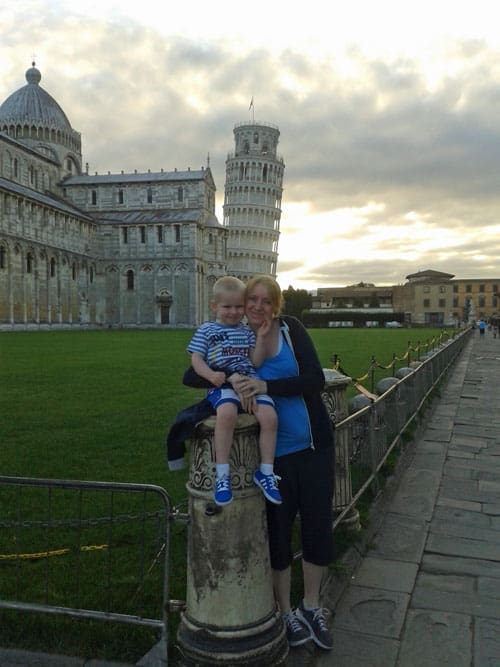 Have you been to Pisa? Let me know your thoughts!