Dubrovnik is a truly stunning family destination on the Adriatic Coast. My boys were 8 and 4 when we visited and we all fell in love with the stunning scenery. There were plenty of things to do in Dubrovnik as well as further afield so you definitely won't get bored. Our villa was about 40 mins from Dubrovnik and we drove most days to Dubrovnik and parked our hire car before setting off on foot to explore.
Dubrovnik is such rich in culture and history which makes it a great learning experience for the whole family. Dubrovnik is known for its distinctive Old Town which is encircled with massive stone walls which were completed in the 16th century.
Below are just some of the places to visit with kids in Dubrovnik, and a few added extras which we really wanted to do but never had time to do.
Best Things To Do In Dubrovnik With Kids
Places To Visit In Dubrovnik With Kids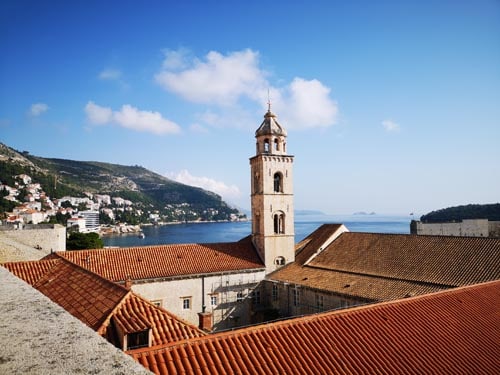 Dubrovnik Old Town
Dubrovnik is well known for its old town. There is plenty of history which makes it a good talking point. You may even find it easier to join a walking tour with a guide so you can learn more about the history and the sights in Dubrovnik. Most tourists enter Dubrovnik Old Town by Pile Gate (there is a little park just under the bridge as you enter if your kids fancy a run around). As you walk over the old drawbridge you will walk down through another Gothic arch which leads to the Stradun (Placa), which is the pedestrian promenade.
Once inside on your right, you will see the Onofrio Fountain which is one of Dubrovnik's most famous sights. This circular fountain is part of the old water supply system which was built to bring water from a spring located 12km away. On your left is the main entry point to the city walls.
You will find lots of shops, restaurants and pubs (Irish pubs for that matter) in the old town so you will have plenty of options for dining in Dubrovnik with kids.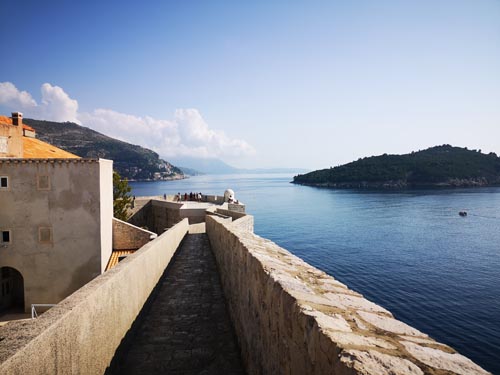 Explore Dubrovnik City Walls
When exploring the city walls with kids you are best taking supplies of food and water. There are a few places to stop around the walls however depending how busy it is you might not get a seat.
The walls are 1940 meters long with 6 fortresses (Lovrijenac, Revelin, Minčeta, Bokar, St John and St Lucas). There are many steps and so a pram is not ideal. If you have little ones it is best to have a carrier and try to stick to the quieter times of the day as in the midday sun there is no shade as you walk around the walls.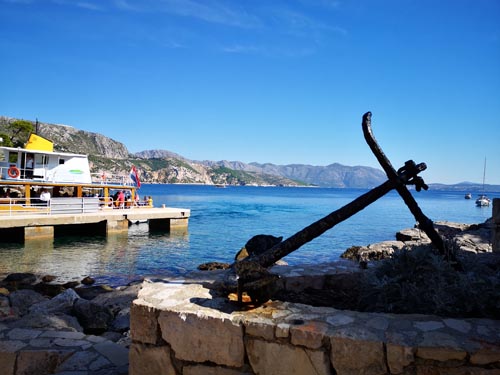 Island of Lokrum
If you wish to visit an Island, I would highly suggest visiting Lokrum island. We only visited for a few hours, however, you could spend the whole day on the island and still not be bored. There are boats that take you to Lokrum for Dubrovnik Old Port. We walked around the whole Island (we didn't mean to, we just took a wrong turn haha) so it is best wearing suitable footwear if you plan to go walking as it is a stony path. There are a few places to eat and drink located near the arrival port. Beware though if you are going further around the island to explore then take your own food and water with you. You can visit the ruins of the Monastery and even the highest point of the island to the fort. We didn't make it to the fort but we did see it from the path we were walking on!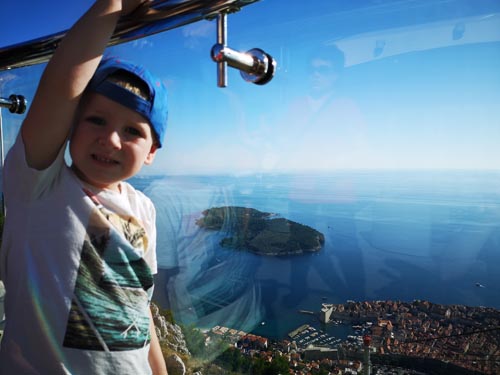 Mount Srd
You can reach the top of Mount Srd by cable car, however, it is rather expensive! You are met by wonderful views of Dubrovnik below and the surrounding areas. There is a restaurant at the top which if you plan to eat at you are best to book in advance to guarantee you a table. We didn't explore too much while we were here, but you can go hiking or go on a quad bike tour. If you didn't want to pay the cable car ticket prices you could also hike up. Although I haven't done this with kids so you may be best checking to see how the walk up is rated by other people before tackling the walk up with kids.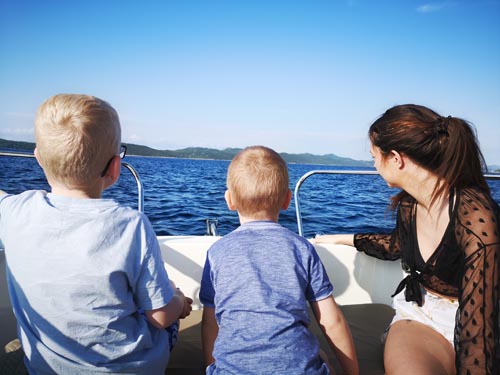 Boat Trip
At the old port in Dubrovnik, you will find lots of tours and boat rentals on offer. We hired a boat for a half a day with a skipper who took us around several islands and let us explore before taking us onto the next part of the journey. It was a great way to explore and to see Dubrovnik from the sea and not by land.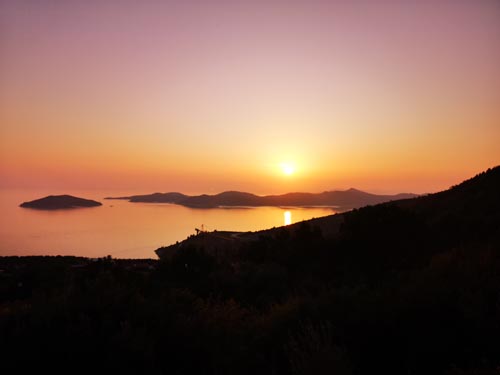 Watch a Sunset or Sunrise
I suppose watching a sunrise or sunset with kids might not be for you. However, we watched the sunset a few times while in Croatia and it is such a beautiful experience. The colours were amazing and definitely something my boys loved to watch.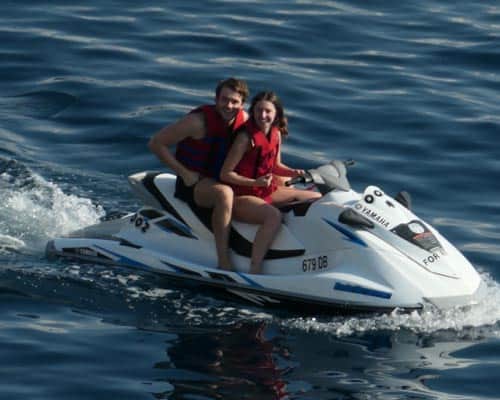 Kayak Tour or Jet Ski
This was something my brother and his girlfriend did. You would best be checking the age restrictions with each of the companies. However, I did see several kids out in kayaks so it may just be possible. Definitely a great experience and my brother loved it. My brother and his girlfriend also hired jet skis while we were exploring the city walls. So, if you had older kids this would also be a great activity for them to take part in while in Dubrovnik.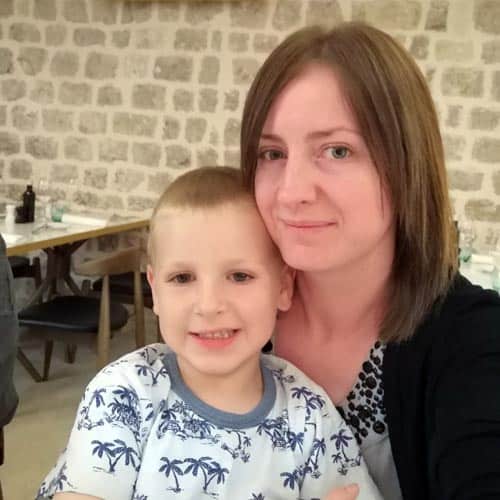 Eat at a fancy restaurant
Okay, honestly the thought of a fancy restaurant with my boys puts the fear in me. However, the owner was amazing and told us he could cook special food for my youngest with his food allergies so we thought we would give it ago. It was definitely an experience and one I think we all enjoyed. I am a pretty fussy eater but the food was AMAZING. The boys loved getting dressed up and trying the "posh food".
Further Afield From Dubrovnik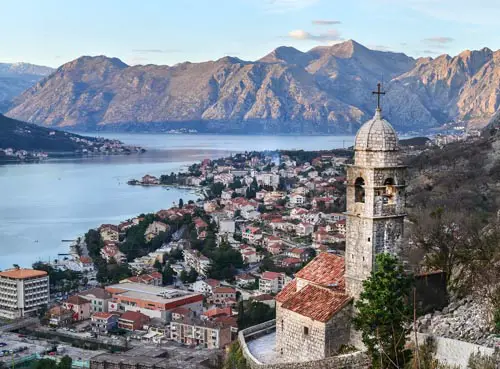 Day Trip to Montenegro
A day trip to Montenegro was something that was on our to-do list but we never managed to get ourselves organised enough to go! While researching for our trip to Dubrovnik with kids I had looked into how long it would take and where we could visit. As you are visiting another country you need to remember to check entry requirements and have your passports handy for border control. When we go back to Croatia, we will definitely head to Montenegro, especially Kotor to go explore with the boys.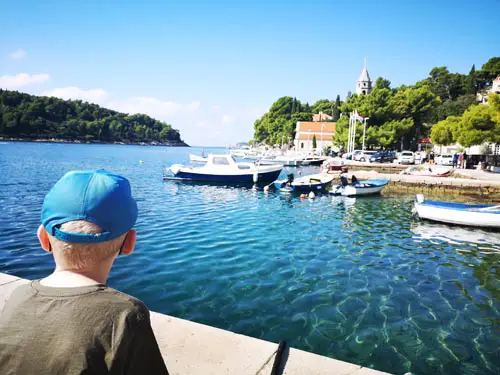 Cavtat
From Dubrovnik, it is only about 30 minutes drive to Cavtat. We spent most of the day walking about and exploring and it reminded us of Dubrovnik but a lot quieter. Cavtat is very picturesque with its crystal clear water and stunning buildings. We found a quiet little spot for a picnic lunch while watching the boats in the harbour which the boys loved. While in Cavtat you could visit the Racic Mausoleum and Our Lady of Snow Monastery. We also found Vegan ice cream here much to the delight of my youngest who was so happy to get ice cream!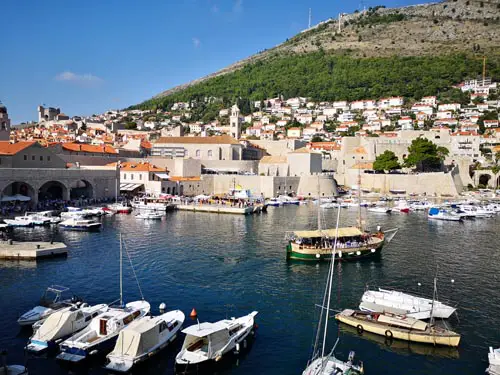 Getting Around
Once you are in the Old Town you are best just exploring on foot. Having a pram is doable however in the heat and with the terrain, it won't be plain sailing. If you have little ones I would suggest a carrier or planning your trip so you don't take the pram with you when you do the city wall walk.
We had a hire car and parked in one of the first multistory car parks we came to before setting off on foot. The ticket prices were pretty reasonable and never too crowded to get a space.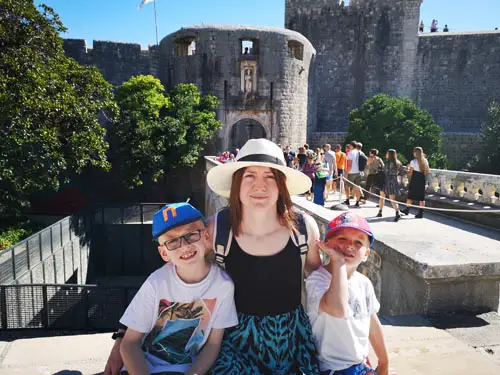 Where to Stay
There is a wide range of accommodations in Dubrovnik from hotels to villas. We had a villa about 40 minutes outside of Dubrovnik which wasn't too ideal but the villa was amazing so it was worth the drive to and from each day.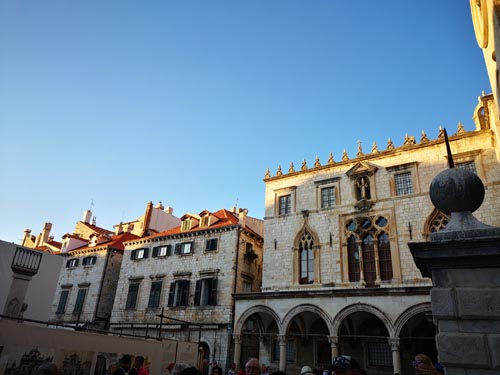 Best Time To Visit Dubrovnik With Kids
Dubrovnik is a popular stop for many cruise ships. It does get rather crowded when people arrive off the ships so going more offseason is probably better if you want to miss the big crowds. We went in October and it was still rather busy so I can only imagine what the crowds would be like in the summer season!
Have you been to Dubrovnik with kids before? Where were the places that you visited in Dubrovnik? I would love to know, so please let me know in the comments below.
Pin For Later?