The Loch Lomond and Trossachs National Park is one of my favourite areas to visit for a family day out. We have walked the Doon Hill and Fairy Knowe loop walk before, so I wanted to try another walk in the area. Aberfoyle is a village at the base of Dukes Pass (a must-have drive if you have time) and is a picturesque place to visit.
The walk starts off at the Scottish Wool Centre which has a cafe, toilets and a shop. Parking is free as well which is great for any Aberfoyle walks you intend to do. I had only decided the night before where we were going to walk so I quickly plotted the route on OS Maps and then double-checked my app on my mobile phone to see if it showed up. Although, you really don't need a map or GPS for the route as it is pretty straight forward to navigate.
Lochan Spling, Aberfoyle
Lochan Spling Walk
Lochan Spling is the family walk I decided on. I did a quick Google search to find out what a Lochan was, yes even living in Scotland I had no idea! In case you want to know it is a small loch.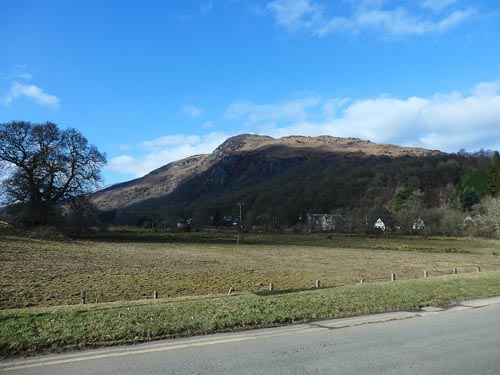 I had my parent's dog with us too which meant I had 3 dogs and 2 kids with me. Once we were all kitted up, we headed off out of the car park turning left and heading down the road towards the Old Parish church. You turn off right just slightly before the church, but you could easily walk down to the church and then walk back up to the route.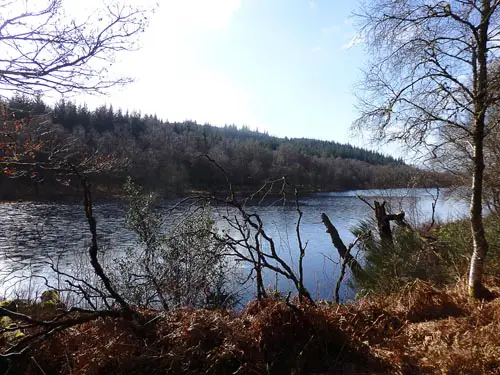 From here it is a straight road all the way up to the start of Lochan Spling. Once you reach the start of the Lochan, you can either turn right signposted Inversnaid and follow the loop walk around anti-clockwise. Another option is to continue to the end of the Lochan and turn right here and follow the route clockwise.
I chose the latter and walked up and around the loop. There are some cool sculptures as you walk around Lochan Spling, which we only managed to find two of them, but there are more. I think we were too busy talking about lunch to actually pay attention to find anymore! If you walk clockwise as we did, then you just follow the signposts to Aberfoyle.
Once you reach the end of the loop, you just continue back into Aberfoyle to finish off your walk. If the 3.5 miles isn't long enough for you, then you could team it up with the Fairy Knowe and Doon Hill walk.
Buggy Friendly Walk?
Yes, it is very much a buggy friendly walk in Aberfoyle. An all-terrain pram would be best as it is a stoney road/track but it's a good trail to do.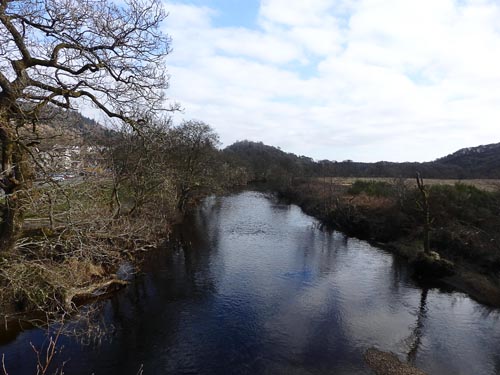 Dog Friendly Walk?
Of course, it's a great dog walk in Aberfoyle and there was only the odd car going up the main trail road until we turned off to walk around the Lochan.
Overall Thoughts on Lochan Spling
Lochan Spling is a really lovely walk in Aberfoyle. There are also enough facilities within Aberfoyle, which makes it a great base for a family holiday or a day trip. Nearby, you have the Lodge Forest visitors centre which is on the road which heads up Dukes Pass. There you will find many other Aberfoyle walks that you can try, and also the Go Ape if you were feeling adventurous.
If you head over Dukes Pass (which you should do!), then you could try some walks in Callander or head to Loch Katrine where you could go on SS Sir Walter Scott, a steamboat.
Have you been to Lochan Spling? Let me know in the comments below. I would love to hear from you.