The National Railway Museum is in York, England. If you are looking for a great family day out in York then you must visit the National Railway Museum. Both my boys love trains and although when I visited I only had my eldest son with me, I would definitely go back again so both boys can enjoy the fun.
Do your child love trains? If they do then you should check out the National Railway Museum which is not too far from the centre. Roughly 15-minute walk or a bit more if the kids are walking.
Let me tell you about our visit to the National Railway Museum in York.
National Railway Museum York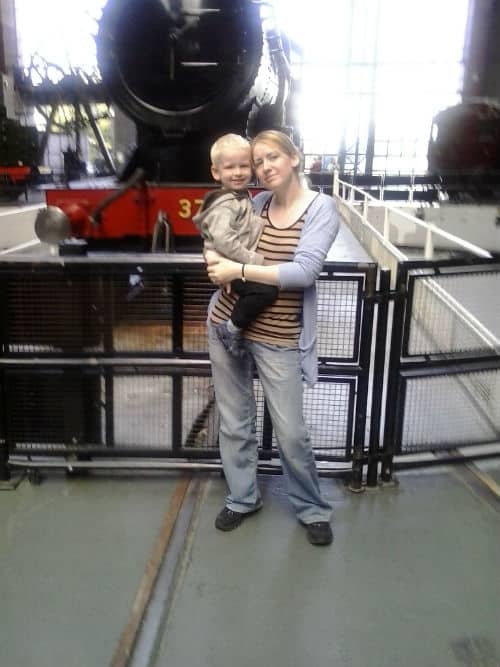 Getting To the National Railway Museum
We walked to the National Railway Museum as we wanted to see York Minister first. Eventually, we got to York Minister and seen there was a train that would take us to the museum. We waited a good half an hour before a lady cycled up saying the train had a puncture and wouldn't be running. She gave us directions and we set off again towards the museum. Talk about sore feet and our day had only just begun! Check out the main website for up to date directions and visitor information.
National Railway Museum Prices
The Museum is free! Yes, you read correctly its free. Although donations are welcome. When we arrived at the National Railway Museum York we were asked for a donation or we could buy a guidebook. I decided to get my son an activity book. As the museum is free to get into it makes it a great day out in my opinion. We made our way into the main hall and that's when we realized just how big the museum was.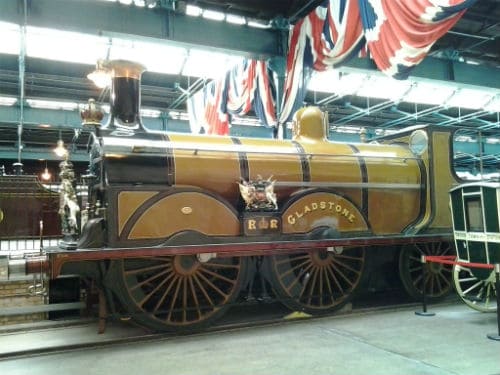 Inside The National Railway Museum
My son's eyes lit up with the number of trains that were there. He ran around shouting "there's Thomas, there's Edward…that's Stephen!" We must have taken his picture with pretty much every train in there while making our way around the buildings.  While there we heard we would be able to see the turntable move. We thought this was awesome and quickly found a place to stand and watch. There are many areas to the museum, some areas my son wasn't too interested in but for the older children they may like these areas. Your feet will hurt by the end of all the exploring so make sure you wear good footwear!
Food & Drinks at the York Railway Museum
Inside the NRW Museum, you will find a cafe in the great hall and also a restaurant. We went to the main cafe in the great hall for lunch, as per normal at any tourist attraction the food was pretty expensive so might be best to bring a picnic along if you don't want a big bill for lunch. Although as the entrance is free, I suppose you have to expect the cafes etc to be more expensive.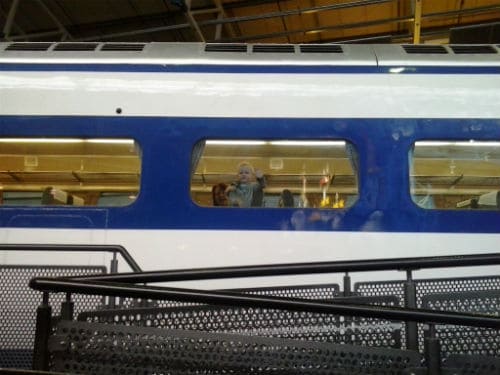 Outside Areas at the Train Museum in York
After lunch, we looked around a bit more and we also tried out the miniature train outside. You have to buy a ticket before you go on from the little machine. Again expensive for how long you get…which isn't very long! But my eldest son loved it so it is worth the ticket price. There is also a play area outside for the kids to play on which is a good place to get them to let off some steam (no pun intended).
---
Overall Verdict
Overall this is a fantastic place for kids and big kids (grown-ups ups) that love trains. Entry is free to the National Railway Museum which is just great, especially when some places can cost so much to get into. If you don't want the expense of lunch then take a picnic with you. We didn't get around the whole place so you can definitely be sure that it is well worth a visit too.
Make sure to check out the National Railway Museum website for full details on a great family day out in York.
If you are in York for a bit longer, then why not check out the surrounding area with some top Yorkshire farms to visit with kids. There are plenty of great days out to be had and I'm sure you will find many ideas to keep your tots entertained while staying in York.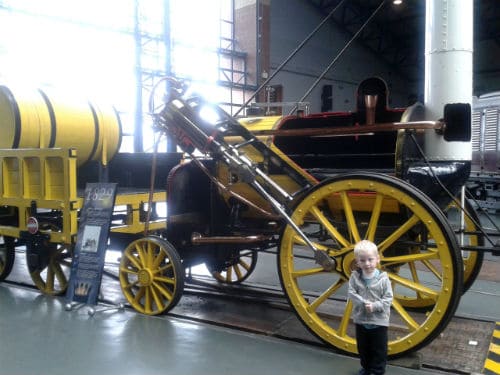 Disclaimer: Reviews are my own opinion. I haven't been paid in any way for writing this.