Neuschwanstein Castle is set in the perfect fairytale setting; surrounded by forests, mountains and a beautiful lake nearby. A tiny bit of background information; Ludwig II grew up in the nearby Castle of Hohenschwangau and Neuschwanstein was designed and built between 1869 and 1886 by him.  Picture this; on a ridge, in a magnificent setting which is high above the Pollät Gorge with the mountains behind this is where the castle was built. On this ridge were the ruins of  "Vorder- und Hinterhohenschwangau" and it was built in the style of a medieval castle.
It is one of the most famous castles in the world. Even Walt Disney himself designed his castle from the design of Neuschwanstein. Neuschwanstein Castle is situated near Schwangau and Füssen in the Allgäu and is pretty easy to get to.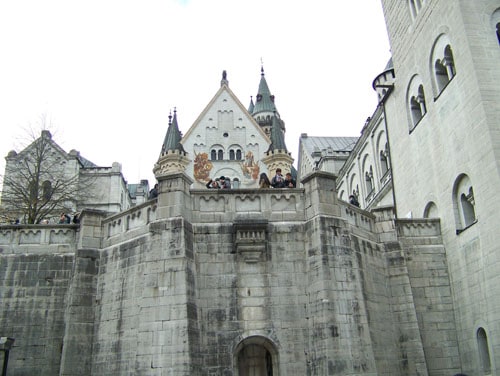 Neuschwanstein Castle Review
Ticket Prices
Entrance tickets can only be bought at the Ticketcenter Hohenschwangau in the village of Hohenschwangau below the castle, please don't walk up to the castle as you can't buy them up there. Tickets are timed entrance with a guided tour so spaces are limited. If you get there too late in the day you will not get a ticket. Also, make sure you leave enough time to get there before your tour starts. If you are walking up it can take 40 minutes up a steep hill to get there. There are also horse-drawn carriages that can take you up and down the hill (extra charge). Ticket prices are roughly 12 euros, children/young people under 18 are free. You can also get King's ticket which means you can visit both Neuschwanstein Castle and Hohenschwangau Castle on the same day, these tickets are 23 euros.
We purchased the King tickets on the day, however, we were staying in the village overnight so we got to the ticket office for opening time. I would recommend the King Ticket as both castles are amazing to see. Ticket prices are also good value for money which for a family day out is what you are looking for.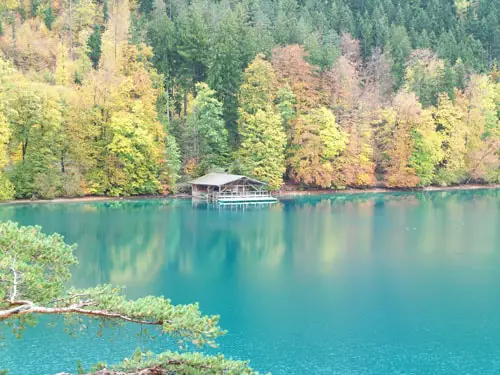 Parking
There is no parking available at the castle. The village of Hohenschwangau is your last opportunity to park, parking is limited in some of the car parks so getting there early means you can beat the crowds. (see above)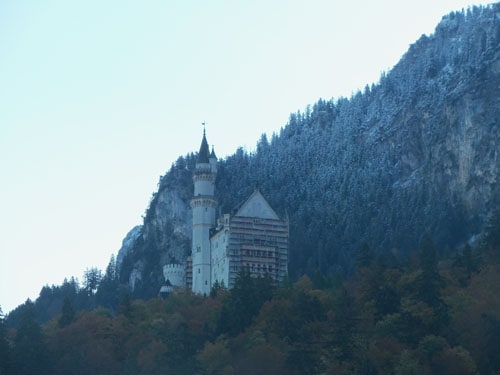 Inside Neuschwanstein Castle
Firstly you won't be able to take a pram or any bulky baby carriers or bags inside the castle. My eldest son was only 16 weeks so I carried him in my arms around the castle. Another note is that you can't take any pictures inside the castle which is a great shame but the items inside the castle need protecting from sunlight and flashes (I expect). The tours are available in German and English but if you don't speak one of these languages then they do have audio guides available in some other languages. The castle was built so that Ludwig II could hide away from the public.
The castle, however, was opened to the public several weeks after his death, and for someone who wanted to hide away from the public, there are now huge amounts of people looking at the castle all the time. The rooms you get to see on your guided tour are absolutely breathtaking. It's amazing how places like this still exist and still look so beautiful. The castle was built with the latest technology at that time which is pretty cool to find an electric bell system in place so the King could call his servants.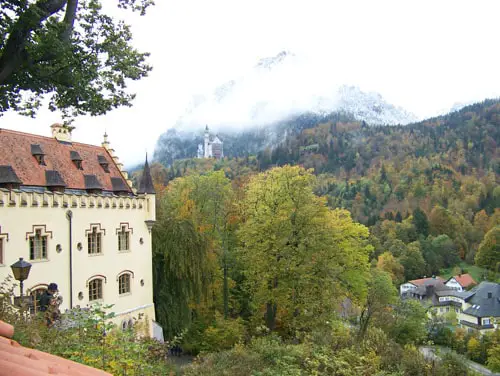 Food & Drinks
There are two cafes, one inside the castle which you finish your guided tour near and also one outside the gates. We had lunch in the cafe inside the castle. I honestly cannot remember what we had but I don't remember us not liking what was there.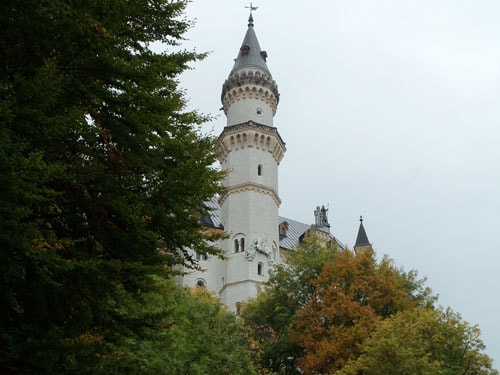 Overall
It's a must-see family attraction if you are in the area. I'm sure if we went back now my sons are older they would love to explore and see all the rooms. Having a guide who speaks English is also a real plus, it means if you have any questions then you can ask and then understand what is been said back to you. Our guide was really good, we all really enjoyed learning about the castle.
Remember you can't take your pram inside so you will either have to carry your little ones in a carrier or your arms. We walked up and down the hill to the castle but if you have young children then take the horse and carriage up and down (I expect your children will love the experience and will get them in the fairytale mood)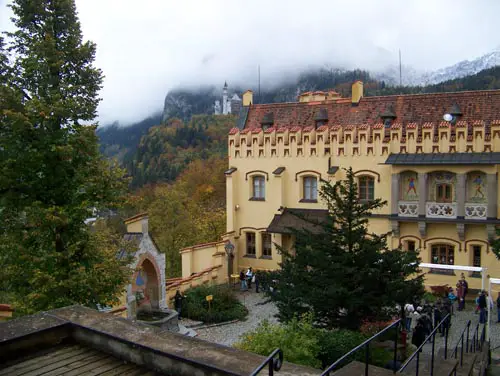 * Reviews are my own opinion. I haven't been paid in any way for writing this.