Welcome to my monthly family travel series where you can find out about other Bloggers favourite family travel destinations. Whether it be in the UK or abroad you will find out just why these bloggers love their destination and what you can get up to while there. If you are a blogger and want to take part then you can send us an email and we will send you more information. My next blogger is Emma from Wanderlust and Wet Wipes.

Favourite Family Travel Destination – Bali
Destination: Bali
Age of Children At Time Of Visit: 4 and 2
Where Did You Go?
Bali was one of our favourite destinations as a young couple so we were excited to go back but nervous it would not live up to expectations. We stayed in 2 Airbnb's and 1 resort in 3 parts of Bali (Seminyak, Ubud and Nusa Dua) over 2 weeks.
What Did You Get Up To?
We did so many different things – a waterpark (twice!); beach time (including surfing); furniture, art and souvenir shopping; visiting temples and palaces; trampolining; lunch in a volcano crater; bike riding; spa time; a trick eye museum; kids club; lunch on a 'pirate ship'; a visit to a coffee plantation and a paddy field! We did loads but it never felt like we were rushing or cramming things in.
Favourite Things About The Destination
Bali is such a family friendly place with super helpful people. We loved the food (the kids were a little bored of chicken satay by the end). There was so much for everyone – temples with monkeys, interactive coffee plantation tour, beaches that were a hit for everyone…I could go on!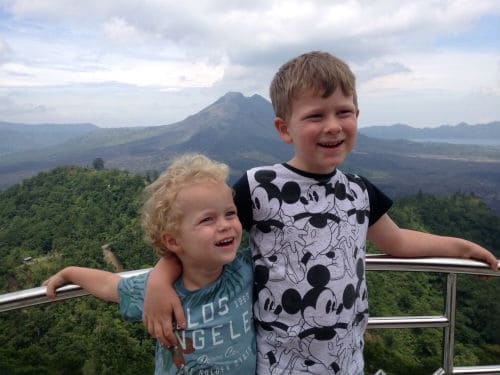 Top Tips
Moving around isn't for everyone on holiday but I would definitely recommend staying in a few places so you can see more of what Bali has to offer (LOADS!!!) without spending ages in the car each day and to avoid places getting boring. My top tip for any holiday is to make sure there is a mix of activities – for kids, for adults, for activities, for chilling out, etc and to include the whole family in the planning. Oh… and check Airbnb details carefully!
---
Thank you so much Emma for telling us all about your favourite family travel destination. We haven't been to Bali, but it sounds like an amazing destination to explore. You can follow Emma on Facebook, Instagram and Twitter