As I try to get outdoors hiking with my kids, I like to make sure they have the correct kit to protect them. As they start to walk further distances I like to make sure they have the best kit possible. Bridgedale have a great range of adult hiking socks which myself and my parents wear when we go hiking. So, when I heard Bridgedale also have a kids range of socks I knew I would be straight there to buy some for the boys.
Making sure your children have the correct footwear will benefit them greatly while out on an outdoor adventure. Remember this means not just only hiking boots/shoes but socks as well! Normal day to day socks may cause blisters which will not be good for children (or adults for that matter!). Hiking socks have many benefits compared to normal socks so check out my reasons below.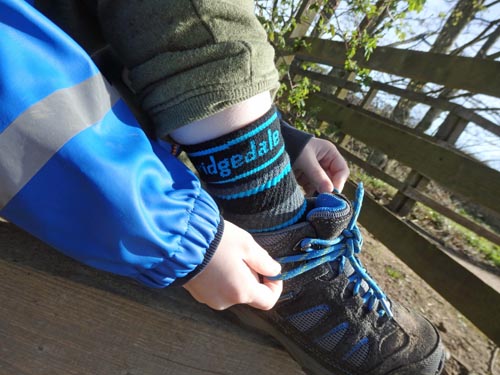 Why Choose Hiking Socks
Take Sweat Away From Feet
Most hiking socks have a wicking material which absorbs the sweat from their feet and makes them stay dry. Many also have the benefit of being breathable which lets the air flow around their feet. This also means their feet won't smell as bad which can only be positive if my boys' feet are anything to go by!
Cushion Your Child's Feet
Hiking socks are designed to cushion your heels and toes where blisters are most likely to happen. Wearing hiking socks will mean they are less likely to get blisters as they are designed to stop the rubbing from the impact from the ground.
Thickness for Warmth
Big K has both the WoolFusion socks and MerinoFusion socks from Bridgedale. Both are great for thermal and moisture control and are both comfortable to wear (Big K says so!). The MerinoFusion socks are also 35% Coolmax which is great for that extra moisture and helps make sure they don't get blisters. As they are good for the warmth it means you can also go out in the colder winter months and still enjoy the great outdoors! The WoolFusion Technology brings together Enduro Wool and technical fibres to provide balanced insulation and fast-wicking moisture control which means their feet will be cool, comfortable and protected mile after mile.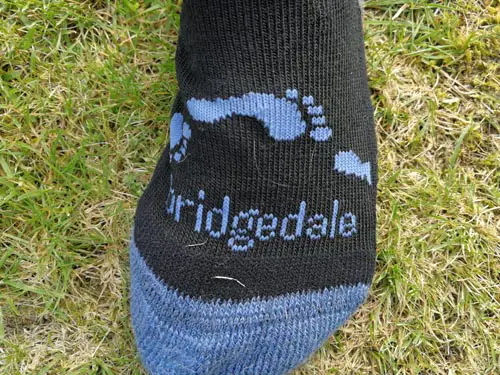 Big K really enjoys wearing his hiking socks and doesn't complain that his feet are sore or cold. If you are planning some outdoors adventures then I would really recommend Bridgedale socks.
What socks do your children wear when out hiking or on outdoor adventures? Let me know in the comments below.
Disclaimer: We received the Bridgedale Socks in exchange for an honest review. My opinion is 100% my own.