The popularity of Legoland Windsor has seen a steady rise over the years. It is no surprise that it is one of the UK's top attractions for families with children. A family-friendly theme park, Legoland Windsor is a great spot for anyone looking to have a memorable family day out. Planning a visit to the park, however, can be a little daunting. If you're not careful, you could miss out on something fantastic.
Discover how to get from London to Legoland by public transport and some tips and trick for visiting Legoland Windsor to make it an action-packed family day out from London.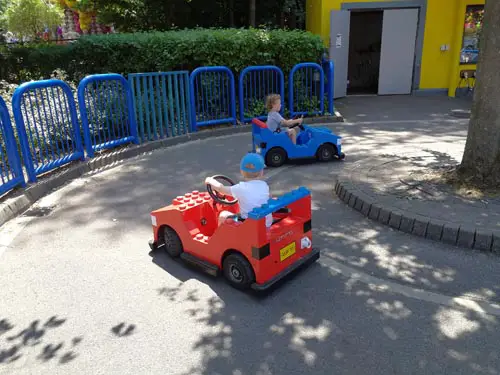 If you are planning a visit to Legoland Windsor, the information on this blog will help you avoid any last-minute problems.
Day Trip To Legoland Windsor from London

Getting to Legoland Windsor from London by Train
If you are staying in London and are looking for a family day out then getting to Legoland by train is doable.
You can take the train from London Paddington to Windsor & Eton Central, via Slough on Great Western Railway.
There is also a direct train from London Waterloo to Windsor & Eton Riverside on South West Trains.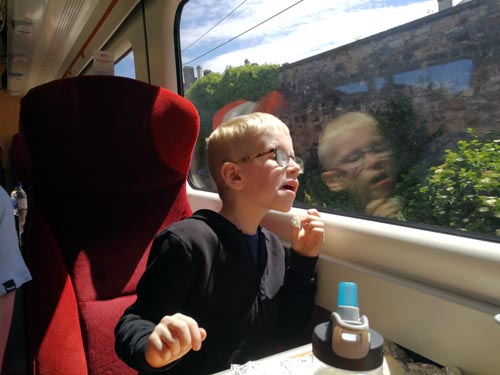 Once you reach Windsor & Eton Central you can either take a taxi or you can take a shuttle bus (extra cost) and is not operated by the theme park.
NOTE: Remember to research train times before you leave and give yourself 2 or 3 options in case you miss a train.

How Much Does It Cost To Visit Legoland Windsor?
Prebooking your Legoland entry tickets will mean you save money. You can prebook via their website. You can buy on the day but as with the current COVID regulations, prebooking guarantees you entry. Prices if you prebook online is £29 per person (2021 prices). Parking is not included and must be bought separately. I would advise booking in advance as it can become a VERY expensive family day out if you pay on the day.
Children under 90cm are FREE of charge.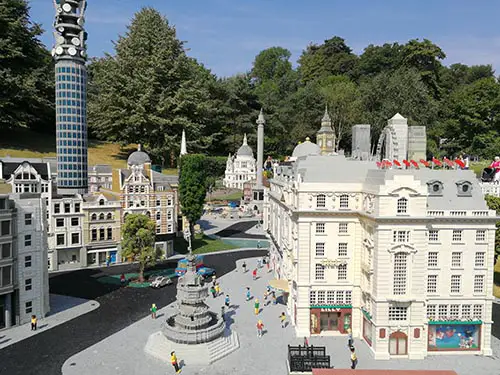 Tips: Look for discounts online. Sometimes you can 2 for 1 ticket. Another option is to use your Tesco Clubcard vouchers (which is what we did).
COVID: Remember to check directly with the venue for opening hours and ticket purchasing options before you arrive. Also, adhere to any Covid regulations like wearing face masks and social distancing.
Getting Around Legoland Windsor
It actually makes a lot of sense to try and plan your day before you arrive via the Legoland App.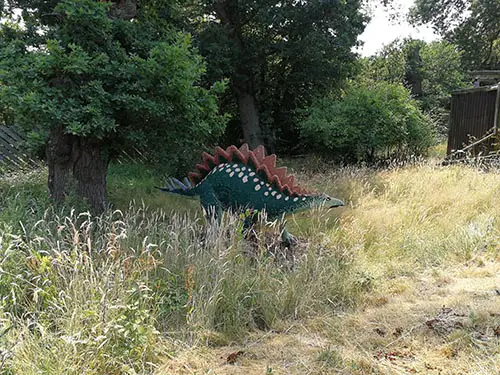 Knowing which rides are suitable for your children and where they are in the park is a MUST. If I take the boys again I will definitely research better next time as valuable time was wasted trying to find which rides were suitable.
The park can get busy, especially during peak season. Most of the paths throughout the park are suitable for prams and wheelchairs. There are a few sections that are steep and also some have steps. However, there are alternative routes you can take to miss these out. You can read Legoland's Access Guide over on their website. If you have any questions then you can contact them directly and they will be happy to help.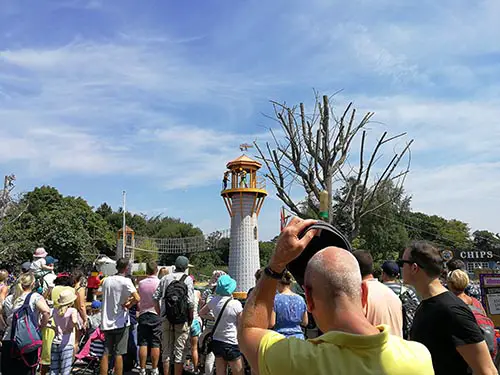 Where to Eat and Drink on Legoland Windsor
If you book your tickets in advance then there is an option during the checkout process to add meal deals on which could save you money overall.
You certainly won't go hungry at Legoland Windsor! There are plenty of food outlets from restaurants, takeaways, snack kiosks etc.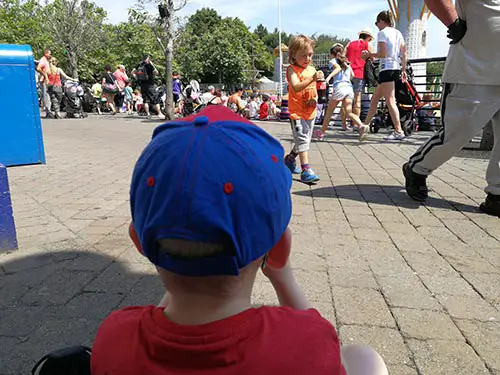 Legoland is also Vegan friendly, but please check directly to see which restaurants cover this. This is ideal if you have a milk allergy as Vegan food is a safe choice to choose.
The Main Attractions and Rides at Legoland Windsor
Riding the Rides at Legoland Windsor ( Toddler Suitable Rides)
There are a number of rides that are suitable for little ones due to no height restrictions including:
Deep-Sea Adventure
Laser Riders
Coastguard HQ
Fairytale Brook
If you are looking on Legoland's website then look under the family fun section or tiny feet section for rides suitable for toddlers. The above is just an example there are more rides that you can find over on the main Legoland Website.
Rides suitable for preschoolers
These rides that are suitable for preschoolers usually have either no height requirements or the child needs to be a minimum of 90cm.
Duplo Dino Coaster – Minimum 90cm to ride.
Aero Nomad – no height requirements
Desert Chase – no height requirements
Dragons Apprentice – Minimum 90cm to ride.
Sky Rider – Minimum 90cm to ride.
L-Drivers – Minimum 90cm to ride.
Haunted House Monster Party – Minimum 90cm to ride.
Fire Academy – Minimum 90cm to ride.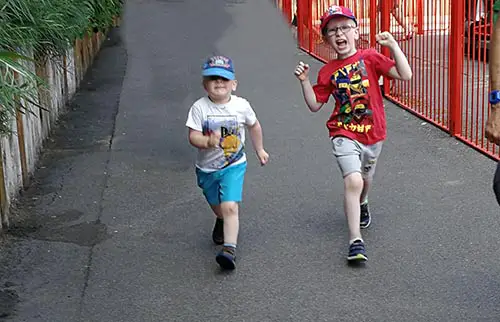 For more rides suitable for preschoolers then check out the Little Builders section which is for ages 3-5. You can also let your toddlers/preschoolers run off their energy at the play parks around the park including Castaway Camp and Duplo Playtown.
Riding the Rides at Legoland Windsor (over 90cm)
The main rides for older children/big kids (aka the adults) are as follows:
Lego City Driving School – Minimum of 1.1m to ride
The Dragon – Minimum of 1m to rideJolly Rocker – Minimum of 1m to ride
Mia's Riding Adventure – Minimum of 1.2m to ride
Lego Ninjago The Ride – No minimum, however, younger kids might not like this.
This gives you an idea of the family-friendly rides that are at Legoland Windsor. I would advise planning your day in advance as it can get extremely busy and waiting times can get long very quickly.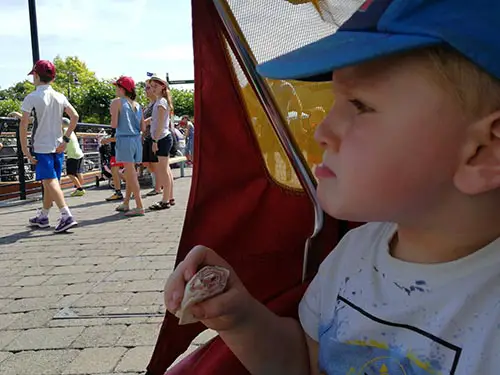 Shows at Legoland Windsor
There is more than rides at Legoland Windsor to enjoy. You can find shows and meet and greets to check out too.
Shows like "Return to Skelton Bay" are really entertaining. However, they do get very crowded so if you wish to watch a show, then it is best getting there in advance to get a good spot to watch.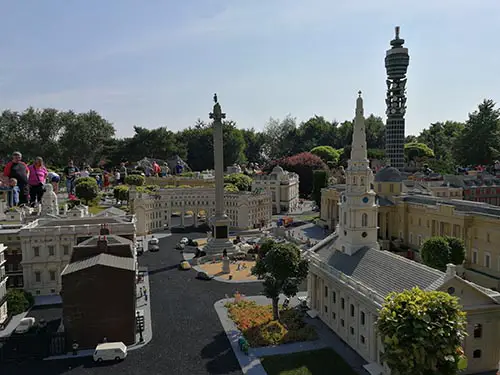 You can also watch showings at the Lego Studios 4D. Some of these are interactive shows which look really fun and would definitely keep the kids entertained on a day out.
---

If travelling for a family day out from London then please keep in mind it WILL be a long day. Remember to add in your travel time to and from London.
As stated Legoland can get busy especially in peak season. However, it is well worth it to see the smile on the kid's faces.
Download the Legoland App and plan to visit the rides you really want to go on first, then this means you can explore the rest of your day at your own leisure.
Have you been to Legoland before? Let me know in the comments below.
Pin For Later?