Are you going on holiday with a dog? Up until recently taking my dogs on holiday didn't happen very much. However, having a dog-friendly holiday packing list certainly does come in handy. Are you wondering what do you take for your dog on holiday? If you have kids to take as well it may feel like you are moving house and not going on a dog-friendly holiday! As dogs are part of the family too I thought this post would be helpful to any families considering a family holiday with a dog(s).
So just like when we plan what to pack for a family holiday, I now have a dog packing list too!
If you are thinking of going on a holiday with your dog, then do it! Everyone will have so much fun and you are guaranteed that you will have a more active and outdoor family holiday. You don't need to take everything on the list below. However, I find taking the items on my dog travel packing list cover what I need for our family holiday with my dogs.
Important Note: This post may contain affiliate links. I earn a commission from qualifying links in this post. (Disclaimer)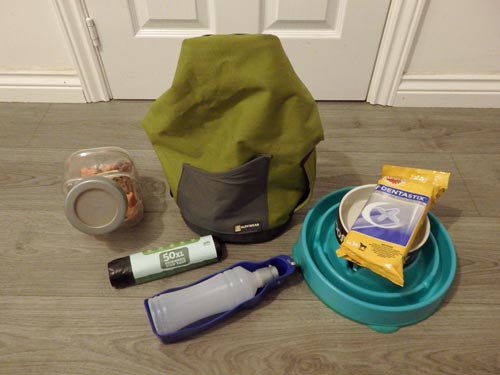 List Of Things To Take On A Dog-Friendly Holiday – Dog Packing List
Somewhere To Sleep
If your dog has a bed back home, then it is best to take one with you. You could use their own bed or a small packable dog bed one depending on the space you have. If you have an elderly dog then it may be best to make sure you have somewhere soft and comfy for them to rest.
Food & Treats
It is also a good idea to take food for the number of days you are away, and then add a few extra cups of dog food into the bag. This means if you get delayed for any reason you have another few days worth of food with you. Always be prepared is my motto and it also means doing the same when the dogs come along!
Along with the food make sure you have a food bowl and a water bowl. I have a non-spill style dog bowl which can be great for the car as well. A portable water bowl is also another useful dog item to add to your family holiday packing list. They are so useful for out walking/hiking.
Lastly under this section would be any treats that your dog eats to take some with you too.
Dog Food Useful Items: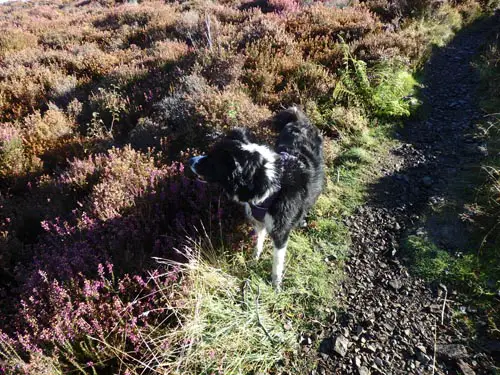 Dog Walk Time
Dogs get wet, dogs get muddy, so packing towels will be useful for any dog-friendly holiday!. On our holidays for dogs, I also have some fantastic drying coats, that I use after a wet and muddy dog walk. It saves taking lots of towels with us and trying to dry them again before the next walk. I love our drying coats, they are a must-have item for any dog owner!
Also while on your family holiday with a dog in tow, then it is best to take a dog brush with you too.
Dog Walking Useful Items
Dog Car Travel Essentials
When we go on holiday for dogs I have found my car boot opener to be very useful for leaving a dog in a car. This keeps the car boot open while we pop to a shop etc. I would not do this on a hot day though. Another useful item would be dog fans that you can switch on to blow cool air around the car.
If you are planning on having a picnic while away, you could have a tie-up spike that goes in the ground and tie them to.
Lastly…A Must-Have Essential
A multi-use item here which I find useful for the kids and dogs is a portable baby gate. I can use this on a doorway to stop them roaming during the night or upstairs etc.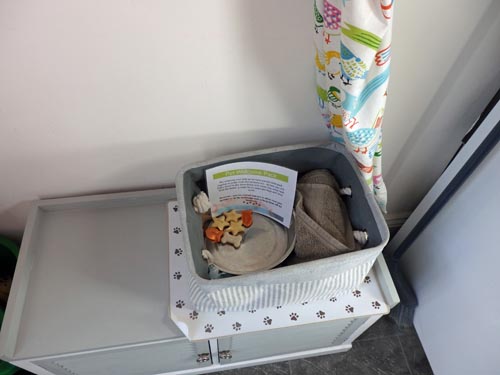 Also, check with your dog-friendly accommodation to see if they have a doggy package. I  got the cute little items above when we stayed at Greenleaf in Bamburgh. I also now have a trailer (camping utility trailer), which I pack the dog's stuff in alongside our stuff. My dogs have the whole car boot to themselves, so I needed somewhere to store everything else!
Claire from Tin Box Traveller came up with several dog-friendly stays, which seem just perfect for some quality time away.
If you are visiting somewhere warm or even in the UK during the summer months check out this post on all you need to know about dogs and sunburn. It is very important for dogs during the hot months.
If you are wanting to download a copy of this dog travel checklist to help you with what you need to take on holiday then click on the DOWNLOAD button below!
There you have it, what to take on a dog-friendly holiday and our DOWNLOADABLE dogs holiday checklist. Is there anything that you pack for your dogs for your holidays? Let me know in the comments below!