After spending 6 nights at La Croix du Vieux Pont – Berny Riviere, I thought I would write up what I thought about it. I have to say this has been one of the best parcs we have been too. The facilities that La Croix du Vieux Pont has available are amazing, and even on lazy days at the campsite, there are plenty of things to do to keep the whole family entertained. La Croix du Vieux Pont is beautifully laid out and doesn't feel cramped or overlooked like some other campsites we have stayed at.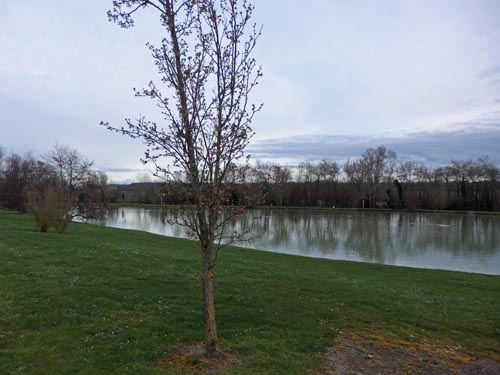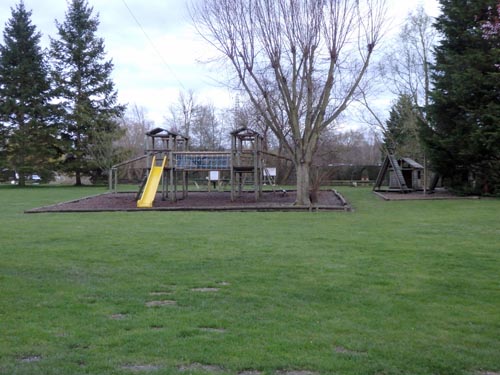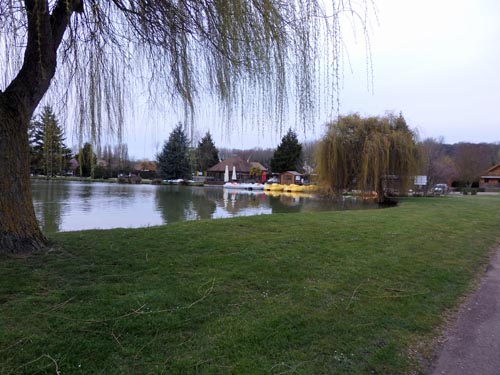 La Croix du Vieux Pont Overview
The Facilities at La Croix du Vieux Pont
A rundown on the facilities available at La Croix du Vieux Pont for you and your family:
Swimming Pools
Restaurants and bars
Take away
Grocery shop and bakery
Boutique souvenirs
Sport Activities like tennis, ping pong, and fishing + more
Mini golf, bowling, lazer game
Excursions to Paris and Disneyland available
As you can see there is a great range of facilities. Some of these facilities do incur an extra fee like the bowling, pedalos etc. However, they are well worth the price. When we were there in 2016 the pedalos were 8 euros for 30 mins, the little go-karts were 2 euros for roughly 5 minutes around the track.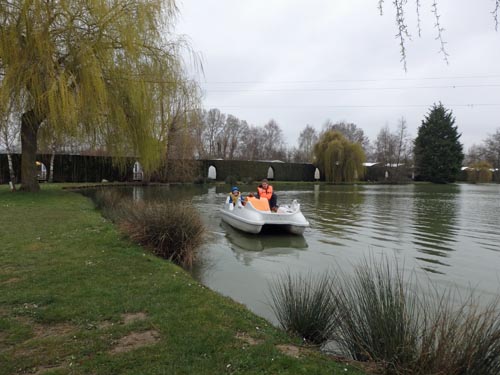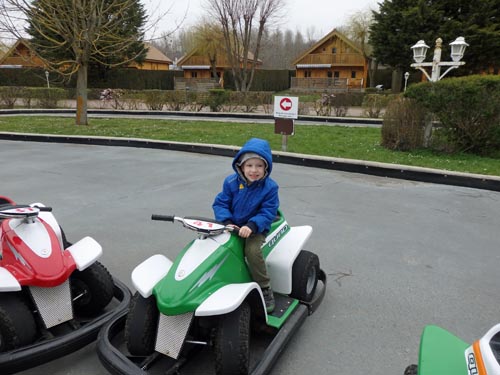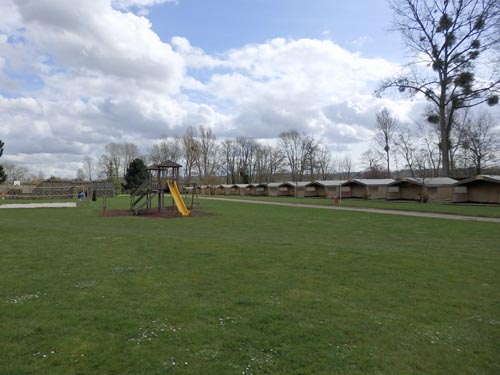 Lazy Days At The Campsite
As we spent most of our time out and about, we only had one lazy day at the campsite.  During our lazy day, I managed to squeeze in teaching my eldest so to ride his bike (he was over the moon as well by his achievement), we then had a cheap lunch of sandwiches (which we had bought the items from the local shop in town). After lunch, we took our rumble truck out for a spin and headed to the pedalos.
After the youngest woke from his nap we headed to the bike hire place and hired 2 bikes for an hour (one with a child seat) Such a great cost (3.50 euros each for an hour) and we loved it. We only cycled around the park while my eldest was on his own bike. He made me very proud as he cycled so much even after just learning how to cycle a few hours before. We then headed out to the onsite restaurant for our dinner.
Our Insider Advice for La Croix du Vieux Pont
Book a table for dinner as during the busy season the restaurant will more than likely book fast and you don't want to be sitting waiting or turned away.
The bowling is on a first come first served basis, so you may have a wait when you turn up.
There are only 4 or 5 changing cubicles at the swimming pool so be prepared to wait if you are wanting to change into your Swimwear before you go in. Same goes for coming out. There is also only one open cubicle for changing babies which is a bit daft.
The washing facilities nearest reception were really busy so try one of the other washing areas in case they are empty
If you want to save some money, then do cheap lunches from either parc shop or the local intermarche
The local intermarche is 5 mins by car and sells really good pain du chocolat. They are much cheaper than the onsite bakery too!
The soft play didn't seem suitable for babies/toddlers so check it out first before you pay.
The parc runs coaches during the week to Disneyland Paris and also to Paris itself. We took the train from Compiegne to Paris so we could explore at our own pace.
The gates to the parc shut at 10.30pm which means if you arrive back late from a day out you have to park your car and walk to your accommodation.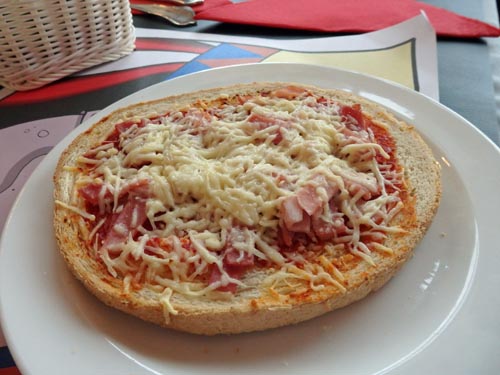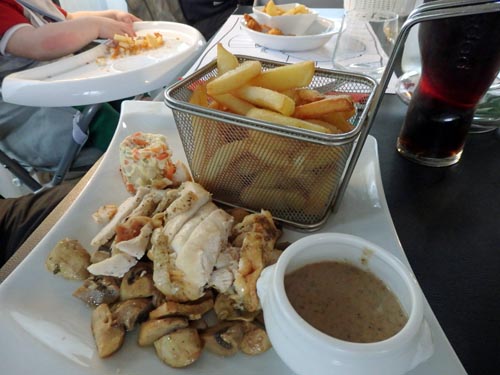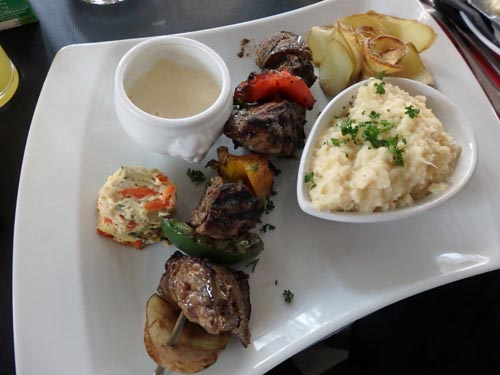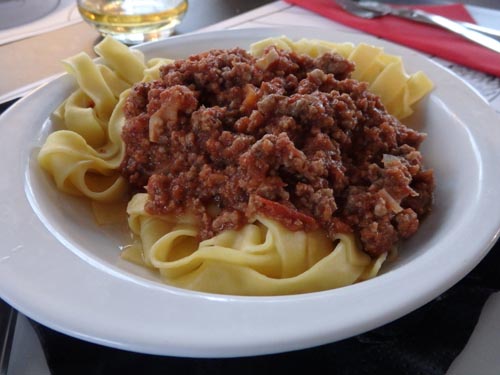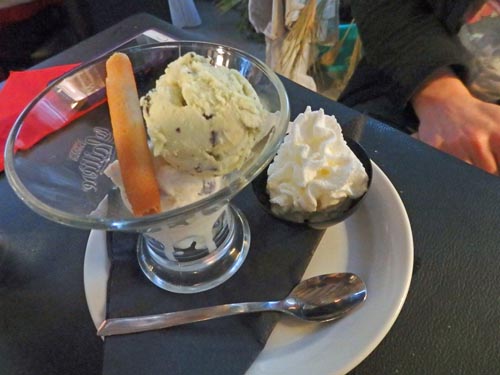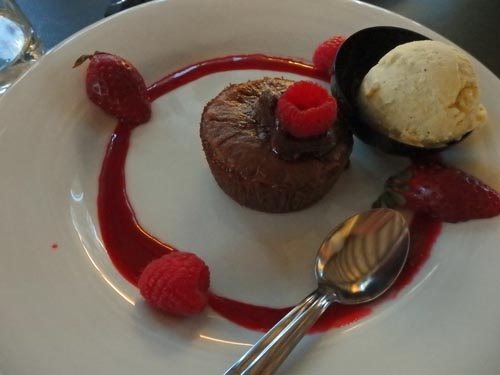 Eating Reviews
We ate twice at the onsite restaurant and the food was amazing.  It was well worth the money in my opinion.
One day we had lunch at the bar near the beach and again the food was lovely.  However, it did seem more expensive.
The onsite shop sells a great selection of baguettes, croissants etc
Overall
This has been one of the best parcs we have ever stayed at and we will definitely go back again in the future. If you don't want to stay in the caravans then Canvas Holidays have exclusive use of the log cabins that are on site.  Which are 2, 3 and 4 bed. They look great and I am thinking of booking one of these on our next visit.
Have you ever been to La Croix du Vieux Pont? What did you think of the parc facilities?
* Reviews are my own opinion. I haven't been paid in any way for writing this.