The Ardeche in the South of France is a beautiful place to go on a family holiday. With plenty of options for an active family holiday, there is bound to be something to take your fancy. If you are driving to France from the UK, then check out my handy post on travelling to France by car, which includes some tips and hints.
As a child, I went nearly every year to the Ardeche on a family holiday. Usually staying at a Eurocamp campsite in the Ardeche – Le Ranc Davaine. If you didn't want to stay in a caravan on a campsite then there are other options like hotels and villas.
Ardeche holidays with kids can be as relaxing or as active as you wish. If you have a look below you can find my top things to do in the Ardeche with kids.
Top 5 Things To Do In The Ardeche With Children
Canoe Down The Ardeche River
No family adventure holidays is complete without a canoe trip down the Ardeche river! A river is a tranquil place (though there are some rapids so best to research what sections are best to do with your children). When I have been to the Ardeche we have seen plenty of companies that hire out canoes and the river was full of people doing this. There is obviously a minimum age so best to check it out first.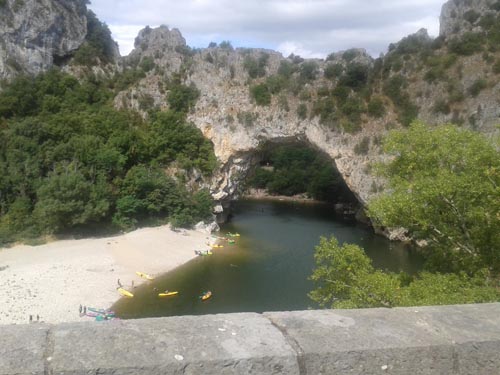 Visit the Pont D'Arc
The Ardeche is full of natural beauty, so if you want to see the ultimate tourist spot then you must visit the Pont D Arc. This natural stone arch stands over the Ardeche river. It is a must-see if you are in the area, but it does get rather busy so best to head up early do you don't get stuck in the traffic. The road can also be narrow in sections so drive slow in case you come across a coach coming the other way!.
Visit a Grotte (cave)
No Ardeche adventure is complete either without a trip to a French Grotto (no Santa here!). As a family, we love going down caves, and the Ardeche is full of them! While we were in the Ardeche we visited 3 while visiting the area. You can find my reviews under my French section. Two of them are a must the other I didn't find very good but a lot of other people have reviewed it and loved it. So everybody is different. On top of the 3, we visited there are others that we didn't get to visit. Let me know which ones you have been to.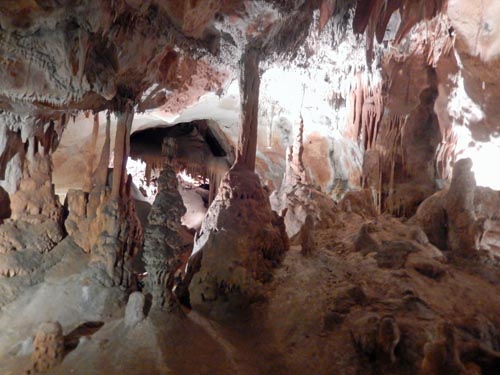 Relax Near The River
If you weren't into canoeing or kayaking in the Ardeche and relaxing is more of your "thing". Then lots of people (and families) park up near the Pont D'Arc and go swim and sit near the river to relax. Your children could throw so stones, paddle in the water. Or swim if they are confident or have an adult with them. One thing you can pretty much guarantee in the Ardeche is the good Ardeche weather! Every time we have visited we have had good sunny times (sometimes too hot!) and the odd thunderstorm in the evenings. This means its great for relaxing by the river and soaking up the sun.
Drive the Gorges d'Ardèche Road
If you have your car (or a rental car) then the must-do drive is the Gorges d'Ardeche road. Starting from near Ruoms the road leads up past the Pont D'arc and over to Aiguèze. It takes over an hour, probably closer to two hours but the scenery is amazing and there are places to stop en-route if needed. So you could make a day out of it and stop along the way; have lunch, stop at some attractions, admire the view…you get the idea. Just enjoy!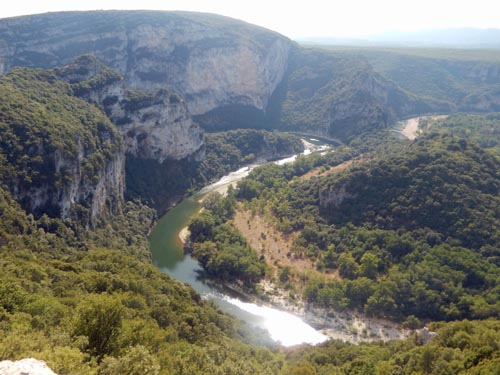 What would be your top 5 things to do in the Ardeche, France with your children? I would love to hear your thoughts. Please share in the comments below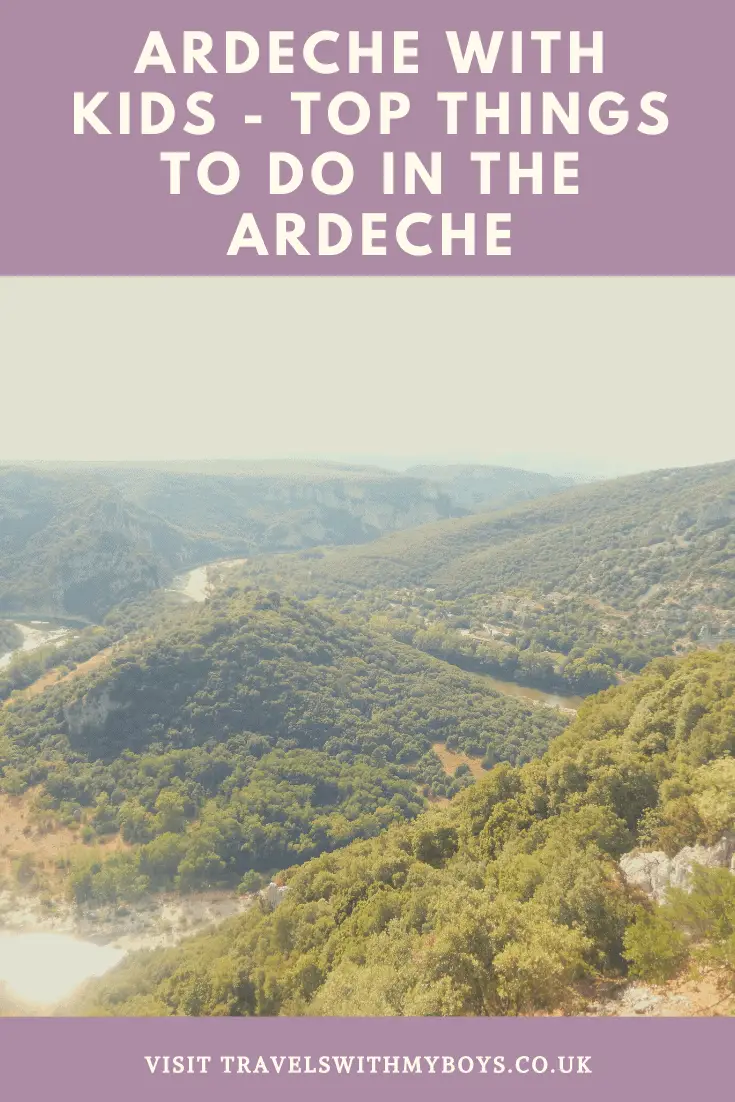 First Published Sep 2015