From experience when your child is learning to ride a bike, they either pick it up really easily or they take a while. My eldest son got his first bike when he was 1 year old. It was only on a holiday to France just before his 5th birthday that he finally mastered cycling without stabilisers. Part 1 of learning to ride a bike is about how I managed to get him more confident. With my youngest, I have gone down a different route so that will be part 2 when he learns! Below is what worked for my eldest, I think it all comes down to confidence.
Learning To Ride A Bike Part 1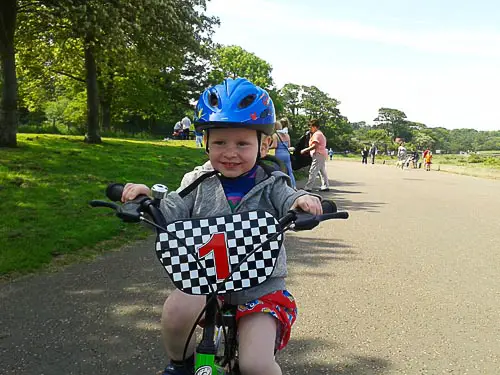 12 Inch Bike With Stabilisers
At the age of 1 our eldest got his first bike. He rode this bike for a good few years with stabilisers on. I also attached a handle so when he got tired I could push him along. It certainly came in handy and stopped me hurting my back!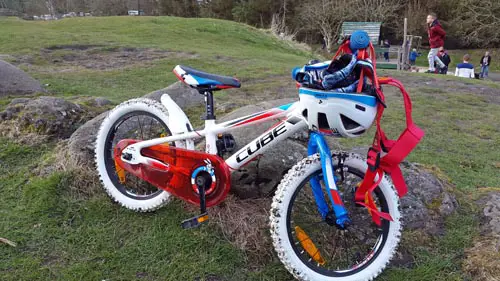 16 Inch Bike
As he was outgrowing his 12-inch bike I decided to buy him a Cube 160 from my family bike shop. It was lightweight and looked the part. He loved it! After a while, I decided to make the stabilisers uneven.
Wonky Stabilisers
Once he gained confidence and he could pedal properly, I then altered the stabilisers. This was to help him learn to balance. He didn't like it at first but he soon got use to it and was whizzing about. I kept an eye on his balancing ability and when he looked like he had mastered balancing I took his stabilisers off. For a while, he refused to go near it unless I pushed him along. This is when I decided to do some researching.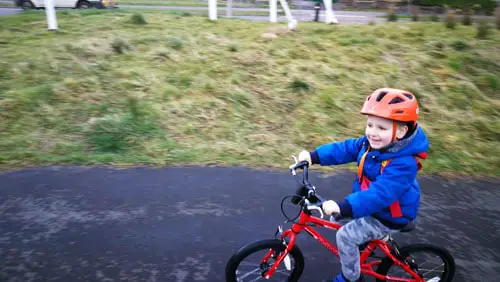 Crikey Bikey Harness
I then discovered the Crikey Bikey harness and he finally started making progress. As we had a holiday coming up I decided to pack his bike in the car along with the harness. With some help, his confidence grew and in less than an hour, he had mastered cycling. Stopping for a lunch break he kept asking to head back out. Luckily we had been staying on a campsite and hired bikes. Now there is no stopping him and he can cycle for miles!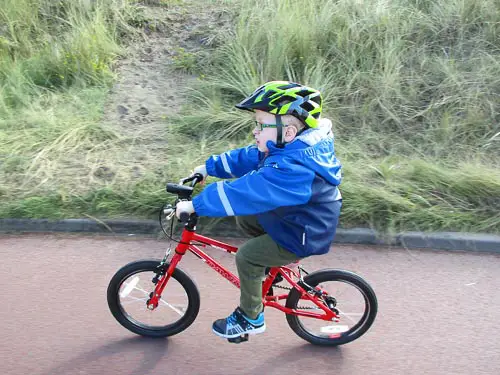 Cycling Holidays!
Since learning to ride we have been to Holland where he cycled everywhere. We also went on a cycling holiday along the Danube… Okay, he wasn't on his own bike but he still cycled for miles.
If your child is looking for that extra bit of confidence and you need that extra bit of help then we would highly recommend the Crikey Bikey harness! It is just what my eldest needed and it saves your back trying to hold them or the saddle.
Learning To Ride A Bike Part 2?
Well for my youngest I have gone down the balance bike route. It isn't something I thought I would do, but I wanted to see if balance bikes do really help. So you will just have to keep an eye out for a future post to see how he got on!
How did your children learn to ride their bikes?
Pop across to Just Average Jens post on what you need to know when shopping for a bike for some great tips.
Disclaimer – We have not been paid in any way for this post. My opinions are 100% my own.