Hiking is a great way to discover some of the most breath-taking landscapes in the world with your kids (check out Glen Affric). There is nothing better than spending quality time outdoors with your children and hiking is one of the best activities for kids to explore the great outdoors. It provides a sense of accomplishment as well as a chance to bond with your children. Hiking gear for kids is essential to ensure a safe and enjoyable hike for everybody.
The best hiking gear for kids should be sturdy, versatile, lightweight, comfortable and affordable.
Important Note: This post may contain affiliate links. I earn a commission from qualifying links in this post. (Disclaimer)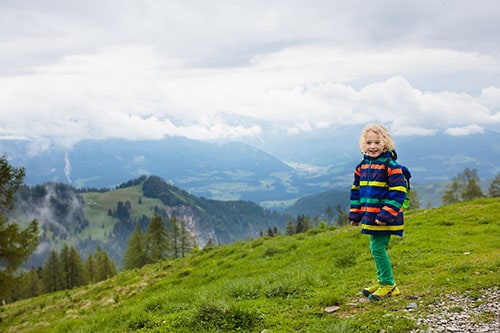 The Best Kids Outdoor Gear
Children's Base Layers/Thermal Underwear
Children's base layer; it's a layer of clothing that is worn closest to your skin and can be worn either in warm or cold weather. Some clothing companies offer various styles which suit different weathers, for example, a loose-fitting base layer worn in warm weather can keep you protected from the sun. In colder weather, a tighter fitting base layer should be worn to keep you warm.
Children's Mid Layers
A mid-layer is a piece of clothing worn between your base layer and outer layers that keeps you warm. They are used in all seasons, from fall to spring and might be worn in summer as well. Depending on the temperature and the weather you need another mid-layer then you can use it as an insulator.

Children's Outer "Shell" Layers
This layer is the outermost layer of the layering system which is sometimes called a "shell jacket."  Make sure this layer protects you from the elements like rain, wind, and even snow. When shopping for kids outerwear, make sure it's waterproof and breathable.
Kids Waterproofs
Let's face it, children love being outside and getting wet – especially when the ground is soggy with rain! Weather can change in a second. It's important to be prepared at all times. Whether it's warm weather or pouring rain, kids love putting on their waterproofs. Perhaps a lightweight packable jacket would be useful in warmer weather and gives them the freedom to splash around outside in a minimal amount of clothing.

Kids Hiking Boots
One of the most important items you need for hiking with kids. A good pair of kids hiking boots are a must. I prefer hiking boots to the hiking shoe style as there is more protection for their ankles. A good pair of kids hiking boots make hiking more fun and increases their safety.
Kids Hiking Accessories
There are several hiking accessories that will come in handy on your family hike. Some may be a personal preference, however, I will add them all as essentials for this post.
Hiking Accessories – Hiking Socks
A good pair of hiking socks for kids will help prevent blisters and keep their feet warm and dry in the colder months. 
Hiking Accessories – Gloves
Some children refuse to wear gloves, but they are really an essential part of hiking with kids during the colder months. 
Hiking Accessories – Buff
Buffs for children are useful. You do not have to just use them for around your neck either. You can even get summer buffs which are made of lightweight material and can be worn in multiple ways.
Hiking Accessories – Sun Hat/Winter Hat
Depending on the weather either have a winter hat or a sun hat will come in handy.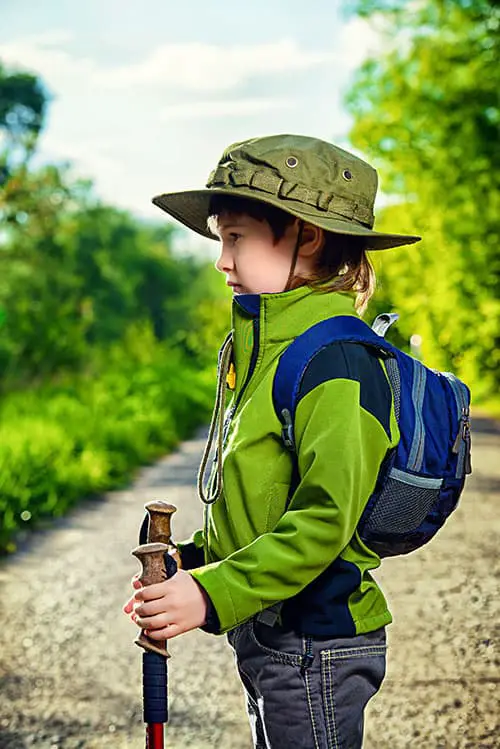 Hiking Backpack
One of the best gifts you can give to any kid that loves hiking is a backpack. If you're looking for a new backpack for your child, check out these great options.
---
There you have it. Hiking with kids can be fun but you need to invest in some decent hiking clothing (it doesn't have to be expensive as kids grow). The above items are just examples there are many great outdoor brands that you could try.
Related Hiking Guides:
Best hiking gear for children (this article)
Pin For Later?