Peppa Pig, you either love her or hate her. As a parent, this pink pig and her younger brother George can wreak havoc in your home. However, I didn't think twice about going to visit Peppa Pig World. Why? Well seeing the joy on your kid's faces and having so much fun means us parents have to suck it up and enjoy the fun too. Although, the tunes they play while you are in Peppa Pig World may just cause you to tap and oink to the music too.
If you are looking for other family days out in the UK check out my Days Out In the UK Page!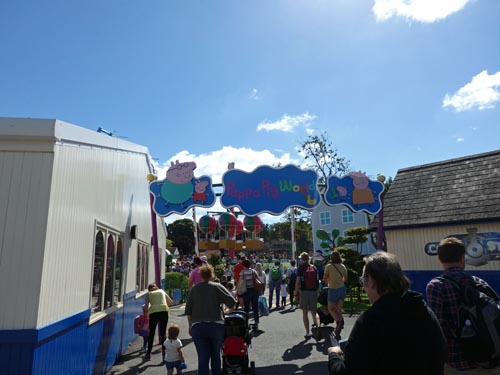 Our Tips For Visiting Peppa Pig World
Peppa Pig World – Buy Tickets in Advance
Opening time is normally 10am, which after you have parked and walked for what seems like miles to the entrance. The last thing you want to be doing is joining a long queue to get your entrance tickets. Buy online and it saves waiting. I bought tickets on the day. Under 1m tall and your child gets in free. Our entrance cost was roughly £95 for a family of 3 (Little K is under 1m – phew!) which for me was a big chunk of money. These places never come cheap, do they?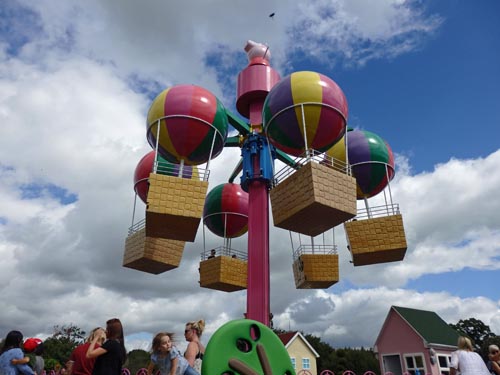 Under 1m – Get a Wristband
Once you go through the turnstiles and as you walk past the gift shop there was a stand with a member of staff giving out wristbands. We walked past this at first. I headed back to find out more information and it turns out if your child is under 1m you can get them a wristband at this point. This means when you are going on rides your child won't have to get measured each time as the staff will be able to see their wristband. Which I think is a great idea.
Peppa Pig World Pushchair Rental
On the left, as you exit the double doors is guest services. Here you can find lockers and pushchair rental. As we only had hand luggage with us, I had not bought a pushchair with us. So for £8, I hired a single pushchair. Our pushchair had a little wheel which Little K enjoyed steering around the park. There wasn't anywhere to hang bags from though which was slightly annoying. You do have to pay a deposit through which can be paid in cash or by card. They only charge your card if you don't bring the pushchair back.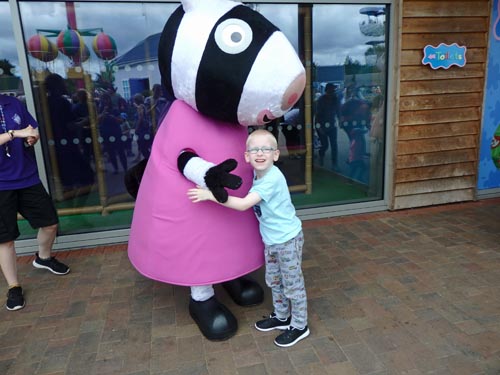 Download the Peppa Pig World App
I found out about the app from Carrie at Flying With A Baby. So before we arrived I downloaded the app and made sure it was all set up. I only used it a few times while there to check ride waiting times but it may come in handy for others.
Plan The Rides – Peppa Pig World
Once you get there this may go out the window, but if you have an idea what rides your little ones can go on then you can try to go on these first. My boys enjoyed George's dinosaur ride, but take note over a certain height and they have to go on by themselves. This meant myself and Little K went on one dinosaur, followed by Big K who went on his own. Some rides had a long wait (over 30 minutes) which getting close to lunchtime meant the boys were getting grouchy. Maybe you will plan a bit better than me.
Peppa Pig World Food & Drinks
Inside Peppa Pig World there is only Daddy Pig's Big Tummy Café. This may mean that you will have to leave that section of the park and go elsewhere. We left Peppa Pig World to find somewhere else to eat. Everywhere was pretty busy but we managed to find a seat just outside of Peppa Pig World.
Muddy Puddle's Water Splash Park at Peppa Pig World
We never got a chance to see this part. However, everyone seemed to be having a blast. It is an outdoor water splash park, so make sure you don't forget your swimming costumes or a change of clothes.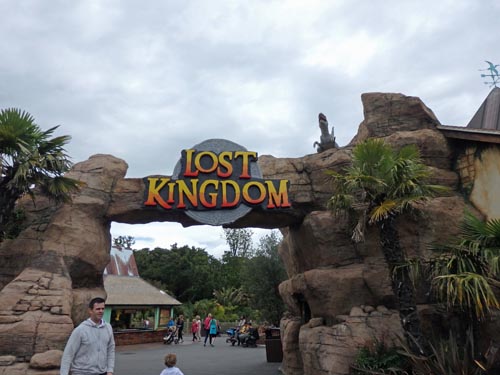 Check Out The Rest Of The Park
Remember you also have the rest of Paultons Park to explore. There are other rides that your little ones may enjoy the rest of the park. Little K loved the Dino Chase ride and the Dinosaur Tour ride (they get to ride a jeep). If you also have a child over 4 years old and are little thrill seekers, then they can also go on the Flight of the Pterosaur and Velociraptor. Big K enjoyed sitting front row on these bigger rides.
Have Fun!
Last but not least, enjoy your day. Take pictures and videos and watch your little one's faces light up! We had rain for part of our time there and still had fun.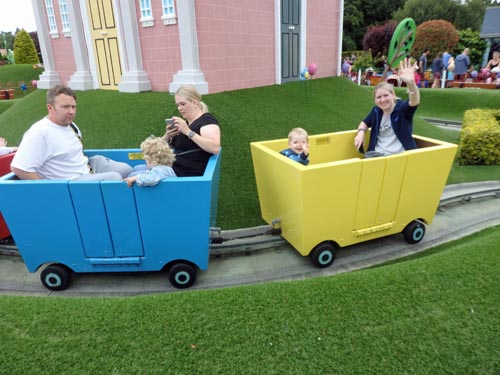 Have you ever been to Peppa Pig World? What tips do you have for other readers? Let me know in the comments below!
If you are looking for more themes parks to visit, then how about looking at these Theme Parks in Cornwall?
Disclaimer – I paid for our entry tickets and day out myself. My opinions are 100% my own.