Keeping your children entertained on holiday can be daunting especially if your kids are like mines and never sit still. You can check out my post on 10 ways of keeping kids entertained while travelling which gives you various ideas. However, one travel game that my boys love playing is Travel Snap.
Important Note: This post may contain affiliate links. I earn a commission from qualifying links in this post. (Disclaimer)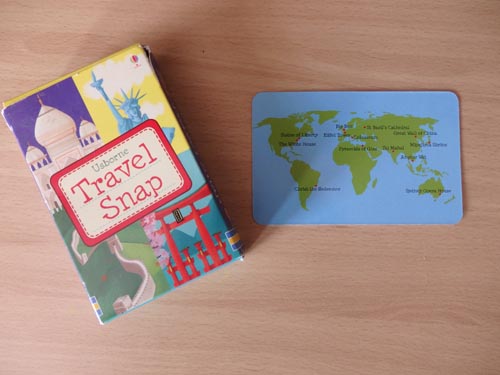 Travel Snap Game Review
This game is like a deck of cards, and there are 13 matching sets of 4 each having a famous landmark on them. On the reverse side, there is a picture of the world map. Snap is an enjoyable game for any child but having pictures of famous landmarks means they are learning about the world at the same time.
What we like:
Colourful and vibrant colours
Large to hold which means easier for younger children to play with
Not too large to pack in a hand luggage bag or to keep in the car
They don't cost too much, always a bonus in my eyes!
Fun for all age levels
Learning about places around the world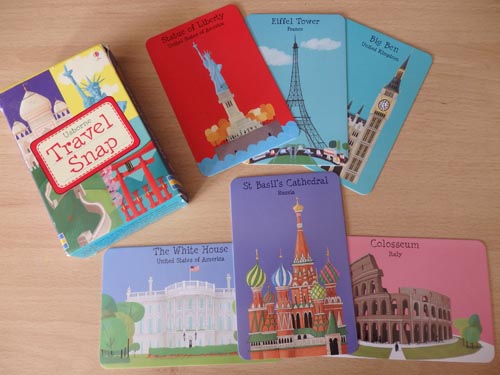 Verdict
I really like the Travel Snap Game. Its simple and easy game to play and everyone seems to enjoy playing it. Big K enjoys getting competitive to see who can shout snap first.
I bought our game of Travel Snap Game (Check for most recent prices here)
 from Amazon.
* Reviews are my own opinion. I haven't been paid in any way for writing this.
I am a participant in the Amazon Services LLC Associates Program, an affiliate advertising program designed to provide a means for sites to earn advertising fees by advertising and linking to amazon.co.uk.