Hiring a car seat abroad can be a minefield! I have previously hired car seats while away but all the times I have its been a complete nightmare; I have now learnt my lesson and I take our own car seats. So if you do have space I would advise taking your own. Depending on the type of seat it can either be taken on the plane (check with your airline first) or can fit into a suitcase.
From my own experience, I have found the car hire companies don't have very good car seats; they have been poor quality and outdated versions of seats.
FURTHER READING – GUIDE TO TRAVELLING WITH A CAR SEAT
Hiring A Car Seat Abroad
Most companies will not fit the car seat for you and you have to fit them in the car yourself – which can be very stressful after a long flight and everyone is tired and hungry. I have found that most car seats in the UK are fitted completely different from car seats in other countries. It can be very confusing when you don't get given any instructions.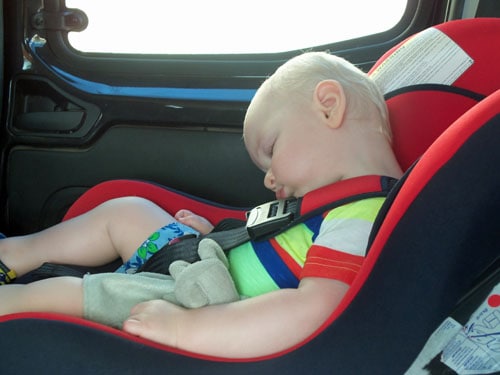 Car Hire Tips
If you do hire a car seat the here are my tips:
Make sure the car seat is the correct stage seat for your child. If a baby (normally under 13kg) then make sure you are given a group 0+ car seat. I was given a car seat for a 9 month + baby (forward-facing) when my eldest son was only 16 weeks old. After not agreeing with the car seat given, I had to go back and demand the correct one. They kept telling me the car seat was perfectly fine for him!
Check the seat for any signs of wear and tear. Look out for the following;  twisting of the straps, broken buckles, any cracking, or harness deterioration.
Try your child in the car seat before you put it in the car and sort the straps so they sit properly.
Fitting the car seat; if there are no picture diagram instructions on the seat then make sure the car seat doesn't move when you have fitted it – check that the seatbelts are positioned correctly in the right holds on the seat and test that the buckles don't detach when you pull hard on them. If you think the car seat doesn't fit in the car then ask for another car seat to try.
If taking your own car seats you have the peace of mind of knowing it is completely safe with no wear or tear. You will also know how to fit it correctly in the car. Though if you can't take your own child car seats and the only option is to hire, then please take care and make sure you are completely happy before leaving the airport or car hire building.
Have you ever hired a car seat abroad? Did you have a good or bad experience?