Welcome to my monthly family travel series where you can find out about other Bloggers favourite family travel destinations. Whether it be in the UK or abroad you will find out just why these bloggers love their destination and what you can get up to while there. If you are a blogger and want to take part then you can send us an email and we will send you more information. My next blogger is Angharad from Mama Travels Earth.

Favourite Family Travel Destination Series – Mauritius
Destination: Mauritius
Age of Children at time of Visit: 7 months and 3 years old
Where Did You Go?
For her 60th birthday, my mum wanted to mark the occasion with a big group trip and some of her nearest and dearest – in total there were 18 of us, including two babies and three toddlers. We considered all sorts of destinations, but in the end, the idyllic climate, heavenly beaches, stunning scenery and one exceptionally family-friendly hotel in Mauritius – Heritage le Telfair Golf and wellness resort – were a no-brainer.
It was our first long-haul flight with little ones and the actual journey far exceeded our expectations – with helpful airport staff, on-time planes, sleeping offspring, no major melt-downs and lots of extra helping hands.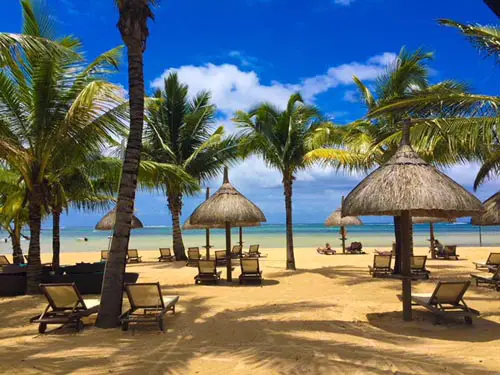 What Places Did You Visit While There?
Within our group, those of us with young kids tended to stick to the resort as there was so much on offer. We were more than happy swimming in the various pools (including our own private one), playing on the beach and making the most of inclusive activities such as the glass bottom boat trip, kayaks, yoga, pedalos and fantastic kid's club. You can also pay for extra entertainment such as ringo-ing, kite surfing, spa treatments, cookery classes, golf and horse riding along the beach…the list goes on! Shooting around in a golf buggy was also a big hit with kids – little and big! For those that wanted to explore the island, it was possible to book on to trips run by the hotel – tours run to Chamarel seven coloured earths, Baie du Cap, unspoilt beaches on the south coast and to the west coast to spot dolphins.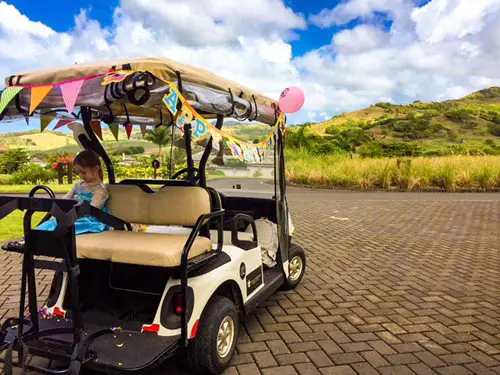 What Were Your Favourite Things About The Destination?
The climate was perfect for children (we went in December), with temperatures lingering between 25-30C in the day and ending with glorious balmy evenings and epic sunsets. The people we met were so friendly and the customer service was excellent – nothing was too much trouble. And, of course, the landscape of the Bel Ombre region, with its mountains, tropical nature reserve, vibrant blooms and Indian Ocean vistas is simply awe-inspiring.
Why It Is Your Favourite Family Travel Destination
The hotel itself was perfectly geared up for families, pristine in its cleanliness and breathtakingly luxurious with a great choice of places to eat and drink, including a nice balance of rustic beach bar (with swing and cocktails) to fancy colonial-style dining. Our villa came equipped with baby equipment, washing machine and dryer, lovely kid's club accessories (t-shirt, cap, bag) and a cot. We made use of their excellent babysitting service and brilliant kid's club, playgrounds and great choice of activities every day Despite being a large group with lots of very young children, everything felt really easy and relaxed. A gorgeous part of the world.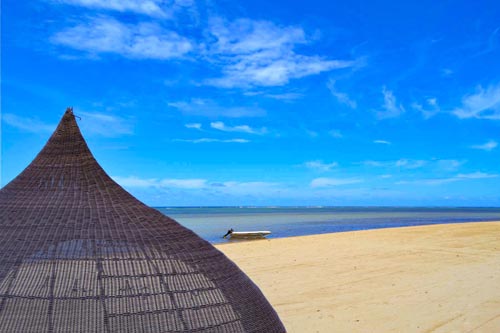 Any Top Tips For Visiting Chosen Destination?
For long-haul flights, make life as easy as possible for yourself – pay extra for the meet and greet parking so you don't have to faff with luggage, kids and buses. If your baby is under 6-months, British Airways offer a baby bassinet (older babies get a baby seat), but you need to book these in advance. The great thing about Mauritius with little ones is you don't need any jabs or malaria pills, and I also don't remember any problems with mosquitoes. Finally, we went for nine days, but as it's so far away I'd definitely recommend going for longer as it did feel quite short with tiring travel days.
You can read more about Reasons to Visit Heritage Le Telfair in Mauritius.
---
Thank you, Angharad for telling us all about your favourite family travel destination.  Mauritius looks absolutely amazing, a perfect family travel destination.  You can follow Angharad on Instagram, Twitter, and Facebook.