Welcome to my monthly family travel series where you can find out about other Bloggers favourite family travel destinations. Whether it be in the UK or abroad you will find out just why these bloggers love their destination and what you can get up to while there.  If you are a blogger and want to take part then you can send us an email and we will send you more information. My next blogger is Sarah from Mini Me and Luxury.

Favourite Family Travel Destination – Mexico
Destination:Cancun Mexico
Age of Children at time of Visit: Harry was 3 years old
We travelled as a family of three with Minime of course, to the Royalton Riviera in Cancun Mexico in October 2016. We had an ocean view Luxury Suite with Diamond Club, which is their exclusive Butler service and a Jacuzzi on our balcony.
The transfer took 15 minutes and check in was prompt, which is essential after a 10-hour flight.
The room was fantastic with a king size Dream Bed, which made me sleep better than home! We had a cot brought into the room as I was not comfortable with Minime sleeping on the sofa bed that was the room, and he was happy.
Luxury suites have a jacuzzi bath in the main area, along with two sinks and a separate toilet. There is a fully stocked mini fridge with soda, beer and chips (although I had the alcohol removed, as Minime is rather inquisitive)
Large TV in the room with lots of English channels and the ability to see what is on in the resort and you can also order room service from your TV- Minime still can't understand why our TV at home doesn't have this capability.
Food & Bars
The food is outstanding and there in an impressive 9 restaurants, all of which you can access. Our Diamond Club butler booked our reservations for us, to save us queuing at the restaurants when they take reservations in the day.
Gourmet Marche– Is an international buffet restaurant serving the widest range of dishes we have ever seen.
Zen– Japanese evening restaurant, which hosts a superb teppanyaki experience which Minime thoroughly enjoyed. This was my favourite restaurant but I am extremely partial to Japanese food.
Hunters- Is a gorgeous steakhouse serving delicious steaks and offers a sommelier experience.
Grazie– Open for lunch and Dinner serving delicious Italian food.
OPA– Mediterranean food at its very best, open for Dinner.
Armadillo– Minime's favourite serving Tex-Mex food, open for Lunch and Dinner
Caribbean-Beautiful ocean view and gorgeous fresh fish options. Open for Lunch and Dinner
Agave–  Mexican restaurant which is open for Dinner.
Score- We loved the Sports Bar, serves American style food almost 24 hours a day with a great environment.
There are 12 bars at the Royalton Riviera although we used a small selection. The pool bars and all fantastic and Minime still asks for a Mango Tango or Strawberry Daiquiri (virgin of course) in every restaurant we go in.
Children's Facilities
The Royalton provided the best children's activities we have experienced as a family, there is a superb Children's club which we accompanied Minime to as he was 3 and the unsupervised visitation is 4 (0ver 4 years, parents can leave them and have a pager given to them in case they are needed)
The Children's club hosts a wide range of events such as arts & crafts, pinnate parties, discos, shows, campfire evenings- the list is endless
There are balloon modellers around at some mealtimes and the resort offers character breakfasts with Mike the Knight and Max & Ruby, they are a fantastic experience for the children.
The evening entertainment offers some child-friendly shows and the children's club runs talent shows and discos.
You can eat in any restaurant with children and they always have a kid's menu and a dedicated children's area in Gourmet Marche.
There is a phenomenal children's activity pool which is shallow enough for toddlers and is full of slides and play equipment. The activity pool has a twice-weekly foam party and there is always something going on.
Minime preferred the pools in the Diamond section as they were quieter and he could use his inflatable in peace.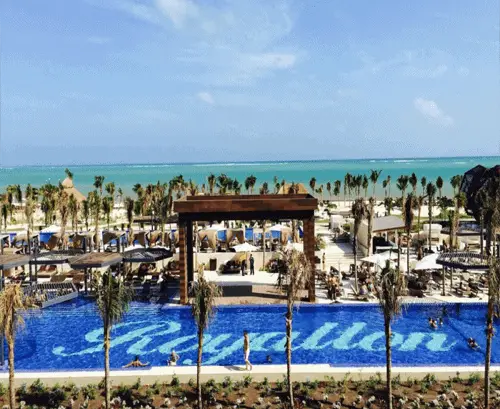 Beach
We spent lots of time on the beach in our comfortable cabana, waiters are extremely attentive and you constantly have a full glass. They are also happy to help you find shade, fetch new towels etc.
Minime and Daddy spent hours making sandcastles and digging holes in the sand, which allowed mummy to catch up on emails YES you can get Wi-Fi on the beach!
The sea was quiet enough to paddle in most days and allowed Minime and Daddy to go out on a kayak, with mummy frantically paddling alongside in case a wriggly three-year-old suddenly jumped overboard.
We went on a fantastic snorkelling trip by Nexus who organise the water sports, the trip was extremely well organised and we felt completely safe and comfortable throughout the day.
Summary
The Royalton Riviera was an outstanding holiday, the staff were delightful and always with a smile and "can do" attitude.
We would recommend the resort to anyone looking for a family vacation with excellent facilities and you do not have to compromise on quality because you have children.
---
Thank you, Sarah for telling us all about your favourite family travel destination.  Sounds like the ultimate luxury family holiday! You can follow Sarah on Instagram, Twitter, and Facebook.