Welcome to my monthly family travel series where you can find out about other Bloggers favourite family travel destinations. Whether it be in the UK or abroad you will find out just why these bloggers love their destination and what you can get up to while there. If you are a blogger and want to take part then you can send us an email and we will send you more information. My next blogger is Allison from Allison Gygi Travels.

Favourite Family Travel Destination Series – Ireland
Destination: Ireland
Age of Children at the time of Visit: Ladybug was 4 and Buddy was 2.
What places did you visit while there?
We flew into Dublin and rented a car. The first two days we spent exploring the capital city. We toured Dublin Castle and explored the city with a self-guided walking tour- including a stop at St. Stephen's Green, window shopping on Grafton Street and eating authentic Mexican food at Cafe Azteca. Then we drove south to Kilkenny where we spent two more days touring places such as Kilkenny Castle and the medieval Mile. We continued our drive south to Blarney Castle before making our way to the tiny harbour town of Kinsale in County Cork. Killarney National Park was next on our agenda and we spent two days there before finishing up our trip with an awesome day at the Cliffs of Moher on the west coast of the island.

What were your favourite things about the destination?
Our list of favourite things about Ireland differs depending on who you ask. Ladybug loved the coastal walk at the Cliffs of Moher. Buddy's favourite was exploring the open spaces at Killarney National Park. Kilkenny and Kinsale topped my list of Irish favourites. My husband's favourite was also Kilkenny for history, architecture, and friendly people.
Why is it your favourite family travel destination?
There are so many reasons why Ireland tops our list of favourite travel destinations for families. The people are some of the friendliest people I've ever met. A definite highlight was talking to the locals everywhere we went. They were so eager to tell us about the best places to go and were so engaging with our kids. We were also struck by the absolute beauty of Ireland. Of course, we had seen pictures but the whole country was far more stunning in person.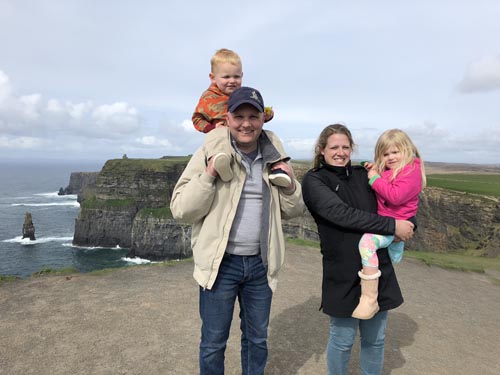 Top tips for visiting Ireland
Bring a raincoat. And a poncho or umbrella. It rains often in Ireland and sometimes it'll start raining with no warning. Make sure to bring them with you everywhere you go.
The best way to see Ireland is to rent a car and drive yourself around. Taking the scenic route will add to your travel time but the views are much more interesting than taking the highway. Though my husband- the driver- would recommend you stick to the highways, I disagree. The scenic route, in my opinion, is always more interesting. You never know what you'll find on the side of the road.
Make sure to keep a few 1€ and 2€ coins in your wallet. A lot of parking lots outside of the major cities don't accept credit cards to pay for parking and the pay structures won't give change. Make sure to keep a few 1€ and 2€ coins in your wallet to be prepared.
---
Thank you, Annabel, for telling us all about your favourite family travel destination. Sicily sounds like a fantastic place to visit for a family holiday. You can follow Allison on Instagram, Twitter, Pinterest and Facebook.