The Greenleaf is a self-catering house in Bamburgh, Northumberland. Now before I continue I would like to say that I paid for this accommodation ourselves and I thought it would be useful for my readers to write up a review of it. We loved the house so much and the facilities that it offers. It is perfect for families, couples, and also for people with dogs.
You can tell as soon as you step foot in the Greenleaf that the owners take pride in their properties (they have 3 self catering properties in the area), the house was spotless when we arrived and were in love with the decor! We will definitely be staying again in the future.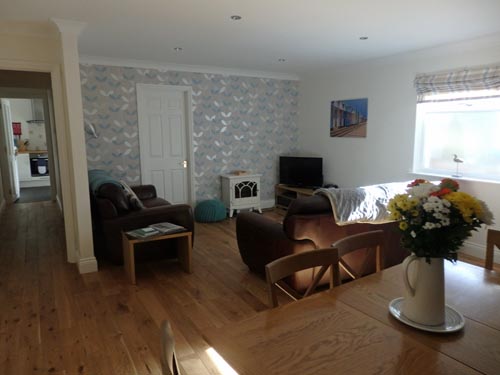 Greenleaf in Northumberland Review
About Greenleaf
The Greenleaf is situated in the centre of town. You are only a short walk away from the beach and the village shops. Once you are on the main street you can see the magnificent Bamburgh Castle.
Outside there is a private car park space with more than enough space for a trailer too (we have a Daxara 127). My car is pretty large and the trailer fitted in behind my car. There is also a small but functional garden with a lawn area and patio. There is also a gate which gives access to a shared laundry room.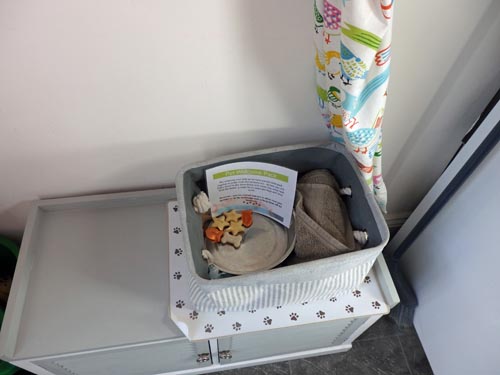 From the garden, you access the Greenleaf where you walk straight into the gorgeous kitchen. It has everything you need for cooking and storing food in the cupboards. From the kitchen, you walk through the hallway where there is a WC before you reach the living/dining room. The dining room table can fit 6 and there was also a highchair available for my youngest to use. Against the wall was a bookcase full of books and also some handy kids toys, which the boys enjoyed playing with.
While upstairs you will find a massive bathroom with a bath and separate shower, and 2 bedrooms. The master bedroom has a sofa, so you can relax there instead of the bed! Each bedroom has a wardrobe, so there is plenty of space to put clothes and suitcases away.
Great Features Include:
There are so many features that make the Greenleaf great for families and also great if you just have dogs! You can see my dog packing list as well if you are going away with your dog(s).
Baby gates at the top and bottom of the stairs
Highchair
Toys and books in the living room
Travel Cot
Toilet seat and potty
Night light and more
The owners were great and they provided lots of cleaning products and a handy welcome hamper. The cleaning products are all eco friendly and I now use the same ones back home as I found them amazing to use (they also smell really good!). I personally enjoyed eating the shortbread from the welcome hamper! There was also wine, but I don't drink, so I never got round to drinking it.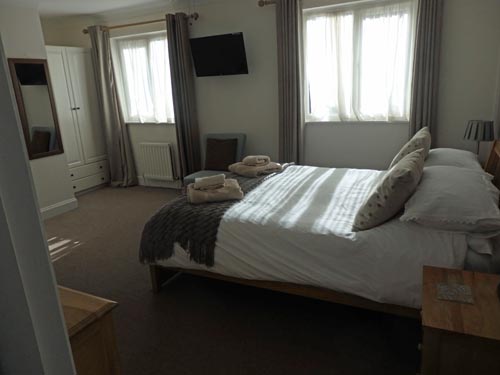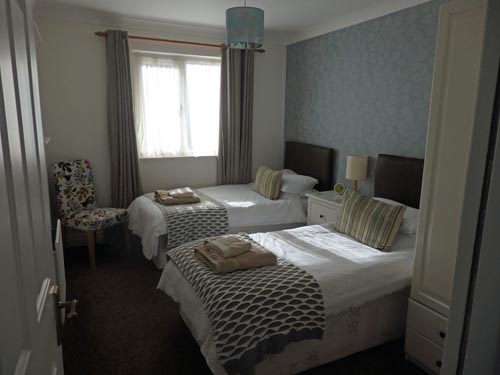 The Bad?
If I am completely honest, then there really isn't anything I can think of. The only thing I can think of which would make the Greenleaf even better would be bed guards for young children. Bed guards are pretty bulky to bring with us and my youngest was only 2 at the time, so needed a bed guard to stop him rolling out of bed. However, this is me nitpicking.
Overall
I cannot recommend the Greenleaf enough for families or people with dog(s). The owners Philip and Sarah really don't get enough credit given to them and I hope they have many more years of success.  If you are taking your dog(s) with you then you can also read my post about if I thought Northumberland was dog friendly or not.
Disclaimer: I paid for our stay at the Greenleaf myself. My opinions are 100% my own.