We visited Majorca back in 2015 on our family holiday. I decided to book the Alcudia Pins Hotel through Thomson, in one of their stores at our local shopping centre. For 2016 this hotel is now included in their Family Life category (please do check if this has since changed). You can read more about Thomson's family life category on their website. The hotel is located in Majorca near to Playa de Muro.
Further Reading – Surviving A Hotel Stay With Kids
Alcudia Pins Hotel Review
About the Alcudia Pins Hotel
This is a 3-star hotel although Thomson rated it as 4T when we booked. However, personally, I would say it was the 3-star rating and not more. It is right on the beach which is ideal if you are a beach-loving family. It is about 3 miles from Alcudia itself, so don't let the name deceive you. I also found there wasn't much around the local area if you leave the hotel.
We had to take the local buses to go and explore; although the buses are pretty cheap compared to the UK, so it's a great alternative to a hire car. The hotel does have free wifi zones. However, I didn't use the wifi from the hotel as I had my own mifi dongle, which I use when away. As well as the facilities listed below the hotel also has several sports activities available to hotel guests can use.
Some of the facilities available are:
WiFi Zone and Reception 24 hrs
Luggage Room including washing machines & dryer
Pools, and sunbeds
Childrens Playground
Childrens day Entertainment and Mini Disco in the evening
Supermarket
Arcade Games
Medical Center
Beauty Area with different treatments and massages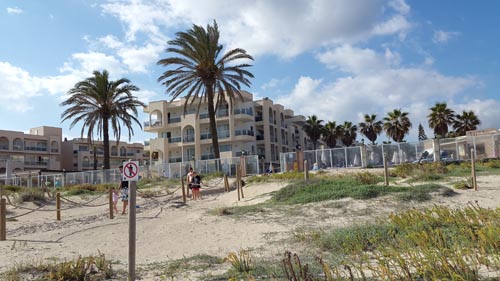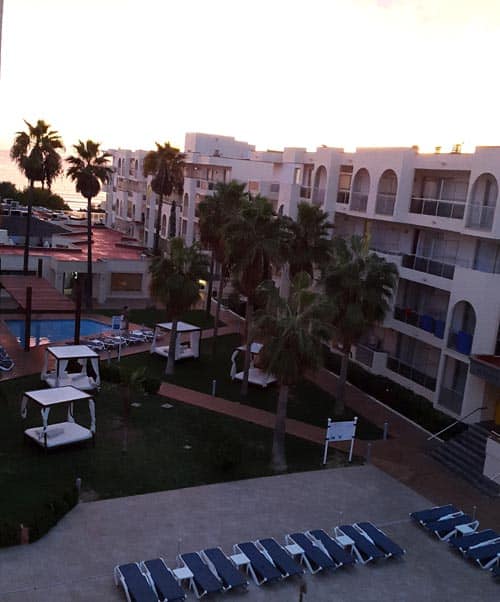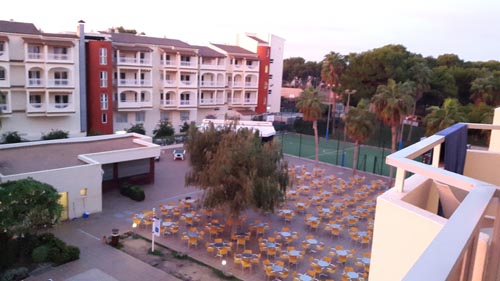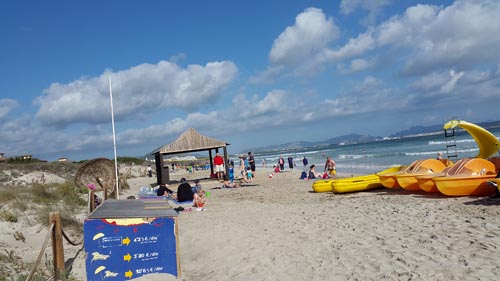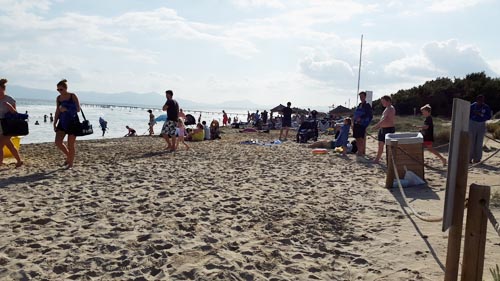 Pools
There is a great selection of pools at the hotel resort, also the sea right by the hotel. Included are two big pools and baby pool with a splash pool also available. Beware though as the pools are not heated so if you go out of season (we went in October) then they are ICE cold. Although that didn't stop the other guests jumping straight in! There are sunbeds around the pools but if you use the sunbeds on the beach then you have to pay as they are not part of the hotel.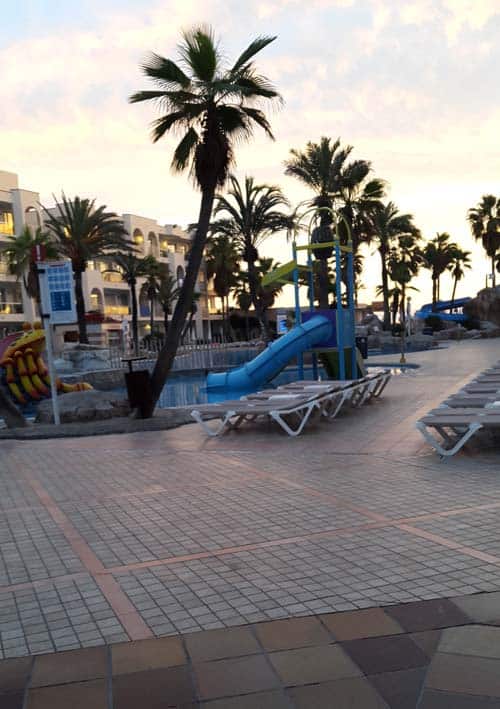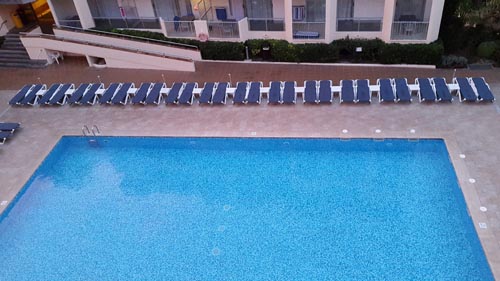 Restaurants
You have the main buffet restaurant where lunch and dinner are served. There is also another buffet restaurant where lunch gets served near to the beach but mid-week during our stay it closed for the season, so we had to use the main restaurant all the time.
Another restaurant is located near the beach; you are allocated one night to eat in during your stay (included in your all-inclusive) we chose not to eat here as you are given a date and then you have to book the time the night before. It was a bit of a hassle as we were out and about exploring, so we just left it. There is also unlimited local alcoholic and non-alcoholic drinks which include beer, wine, spirits, soft drinks, tea and coffee. Snacks are also available during certain hours as well…great if you have children who eat all the time.
For people with food intolerances or allergies, the food was labelled pretty well. I  managed to find food each day for my boys to eat; my youngest is both gluten and milk intolerant.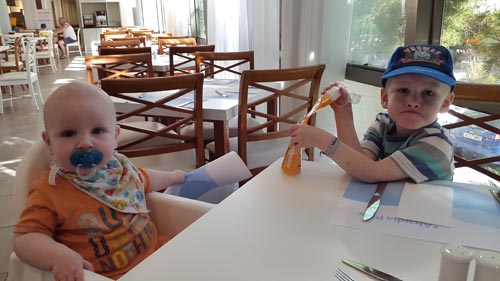 Kids Club
There is a baby club and a kids club (younger group and also an older group) There are various activities set up through the week including parties. When we were there each morning if you wanted your kids put into a session (morning or afternoon) then you had to sign up by 9am. Parties also cost extra. I only had my eldest son in the kids club for 2-morning sessions and also a party. He loved it so much, which is always great to see their faces light up. It is the first time I have put him into a kids club while on holiday, and he did enjoy the time playing with the other kids.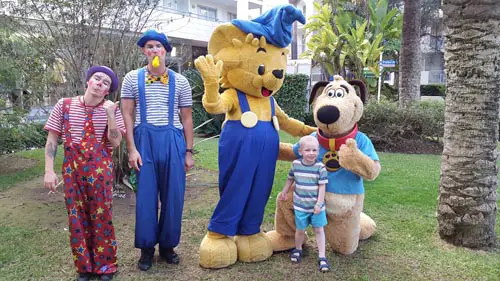 Evening Entertainment
There was a kid show that started at about 7.15 pm each night which lasted until about 9 pm. My eldest son went a few nights and always had good fun. During the busy season, I don't know if the entertainment would be different.
Rooms
I booked a family room with pool view, it had a double bed (though it was probably a king size), and a bunk bed in a separate area which you could slide doors across at night which meant I could sit at night while the boys were asleep and relax. The room was spacious and there was also had a little kitchenette which included a microwave, hob, sink, fridge, cutlery etc. This came in very useful, especially for making the little one's bottles each day and storing the bottles in the fridge. I didn't cook or anything but I'm sure it would be okay to use if you wanted to use it.
The room was nicely decorated though I did feel like it had been rushed and the finishing touches were lacking, whereas if they had been neatly finished it would have made it even better. I did feel that the walls were paper-thin as you could hear everything going on outside the room. It also doesn't help when parents let their children run up and down the corridors screaming late at night (for me it's nice to make sure the kids behave in the corridors out of respect).
There is air conditioning in the rooms, but you can only use it to 22 degrees which I found was pretty useless. I couldn't even get ours to work to any temperature never mind to 22. I cooled our room by opening the hotel room door which meant it was even louder in the room. There was lots of storage space within the room (wardrobes etc) and there was even space to put the suitcases away too.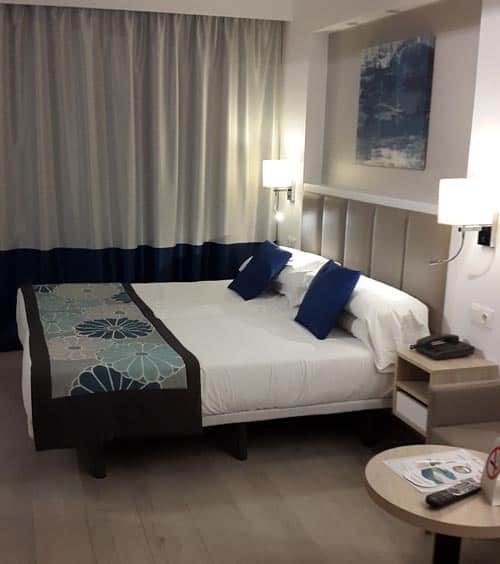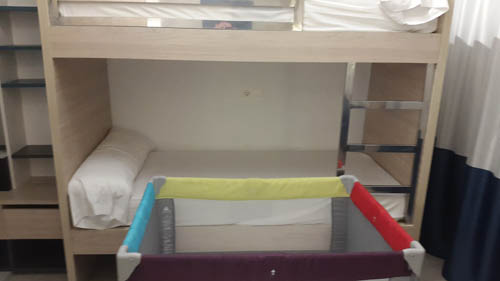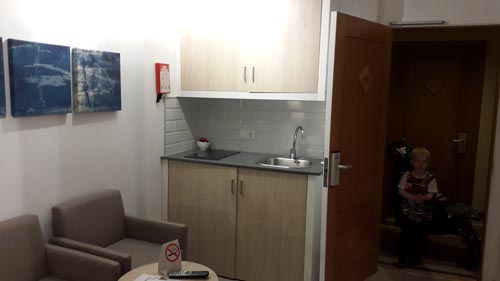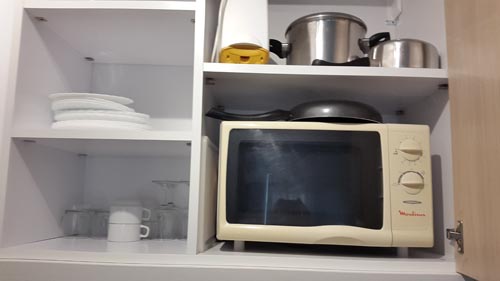 Room Cleaning
We were informed by Thomson rooms will be cleaned 5 times during the week. By day 5 our room had only been cleaned twice and what annoyed me, even more, as I thought they had changed our dirty sheets but in fact, they had just turned them over. It was clear that the covers were dirty (my youngest had eaten some food on the bed and it was smudged all over the covers) which meant I had slept with the dirty side on top of me all night! For me, this was not acceptable.
I went and asked the Thomson rep who told us to go to reception (that was a common thing for them to do) and the reception informed us rooms only get cleaned 3 times a week with sheets getting changed twice. I asked for them to change our covers which they did do. Personally, for me, this was a downer on the holiday, but it didn't ruin the holiday at all.
Overall
The room we had was a perfect size for us as a family. The hotel was nice and the children's club was very good (the staff were so good with the kids). However, I don't think I would personally go back to the hotel. It was our first "package" type holiday with my boys but I  felt it wasn't the right sort of hotel for us. If you are looking to stay within the hotel all day, every day and use the facilities and go to the beach then this hotel would be great for you and your family.
Have you been to Majorca before? Did you enjoy it? I will definitely go back to Majorca at some point in the future as there was so much we didn't have time to see.
Further Reading – Surviving A Hotel Stay With Kids
* Reviews are my own opinion. I haven't been paid in any way for writing this.