Getting your children outdoors can be difficult with all the technology these days. If I can get the boys out on a family hike where they can learn, have fun and fresh air then that is perfect for me. Having the right balance in your life can be extremely difficult though. We are an outdoor type of family, who love to explore.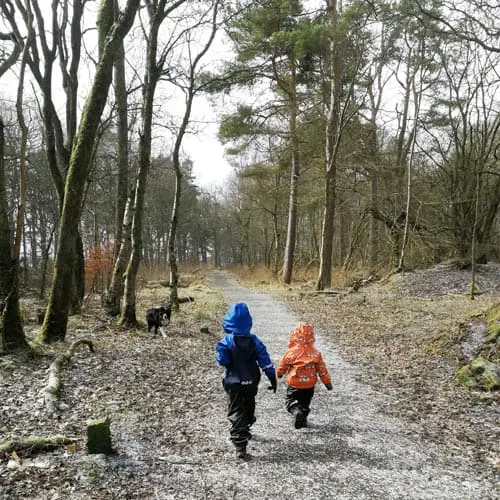 One of the major benefits of being outside is keeping the whole family fit and healthy. Getting the boys involved in nature and learning about the great outdoors is fun as long as you find things to do with them while out on a family hike.
Keeping your kids from whinging while out on a hike can be quite difficult, so find below some fun hiking activities for kids that you can do on your family hike.
Fun things to do while hiking to keep children happy hikers
Geocaching
Geocaching is an outdoor activity in which by using your mobile phone or a GPS etc you can find containers which have been hidden. We have never done this, but I would think my boys would find it really interesting. If you think Geocaching sounds interesting for some outdoor hiking fun for kids then check out this Geocaching Guide.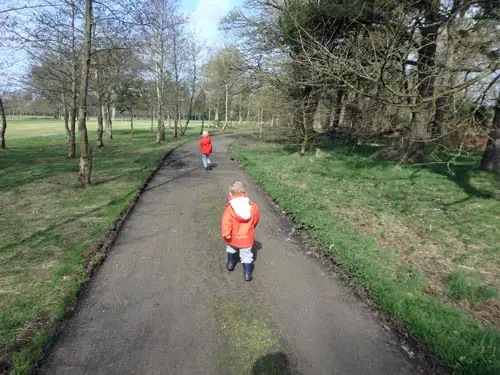 Look for Wildlife…
Most children love animals, so why not let them lookout for different signs of animals nearby. Look for footprints and they will more than likely love the idea of trying to find signs of the animals' homes (try not to disturb any animals though, you are only looking). Though if wildlife isn't of interest to your children you could always try looking for elves and fairies. This is a popular option for my boys. I found a walk near to us where they could see fairy houses in the trees called Fairy Knowe and Doon Hill.
Make a collection…
Another option for a fun hiking activity to do with kids is to start a collection. If your children love picking up things while they are out and about then why not let them choose something to start a collection with. For example, they could collect leaves and put them in a scrapbook showing the adventures they had on their walk.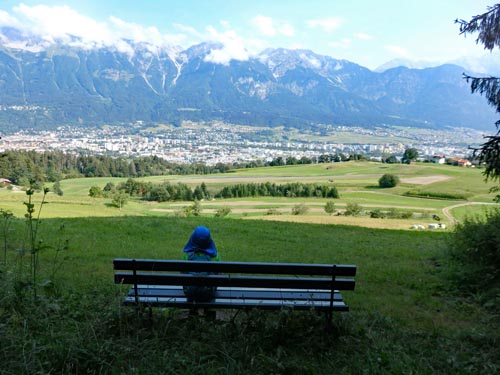 Drawing
If your kids love drawing, then this may be a really good fun hiking activity for them to try. You can purchase waterproof notepads and take some crayons or colouring pencils with you. They can then be artistic as they want on their family hike.
Pokémon Go
For Pokémon Go, you need to have the app on your device and data, so it might not be good to use on a long family hike. Your children can enjoy catching their favourite Pokémon and battling to gain more levels.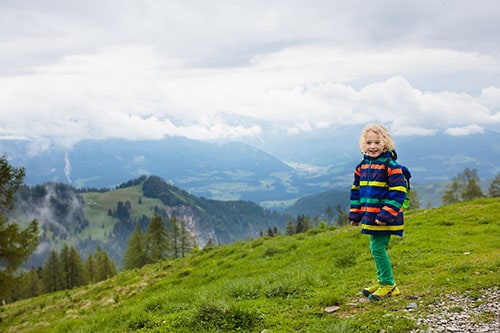 Nature Scavenger Hunt
There are many websites online, where you can download nature scavenger hunts and then print them. If you have a laminator then this will add a layer of protection in case it rains on your family hike. It's a great outdoor activity for kids to have fun and learn on.
Outdoor Tips For Getting Your Kids Outside
Small Steps…
To start off getting your children outside, you are best introducing your little ones (or older ones) to a small walk if they are not used to getting outdoors. Finding a family-friendly walk near to you would be best. You do not want to start them with an 8-mile hike for example. I am sure this would put them off getting outdoors in nature for good. Try to give them a great incentive to get to the end of the walk. For example, you could tell them they can have a treat or a play on the swings etc.
Go at their pace…
Your walk may take longer but if you keep walking at your pace your children's legs will tire long before yours. Take your time and go at their pace. If they want to stop for a break, then find somewhere suitable for you all to sit and rest for a bit (look out for animals or even cloud shapes so they don't moan they are bored!). Make sure you have a good supply of snacks and drinks to keep you all going otherwise you will end up with them moaning they are tired and hungry.
Do The Prep
If your anything like me, it takes ages for everyone to get out of the house in the morning. The best thing to do is prep as much the night before. Get everyone's outdoor gear ready in a bag including hiking boots and waterproofs. A change of clothes can also come in handy. If you are planning to have a picnic, prep as much as you can so that in the morning you can head off out on your outdoor adventures.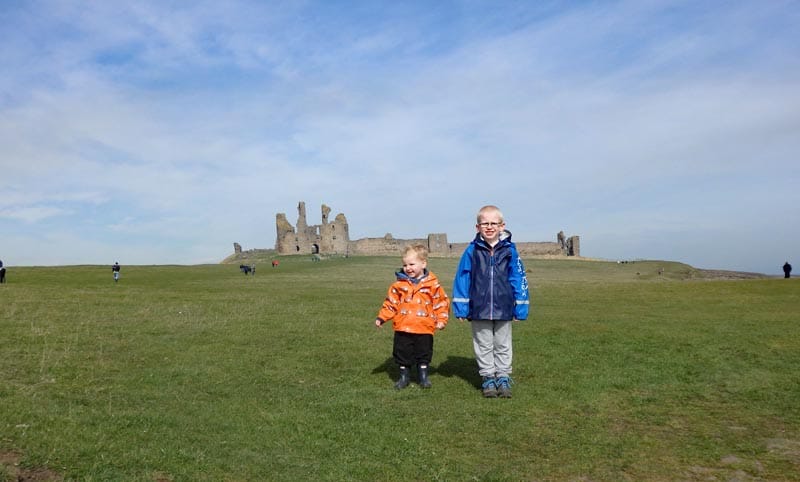 Check Your Kids Outdoor Gear
Making sure your kids outdoor clothes and of course, your own outdoor clothes are necessary. As the saying goes, there is no such thing as bad weather, just bad clothing. So make sure you invest in decent quality clothes. I'm not saying buy expensive outdoor gear, as kids grow, and you would have to replace stuff a lot. Making sure your kids have hiking boots for support and different layers will make the world of difference when outside with your kids. Proper hiking socks will also make a difference and help prevent blisters.
There are many other activities to do outdoors no matter what the season is. It's never a better time to get your kids outdoors and exploring their environment.
Do you have any tips for getting your children involved in walking/hiking?
Related Hiking Guides:
Fun hiking activities for kids (this article)
Pin for Later?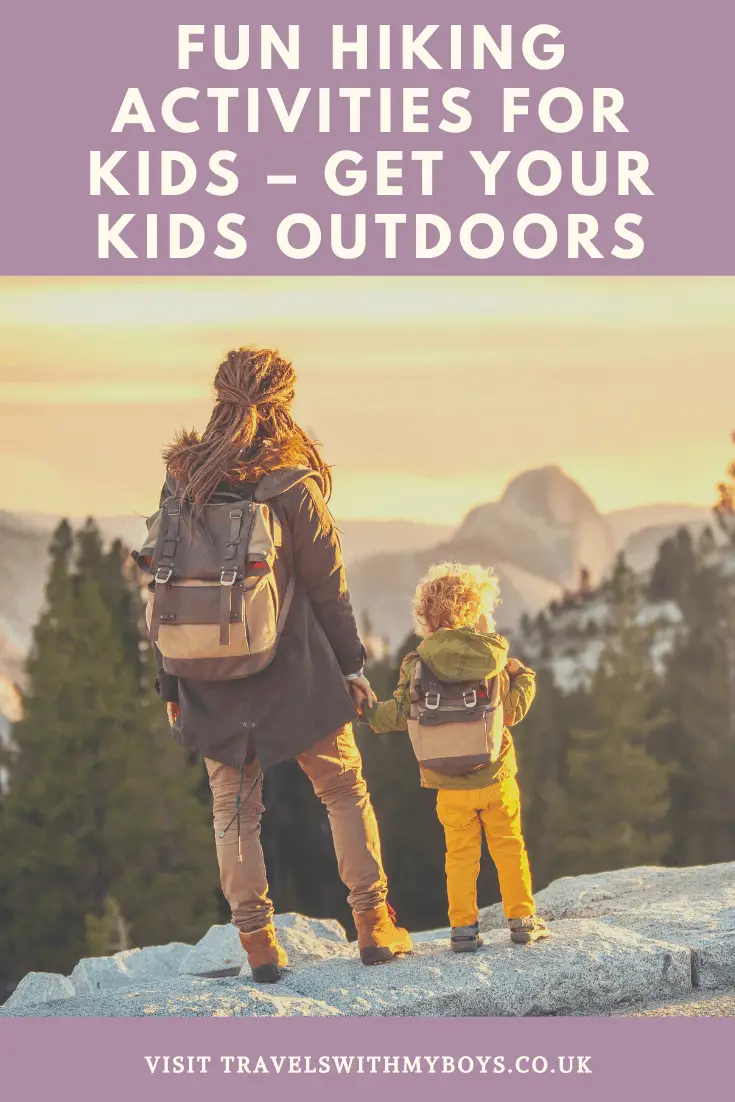 First Published – Feb 2016