Cycling in Holland with kids is a must if you are in Holland. It is such a way of life over there that you have to at least try it. We cycled a number of times on our family holiday in Holland. Renting bikes from the campsite meant we didn't have to buy a bike rack for my car before our trip. However, when we do go back again I will definitely be bringing our own bikes.
Cycling in Holland with Kids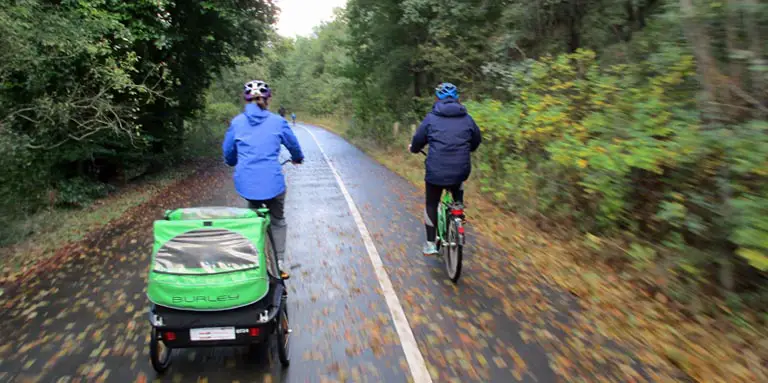 Wearing Helmets
First tip…always wear a helmet. They are not compulsory in Holland but better to be safe than sorry. My boys are never allowed on their bikes/scooters without a helmet on.
Cycle Lanes and Paths
In Holland not all cycle paths are compulsory. I forgot to take pictures of them but from what we could tell the road sign with a bike in a blue circle are compulsory and the road signs which say "Fietspad" are optional. All bikes must have a bell, so make sure if you take your own bikes that they have one fitted.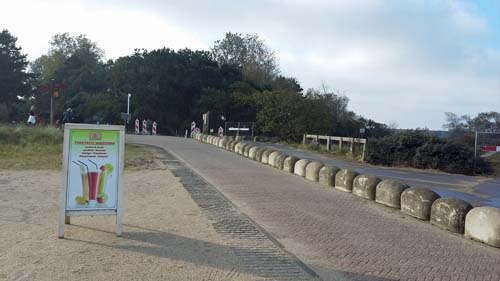 Roads
If you do end up on the road, then make sure your little ones (if they are on their own bikes) are on the inside of you. This means you can grab them if needed and give them some protection from any cars. Oh and cycle on the right not the left like the UK!
Crossings
On some crossings, there are lights just for the cyclists. You press the button (as you would for crossing the road in the UK – green man), then when it turns green you can cross. If there isn't crossing lights for the bikes then you wait until it is safe to cross and then cross. I just got off an walked across as I had the boys with us. When no lights for the bikes are there then you will usually have a give way sign for the cyclist.  For roundabouts see below.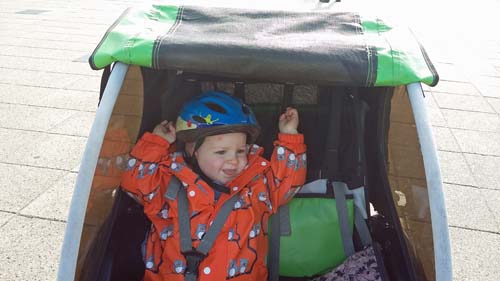 Parking
Car parks for bikes. If you go into any bigger town/city there will be bikes parked everywhere. However, in Leiden, there are double layered bike parking stations. It is something you should go and see. I have never seen so many bikes!!
Roundabouts
From what I could tell from where we cycled in Holland; the cyclists normally have right on way on the roundabouts when the cycle lane continues onto the road. The cycle paths/lanes are red in colour which continues across the roundabout. The roads have the stop/give way markings. However, as I had never really experienced this before I always slowed down on approaching the roundabouts. This meant I could wait for cars to signal to use to cross which for me is safer than just pulling out. All the locals I saw just continued at full speed.
There are a few good videos on the internet. Google "roundabouts in Holland video" and you will get a number of videos by Bicycle Dutch. These are great for visual understanding.
The Locals
If you see locals about then you will be amazed at how quick they go. You will be in awe at their bike dismounts and even more amazed at how the kids sit on their bikes. Most of the kids I saw were sitting on the bike rack with their feet in the pannier bags! Not advisable but it seemed to be the norm over there.
Overall
I loved cycling in Holland. It is something I think you have to try if you are in Holland. Even if it is a quick cycle ride around the town you are staying in. Life on a bike is so different from the UK, that after one bike ride you will be wanting to keep going out! Cycling in Holland with kids is great fun!