P&O Ferries have a number of different cabin types, and each time we travel we always stay in the P&O 5 Berth Club Cabin. Why? Well, if you are travelling with children then I think this is a great size cabin to choose for an overnight stay. This is one of the largest cabins available and it means you can spread out and have a bit more space.
We have used the Club 5 Berth cabin from Hull to Zeebrugge ferry crossing and also from Hull to Rotterdam ferry too. The Club 5 berth cabin did have a slightly different layout on these two routes. Personally, I liked the cabin layout on the Hull to Rotterdam crossing better.
P&O 5 Berth Club Cabin Review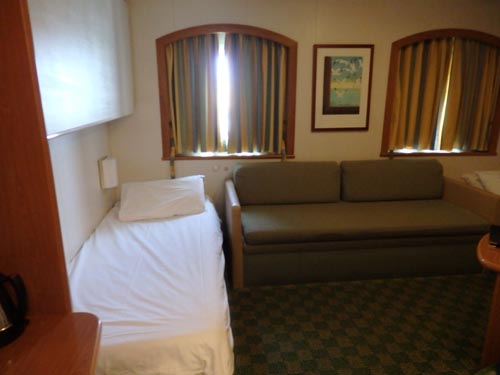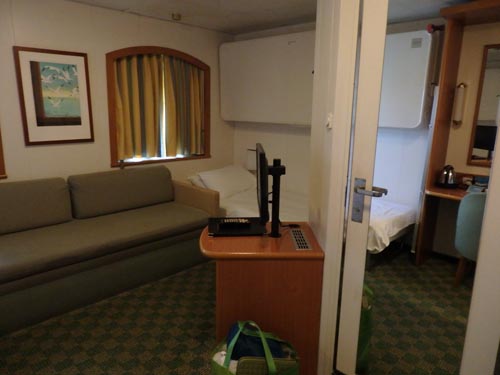 P&O 5 Berth Club Cabin – Layout
On the Hull to Zebrugge ferry cabins, the Club 5 Berth cabin consisted of 4 beds (2 sets of bunks) and a sofa (which you could use as a single bed if needed). Although this can be different on the Hull to Rotterdam crossing. The Rotterdam ferry, we had a double bed with a single bed above and then a bunk bed on the other side. I preferred this layout. Please note: I don't know if all cabins are the same. So it is best to check if you require a certain layout.
P&O 5 Berth Club Cabin – Inside The Cabin
In your cabin, you will also get a minibar with drinks (raid it before you leave) a TV, towels, dressing gowns and a shower & toilet. If you do get the club cabin a quick tip is to put the clothes hangers inside the dressing gowns as otherwise, they rattle all night long! The noise kept me awake the first time we travelled by ferry, so I now make sure to do this as soon as I enter the room before I forget.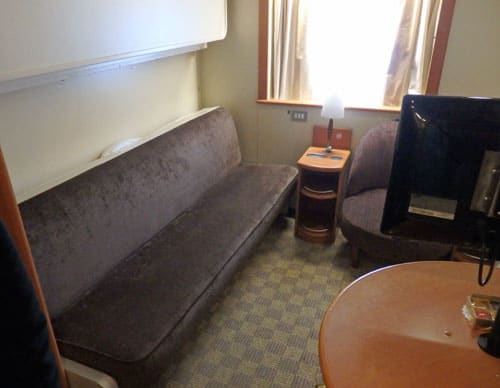 P&O 5 Berth Club Cabin Beds & Travel Cots
This cabin is also a great size if you have a young baby and have asked for a travel cot. As the cabins have more room, you can still fit the travel cot and have space to move. However, just a word of warning the travel cot isn't huge, so if you have a large baby or toddler then they may not fit comfortably in it.
Bed wise – when I have travelled my boys were both under 6 years old, so they have never used the top bunks. This all depends on what works for you as a family and if your children move about a lot while sleeping. Due to the bunk beds on the Hull to Zeebrugge ferry, I had to share a bed with my youngest/sleep on the sofa. There are ladders for the bunk beds and a small barrier.
P&O 5 Berth Club Cabin – Upgrades
Every time we have boarded we have seen people going straight to reception to ask to upgrade their cabin. The club cabins do sell out, so If I were you I wouldn't wait until you are on board to ask for an upgrade as the chances are there won't be any available. I would say to book online via the P&O website.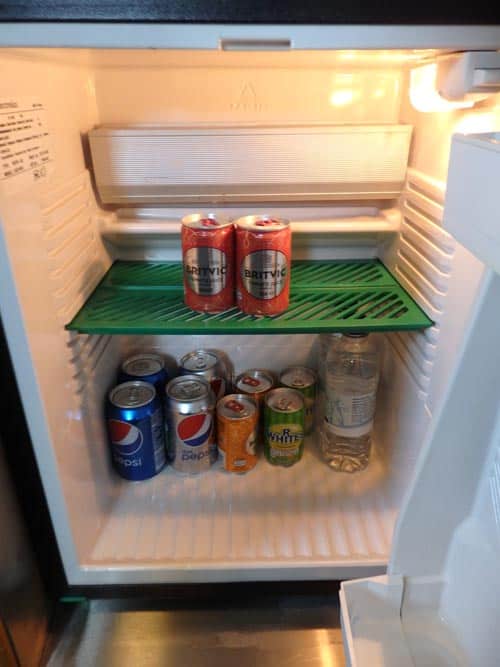 Tips For Staying In A Club 5 Berth Cabin
Take Only What You Need
Take just what you need for one night with you. Backpacks are easier as it leaves your hands free to hold your child's hand to get them up the stairs from the car decks. There are lifts but there is normally await.
Leave The Pram In The Car
If you have a baby/young toddler, then use a carrier and leave the pram in the car. So much easier moving around the ship with a baby carrier.
Travel Cots
Travel cots are small and run out quickly, so if you want one make sure you book them up in advance. (Hull to Zeebrugge crossing only from what I have read)
How To Stop The Rattling
If you have a club cabin use the dressing gowns to stop the clothes hangers from rattling. Anything to stop the noise during the night works with us!
Need A Night Light?
For a night light then I leave the bathroom light on and close the door too, it leaves just enough light for the boys.
Plug Sockets
There aren't many plug sockets available. Make sure you have an extension cable, so you can plug in multiple phones and devices. Oh, and bring an adaptor plug.
Tips For Sleeping Together In One Room
If you are looking for tips for sleeping all together in one room then have a read of my survival tips for staying in a hotel room which may help you!
Travelling by Ferry Tips
If you are looking for some information on travelling by ferry with children then pop over and have a read as I have a few other tips there too.
Have you ever stayed in a club cabin before? If so what did you think?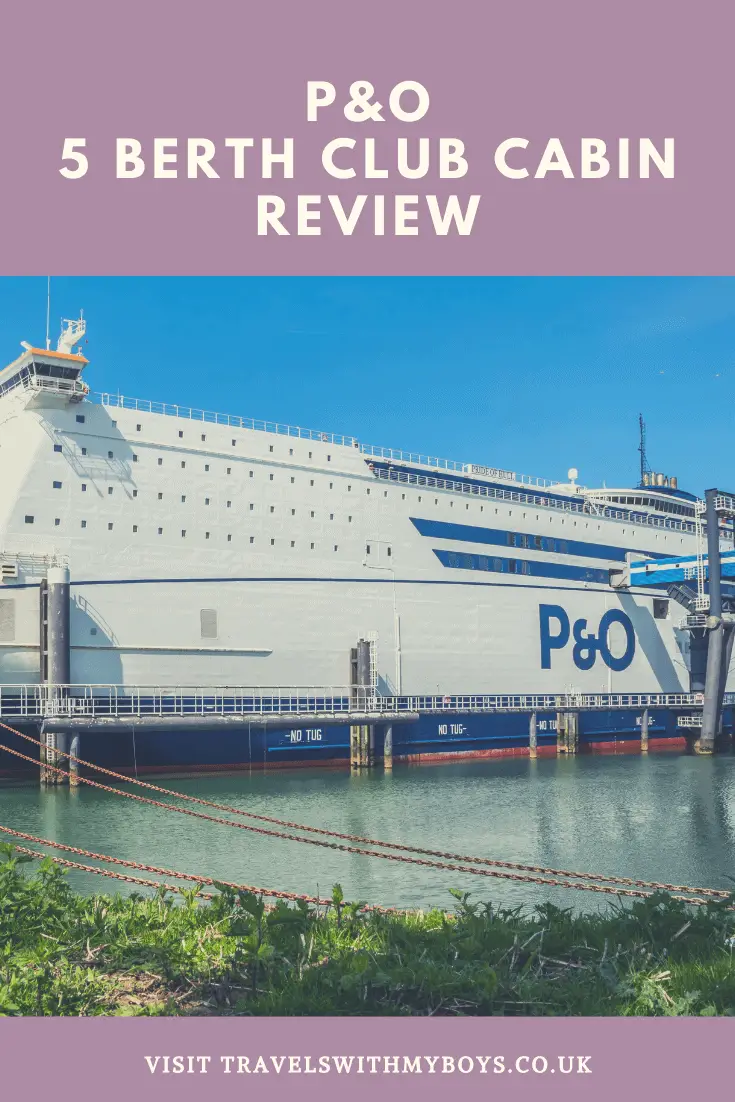 * This review is my own opinion. I haven't been paid in any way for writing this.
First Published: April 2016