When we visit family we always book this Premier Inn as it is pretty close to them. My dad usually books this Premier Inn online via their website.  We always book separate rooms, these are usually their family rooms. Below is my review of a recent stay.
We arrived at Oldham Central Premier Inn about 5pm and parked our car in the car park. There are a number of spaces available, but it also shares the car park with the Brewers Fayre restaurant.
Further Reading – Surviving A Hotel Stay With Kids
Premier Inn at Westwood Park, Oldham Review
Premier Inn at Westwood Park
We were welcomed at reception and checked in. I doubled checked that a cot had been booked and we were informed yes. So we headed to the rooms; the boys and I were on the ground floor so we went there first. Upon entering we noticed there was no cot in the room instead there was another single bed. My dad went to reception to ask for the cot, which within 10 minutes was rectified and the young man apologised several times. The bedding we received for the cot was not suitable (it looked like a net curtain and not a fitted sheet) but luckily I had bought bedding with me so I just used that instead.
The Room
Our room was a good size with a double bed and a sofa bed. The sofa bed had been made up into a bed for my eldest son. The bathroom was a decent size and they have hair and shower gel which was useful. There was also a tray with a kettle, cups, milk, and sugar in the room on the desk. The TV had Freeview channels which meant the boys got to watch Cbeebies (YAY!) There was also wardrobe space which is a bonus.
Apart from this small error, the staff were great, even giving us an umbrella to get to the restaurant when it was raining.
Our night's sleep was good, my eldest slept all night in the made-up bed. What would have been nice is for Premier Inn to give bed rails to customers with young children so you don't have to improvise with towels and spare pillows! My youngest didn't like the cot and so ended up in bed with me. Apart from that, the double bed was so comfy. The pillows and duvet are also very good. I wish my bed back home was just as comfy as I always wake up with back pain.
Night light
On a second visit to Westwood Park, I noticed that Premier Inn had put a blue light above the bed (you can see in the picture above) this gives the room a blue tint when all lights are switched off. It was a bit too bright for my boys to fall asleep with.  If you have forgotten your plugin nightlight as I did then there was a mirror near the bedroom door that had lights around it. If you hang a towel over the front of it this then gave the correct light for my boys to sleep. Make sure you check the towel doesn't get too hot.
Overall
Would we stay here again? Yes, we would. It's in a great location near to Oldham, it wasn't noisy (well apart from the rude people who shout while heading back to their rooms, but that isn't Premier Inn's fault).
Has anyone else stayed at a Premier Inn before? Did you enjoy your stay?
Further Reading – Surviving A Hotel Stay With Kids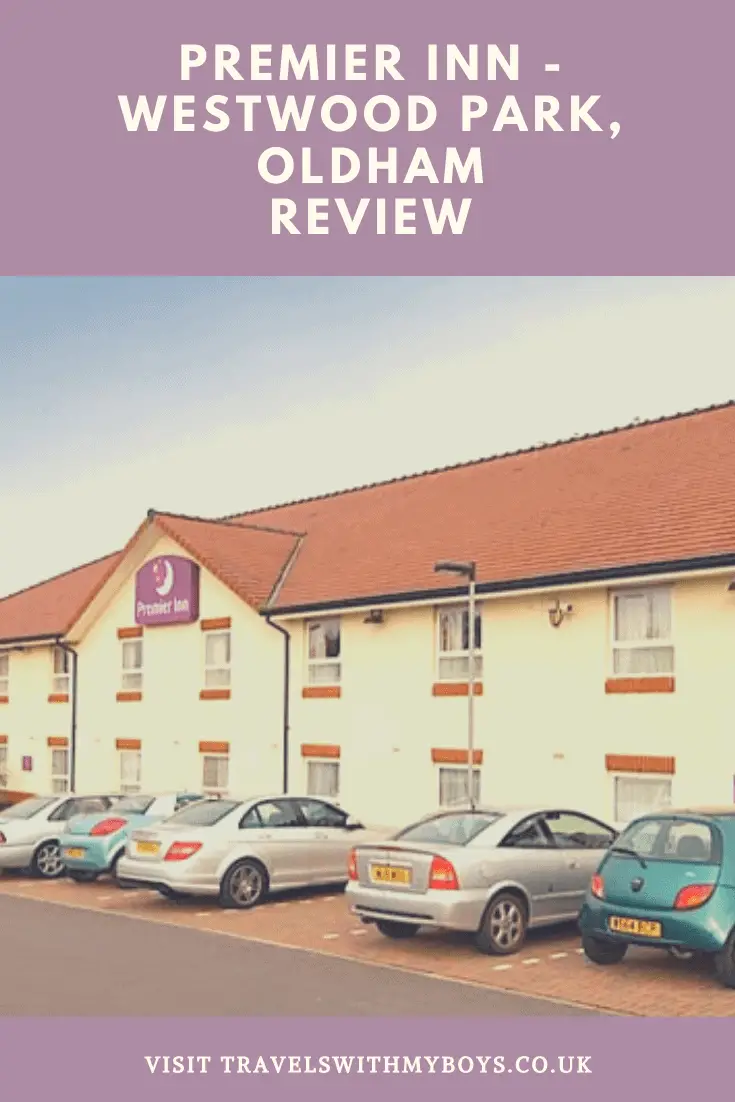 * Reviews are my own opinion. I haven't been paid in any way for writing this.