Walking on Arran is great for families who love the outdoors. There is an abundance of walks around the whole island for you to choose from. We have walked Kings Cave and the Machrie Stone circles before as well which is a great way to explore for the kids.  On our recent trip to Arran, myself and our eldest son (who was 6 at the time) decided to do the Clauchlands and the Corriegills Walk. We altered the route slightly by walking in reverse, which I'm not sure if it is harder walking the way we did, but it worked for us.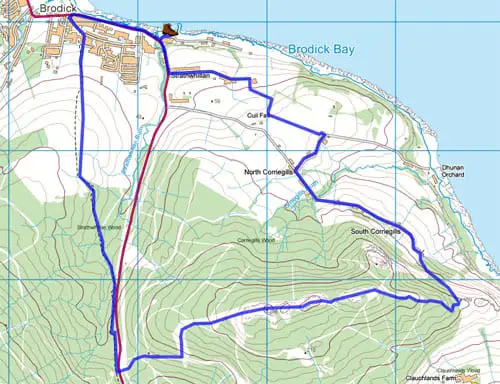 Clauchlands and the Corriegills Walk With Kids
Clauchlands and the Corriegills Walk
We set off on foot from our self catering accommodation in Brodick and headed into the town to find our starting point. I had a GPS device with me, along with maps and instructions (although I couldn't make sense of these as we were walking in reverse!) The route climbs up out of Brodick and through a woodland area, before coming to a car park. There are some great views to be had and we stopped for a few minutes to eat cakes and have a quick drink.
Once we reached the next car park we crossed the main road (A841) and headed off on the forestry track. We (okay I) did get slightly lost at this point as I couldn't tell from the GPS which way we were meant to go. Walking up and down the different tracks until I figured out which way to go…technology! Ha!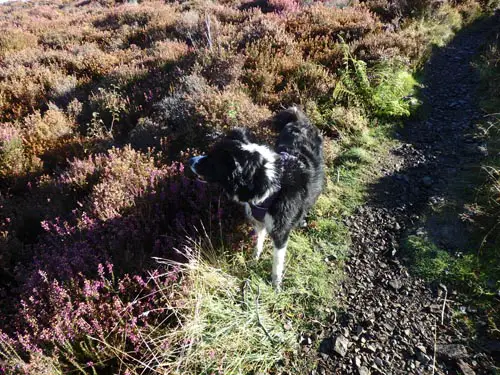 Up and Up
From here we started to climb uphill through the heather. The colours were amazing and every now and then we stopped to look behind us. We have always found that sometimes the best views are behind us. Big K was struggling a bit so I let our dog off her lead and pulled him up with the lead. That being said, I think he just enjoyed the extra help as he was keeping up with me no bother!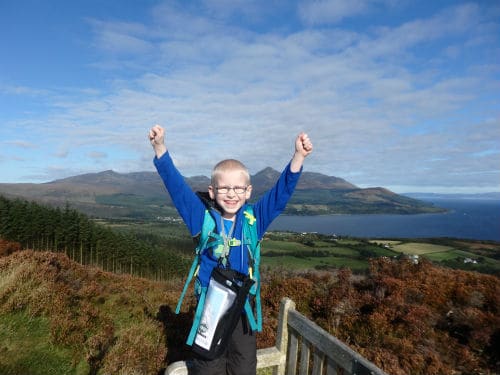 At the Top
Wow, this is why I love hiking. The views at the top of Clauchlands hill was amazing. Luckily the weather was in our favour and we could see for miles. Big K was so proud of himself for making it to the top of the "mountain". After another break, we then set off down the hill which would take us back into Brodick.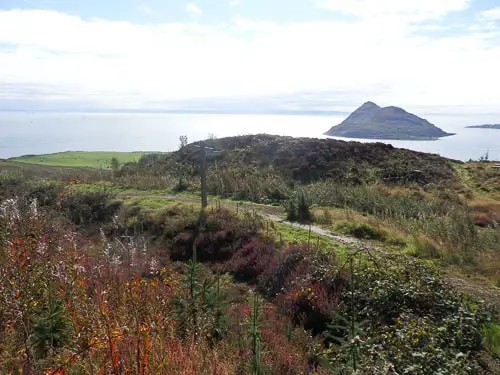 Boggy Footpaths
The route downhill was pretty boggy in sections. I just made Big K follow my footsteps, while our dog just ran through the mud getting covered! I can imagine on a rainy day that this would be much worse, so make sure you are wearing proper footwear. Otherwise, you may not have dry feet by the end of the walk!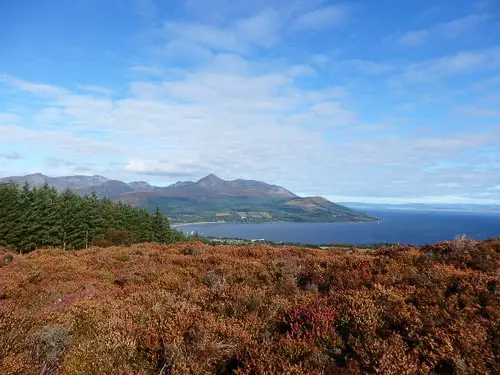 Walks on Arran
We didn't see anyone on this walk until we were about 1/2 mile outside of Brodick, which always makes walks much more enjoyable when you feel so remote. Having since done a number of walks on Arran, we have noticed that you hardly ever see anyone. I do wonder where everyone goes when they get off the ferry as you never seem to see anyone out on the walks!
The Clauchlands and the Corriegills Walk is just under 7 miles which for my eldest son is just about right for distance. I'm looking forward to the day when my youngest can walk with me to enjoy the great outdoors too.
Have you ever been on Arran? Do you have a favourite walk on Arran? Let me know in the comments below.