SwimFin is the world's only vertical swimming aid, and in my opinion, is a must-have for non-swimmers/lacking confidence who are learning to swim. A little background information first… ever since Big K was a baby he has hated water. I have struggled over the years to get him anywhere near water and improve his confidence.
This is where SwimFin comes in. It is a swimming aid that securely fastens to your child's back. The minimum weight is 15kg, which means Little K can join in the action too.
Little K is the complete opposite of his older brother as he loves the water. He also doesn't mind water going on his face or jumping into a pool. Which is why the SwimFin it comes in handy as it helps give him more confidence.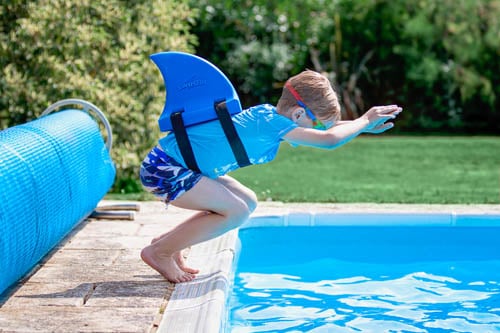 SwimFin Gives Your Children Confidence
The SwimFin comes in various colours which means your child can find one to match their personality. Big K loved the "lava" coloured SwimFin while Little K loves the colour Orange. It is easy enough to set it up and the boys loved pretending to swim around the living room floor.
Little K has used his SwimFin several times during his swimming lessons which he was gaining confidence using. Unfortunately, the swimming teachers have changed the structure of their lessons and are now refusing to let Little K use his! Which I think is rather unfair as not only was it helping him it also helped me with my back as it took the weight off of him. This may mean we may have to go find classes elsewhere…only time will tell I suppose.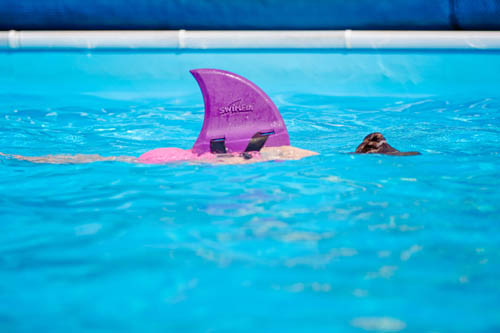 Testing Out The SwimFin
We recently had a long weekend break to Italy to see my dad take part in the Nove Colli bike event. This was a great chance to get both boys in the pool and test the SwimFins out. The boys had so much fun in the pool and you could see that the SwimFin does give them a boosted confidence while swimming.
Big K did his usual "I Can't" but eventually he realised he could trust the SwimFin to help him out and he was really happy by the time he had to get out of the pool.
I can see us getting a lot of use out of the SwimFins over the upcoming months. In October we are heading to Lake Garda so they will definitely be getting put in our suitcases so the boys can enjoy the pool again.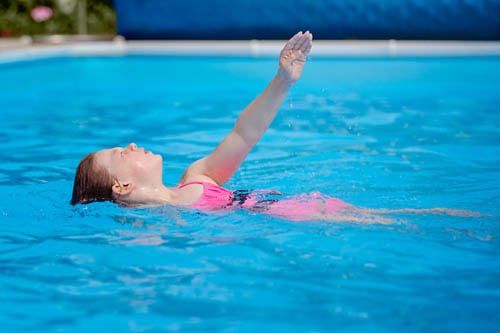 Our Verdict
From using the SwimFins so far I really do think they are great for kids. Especially if they are non-swimmers or just lack confidence in the water. It doesn't get in the way of their arms when moving about which means they can also learn to perfect their stroke technique too. I will definitely be using the SwimFin at every opportunity we get and I think it will become one of our travel essentials.
Have your children used a SwinFin before? What did you think of it?
Pictures curiosity of SwimFin