Ford & Etal are two villages in the stunning Northumberland countryside that boasts so many great attractions for your family. On our recent trip to Northumberland we visited the Heatherslaw Corn Mill, the Heatherslaw Light Railway and Etal, before we headed to the Heavy Horse Farm Centre on our way home. For more information you can see our write up below or you can check out the official websites too.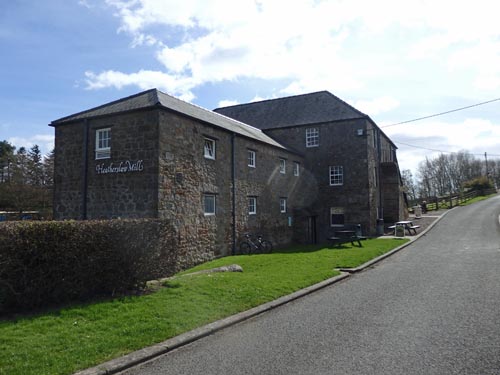 Ford & Etal in Northumberland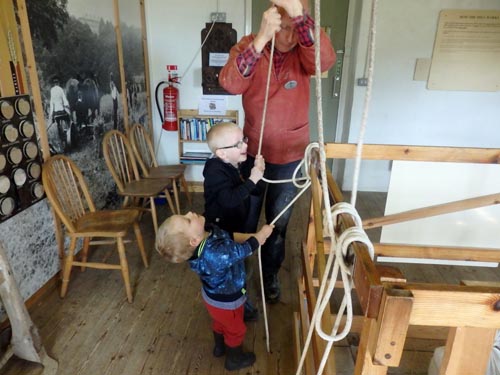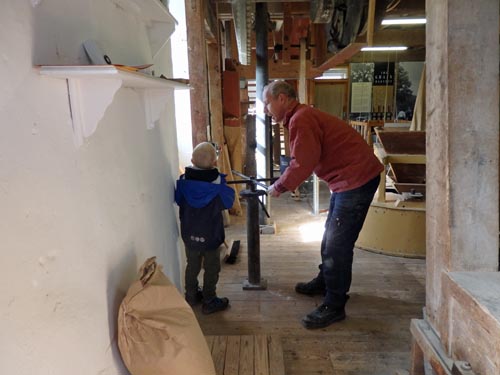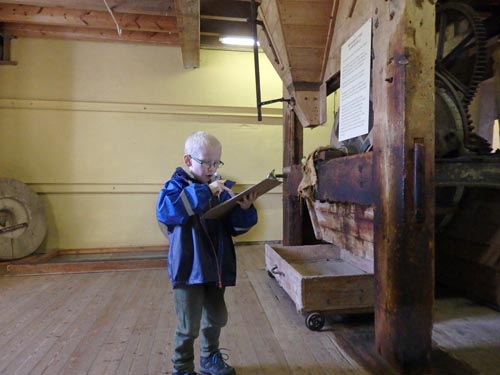 Heatherslaw Corn Mill
Heatherslaw Corn Mill is a very hands on corn mill in a beautiful setting. I was very impressed with how interactive the mill was when we visited. The staff were amazing and great with our two excited boys. Dave showed the boys how the flour was made, and what some of the machines do. The boys even got to work the grain hoist to lift the bags up to the higher levels. On the upper levels the boys made hot cross buns which, once baked, they got to keep. An added bonus was that Little K got a special flapjack due to him being gluten intolerant. These little touches made a great experience for us as a family.
After having a picnic outside the mill near to the cafe (make sure you try the cakes…they are yummy!) we set off to the train for the next part of our day out.
Remember – Dogs are allowed in the visitor centre but not inside the mill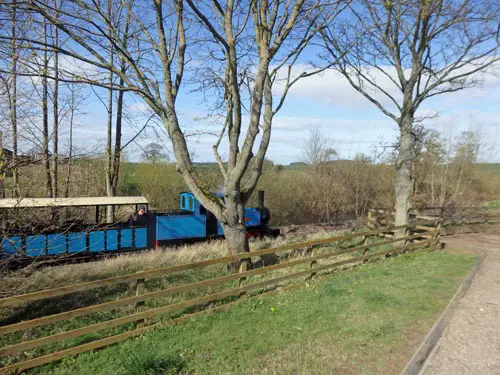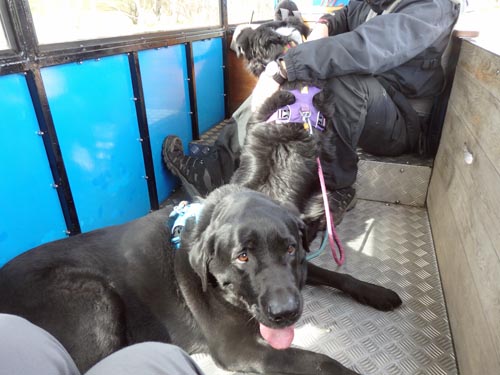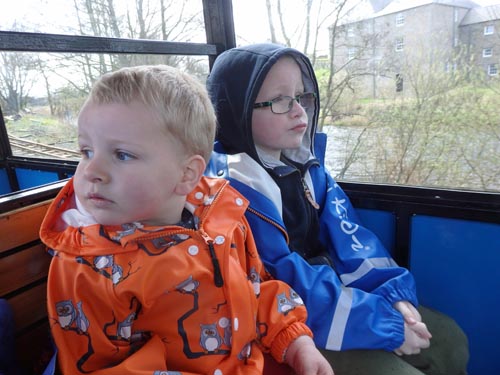 Heatherslaw Light Railway
This is a 15 inch gauge light railway, where you are pulled along by the steam locomotives "Bunty", "Lady Augusta" or the diesel engine "Binky". The train takes you from Heatherslaw to the little village of Etal. It's roughly 50 minutes for a round trip and is a great little treat for any children (and dogs) that love trains! An added bonus is that the carriages are fully enclosed so you won't get wet if it's raining.  Access on the train is also available for prams and wheelchairs.
If you are also visiting the mill then you can park in the station car park or if you are starting from Etal then there is also a free car park to stop in. Dogs are allowed on the trains which means your four-legged children can enjoy the day out too.
For up to date prices you can check out the  Heatherslaw Light Railway website.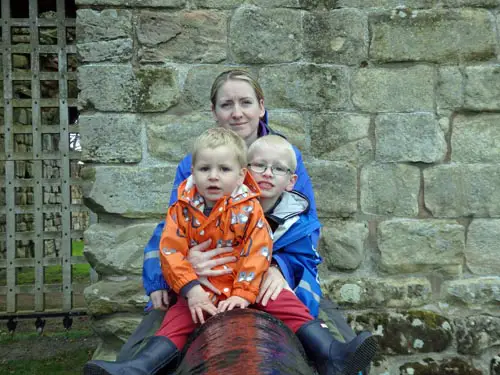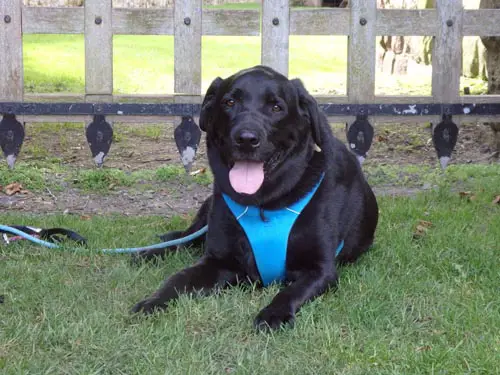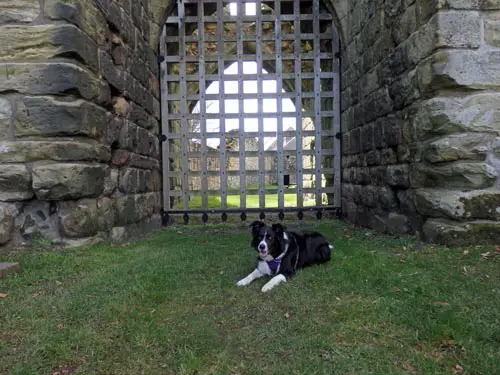 Etal
In all honesty, we didn't find Etal very interesting. We decided not to go to the castle to save ourselves some money which meant we had an hour to kill in Etal. There is a small tea room and a village green, which may prove another option for a picnic. However, we had already eaten by this point.  We walked around the village and took some pictures on the canons outside the castle gates. However, if you do plan to visit the castle then this will obviously give you something to do before you catch the train back to Heatherslaw.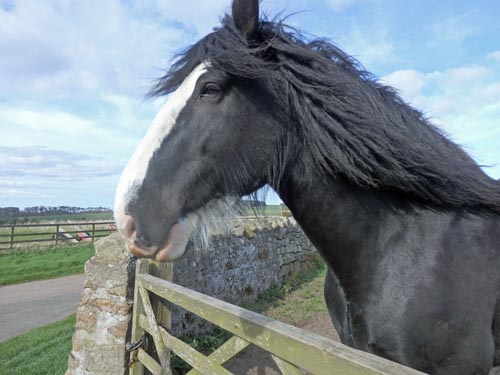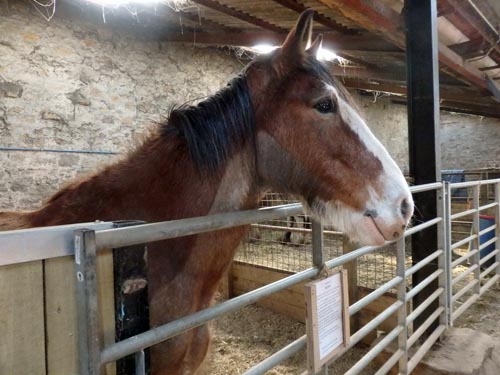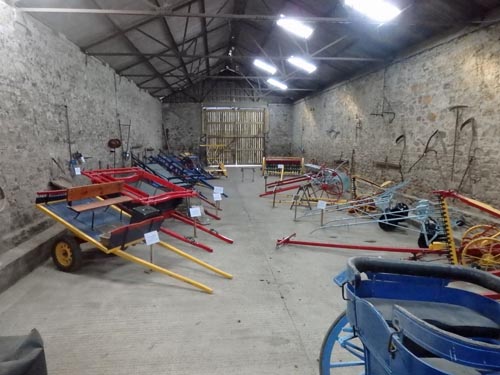 Heavy Horse Farm Centre
On our way back to Bamburgh we decided to head to the Heavy Horse Farm, which isn't too far from Heatherslaw Corn Mill and Railway. If you wanted, you could probably walk there. We spent about 30 minutes here having a look around and looking around the fields to see the horses. The centre is free to enter however a donation can be left if you want to assist in the upkeep of the farm.
If you are heading here for longer then there are toilets, picnic tables and also an undercover picnic area which is great if the weather isn't too good!
Overall
Ford & Etal is a great family day out if you are in Northumberland. There are so many more attractions to go explore which we didn't get to see. We had such a fun day at Ford & Etal and the fact my dogs could come along too made the day out even better.
Disclosure: We were given free entry into the Heatherslaw Cornmill for coverage on my blog. All opinions and pictures are my own.