There are lots of places to see along the River Danube. As you cycle along the River Danube you will pass through several towns each day. This means you can stop each day and explore the lovely towns a bit more. There is no need to rush straight to the next overnight accommodation as most places won't allow you to check-in until after 3 pm anyway! We seen many lovely places along the way, some we didn't get a chance to go inside due to various reasons but would go visit again if we went back.
Top 5 Places To See Along The River Danube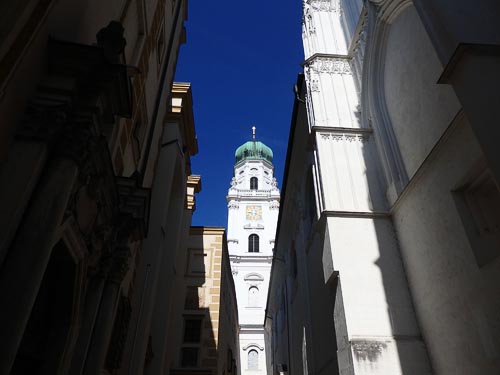 Passau
The starting city of the Passau to Vienna section of the River Danube cycling holiday. It lies right on the German/Austrian border. It is known as the Three Rivers City as the Danube, Inn and Ilz rivers come together and make the River Danube. We explored the city before cycling onto our next stop. The buildings were stunning and St Stephen's Cathedral looked stunning. It is also home to Europe's biggest organ, which has nearly 18,000 pipes.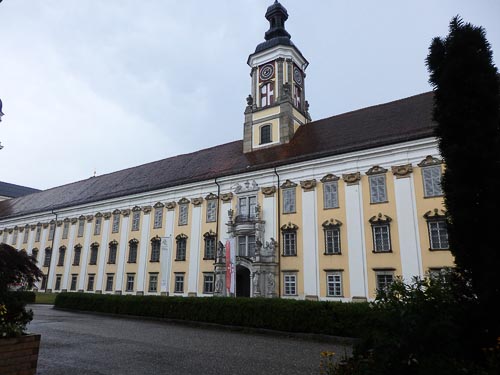 St Florian Monastery
As part of our cycling holiday we had guided tickets to go inside the monastery. Unfortunately, my youngest was too tired and was becoming inconsolable, so I decided to skip the guided tour and cycle on. However, from what I did see, it looked stunning! St. Florian is the largest monastery in Upper Austria, with its Baroque architecture it really does look like a beautiful place to explore. Having seen pictures of inside I was pretty disappointed that we missed out seeing the Monastery.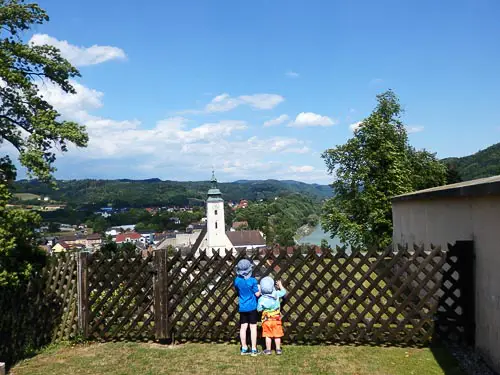 Grein
Cycling towards Grein, we stopped to take several pictures. It looked so picturesque with Greinburg Castle sitting up high above the town. We watched the Steamboat leave from the port before heading for ice creams. Afterwards, I cycled up to the Castle, for a look around and for the boys to have a runabout. It worth going up to the castle even if you don't go inside. The views you can see over the surrounding areas and the Danube are well worth the cycle or walk up.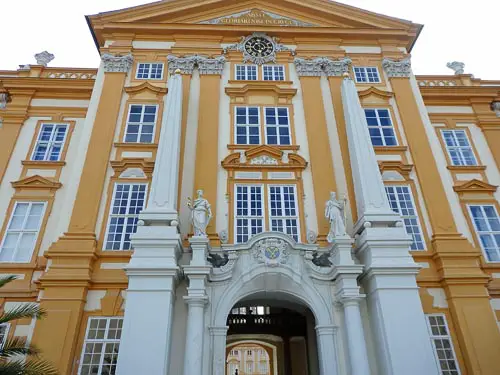 Melk Abbey
Now if you thought St Florian Monastery was stunning then Melk Abbey will blow you away! Our hotel was right underneath the abbey which meant we got a room with a view. By the time we had showered and got out to explore the Abbey had closed for the night (I don't think we had much luck with our timings on our holiday). We had a quick look around the courtyards which were open when we got there which meant we got some lovely photos inside the library and the marble hall, they looked stunning. I love ceiling frescos as you can really appreciate the work that has gone into them.  If we are ever back in the area this is on my to-do list.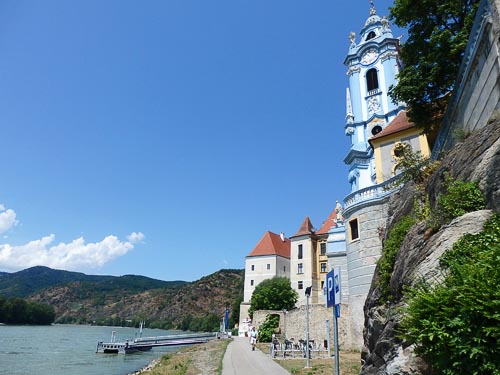 Dürnstein
Last but not least the town of Dürnstein. We took a little ferry boat over on one of our cycling days. You are met with the beautiful blue Stift Durnstein which sits near to the River Danube. You have to pay to go inside, which personally I found a bit disappointing. There wasn't really much to see and nothing in English from what I could see. However, the town is lovely to explore with its cobbled streets and little alleyways.
There are many other places to see along the River Danube. However, for myself, these stood out to me as top places to see along the River Danube. Unfortunately, as you have read some of them we did not get to see inside liked I had hoped.
Have you ever been along the River Danube before? If so, which places would you recommend people visit along the route? Let me know in the comments below!