We were recently invited to stay at Cringletie House Hotel which is near Peebles in the Scottish Borders. Peebles is about 30 minutes south of Edinburgh which makes it a great countryside getaway to escape from the hustle and bustle of the city centre. The journey for us was about an hour from our house, which again isn't too long. Although as with any recent car journey I have done, I had the boys complaining it was taking forever. Travelling was so much easier when they were younger!
Further Reading – Surviving A Hotel Stay With Kids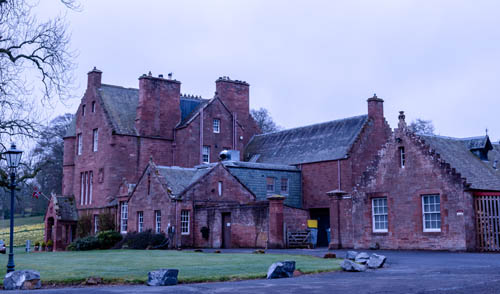 Tips For Keeping Kids Entertained In The Car
If I'm to be honest, our usual style of hotel stays are usually chain hotels, so a luxury hotel stay with kids is something we had not really thought about before. After our stay, however, I can safely say if you are looking for something a bit different and want that added bit of luxury and service then Cringletie House Hotel is the perfect family getaway in the Scottish Borders.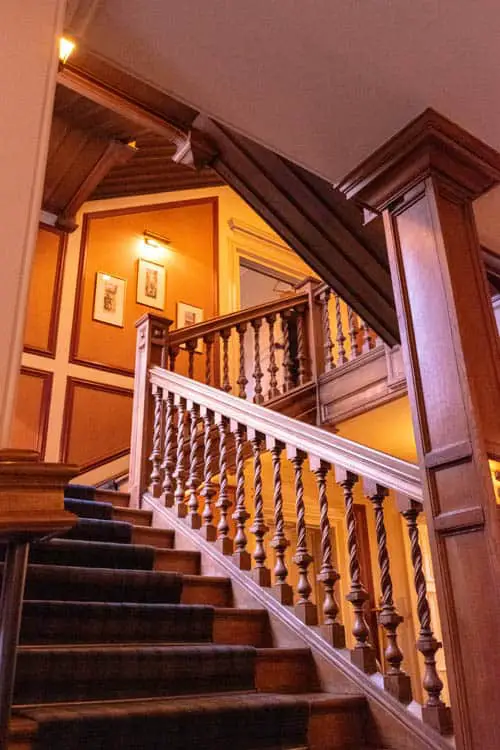 Cringletie House Hotel in Peebles
Driving up the driveway you feel like you are being transported into the middle of nowhere. It has a very peaceful setting and with the country house being set in 28 acres of grounds, you are certain you will enjoy a woodland walk or a stroll through the beautiful walled gardens during your time at Cringletie.
You are met by a friendly welcome from reception who checks you in without a fuss. I advised the receptionist about the boys' dietary requirements which I do everywhere we stay so they can prepare if required. We were staying in the Ardean cottage which meant we had to drive to the cottage from the hotel (only a short distance and enough space for a couple of cars). However, you can read more about the cottage below. Let me tell you more about the hotel first!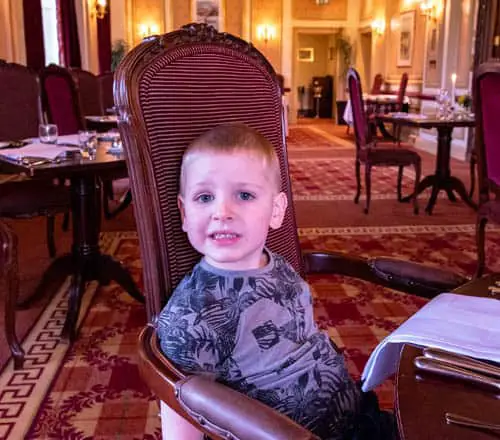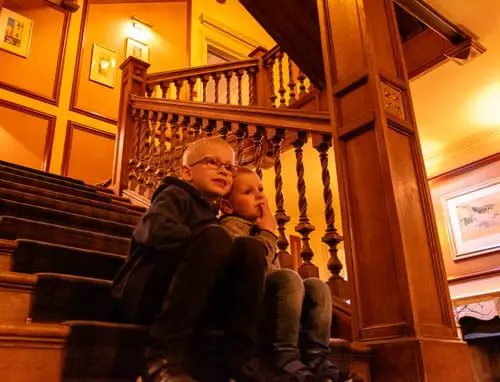 Public Rooms
When we arrived for our dinner (we were booked for 6pm) we did have trouble finding the restaurant. A quick press of one of the many service bells and we were welcomed by another member of staff. She kindly took our jackets and showed us to our table in the restaurant. A little unusual to other hotels we have stayed in is that the public rooms are mostly upstairs. Which isn't a problem and it means you can see more of the beautiful surroundings while you eat or relax. Even though the hotel has stairs and a beautiful staircase they cater so well for the disabled. So don't let this put you off staying! You can also find log fires in the public rooms. Make sure to relax in the warmth, especially if you felt like you didn't want to venture out of the hotel at all.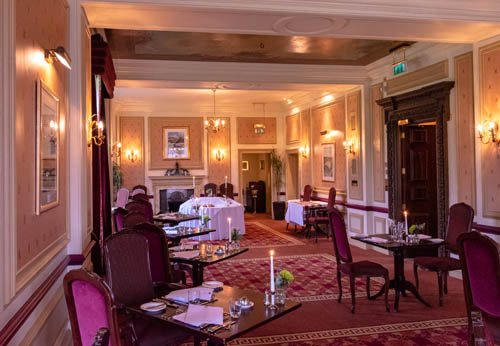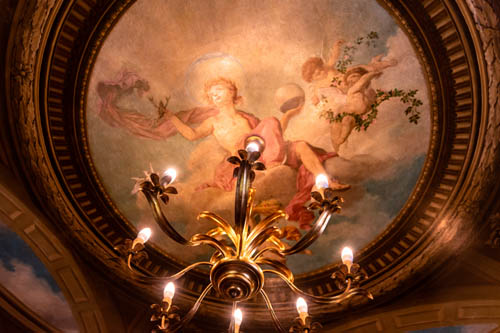 Restaurant
Don't forget to look up if you go for a meal in the restaurant. The ceiling is stunning and the boys loved the paintings. Once you have taken in your beautiful setting you can then choose your meal from the locally sourced food choices. The boys were given a kids menu. This had been specially printed with suitable options for them which were all gluten and dairy free. This was such a lovely touch.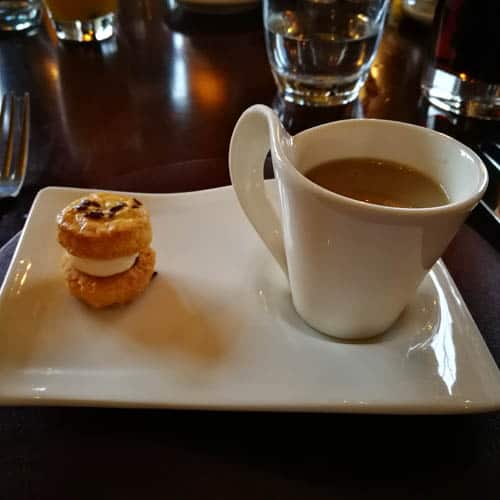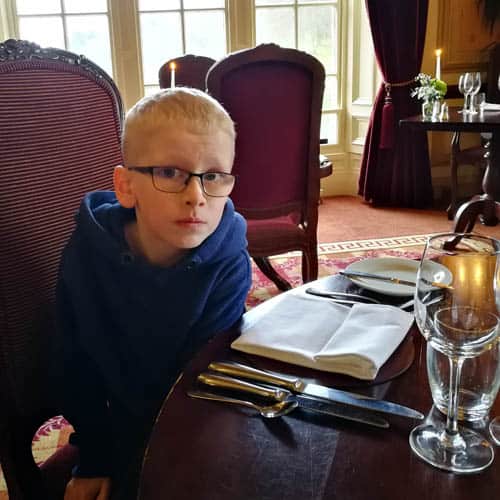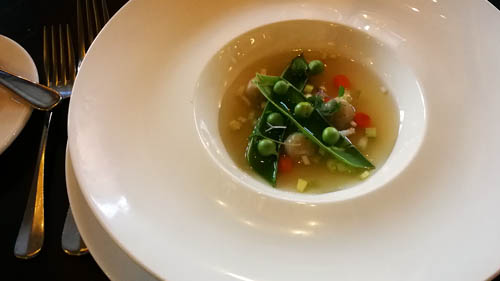 Dinner
For starters, the boys had soup, followed by chicken, chips and beans. For dessert, they had vegan ice cream which the boys were so happy about. I'll be honest I was a little worried about the food being too fancy for myself. I'm pretty fussy when it comes to food. My starter of vegetable broth I did not like as it was not what I was expecting. However, my main course and dessert were outstanding and I really enjoyed them. The presentation and the taste was something I have never experienced before.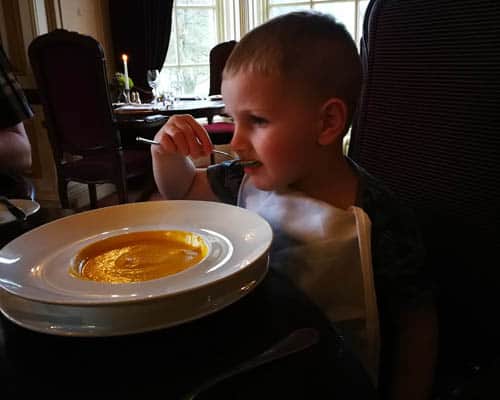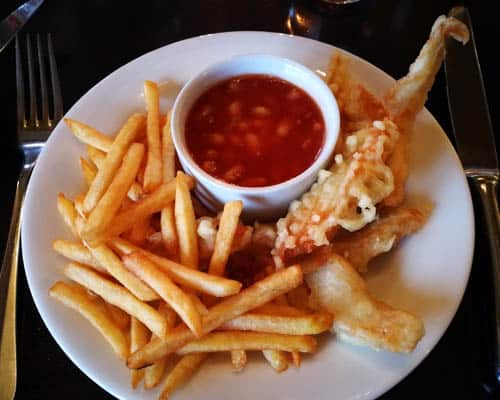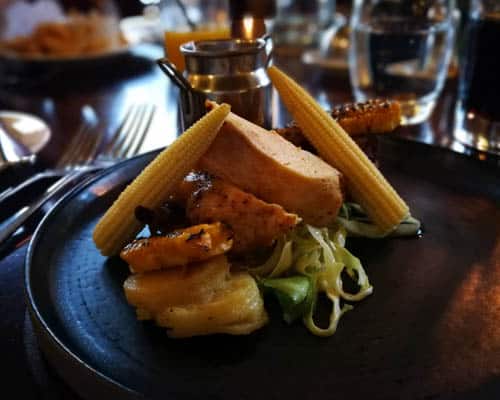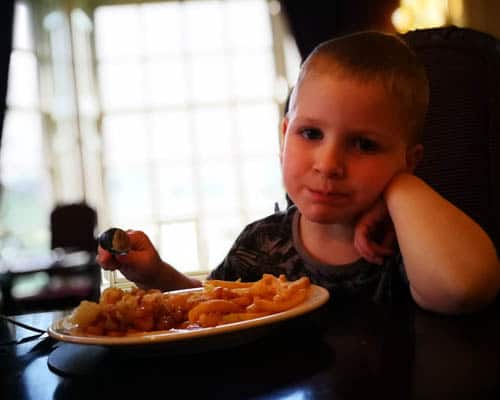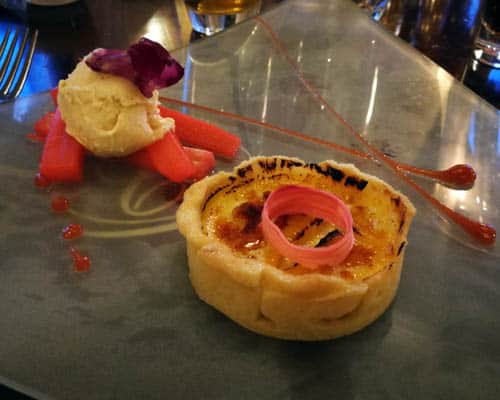 We were the only people in the restaurant until about 7 pm and then the other guests started to arrive for their meals. Hopefully, our noisy boys didn't spoil it too much for everyone.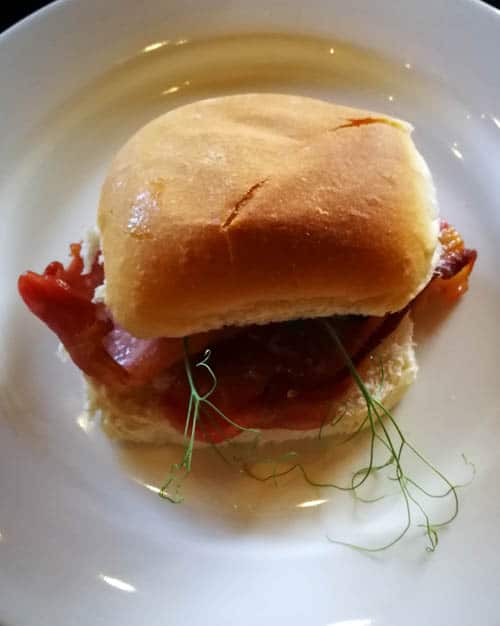 Breakfast
After a good nights rest, we had breakfast in the same room. There are a number of options to choose from including hot and cold options. Little K had gluten/dairy-free cereal with soya milk and some toast, while Big K had a smaller version of the Scottish breakfast with the suitable items given for his dietary needs. I'm not one for a big breakfast so I opted for a bacon bap. Everything was cooked yet again to perfection and presentation was a nice detail.
The Rooms
In the hotel, there are 12 individually designed bedrooms, all of which offer great views of the garden or the Scottish countryside. There is also a suite in the main hotel. The beds are very comfy and come with feather pillows and duvets as standard. I opted for the hypoallergic pillows and duvets which were just as good for us. You can also get a mattress topper on the beds which adds even more comfort for a good nights sleep (we had the mattress toppers on).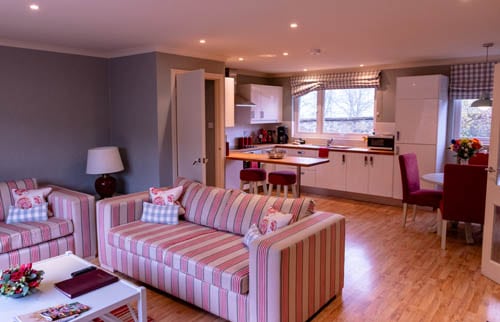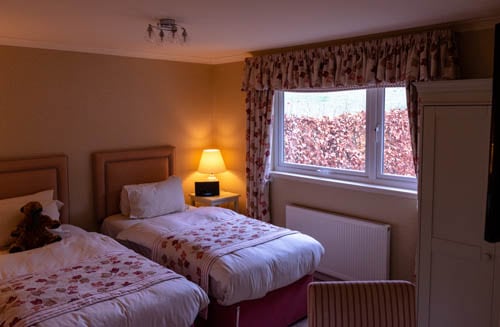 Self Catering Cottage
We stayed in the 2 bedroomed cottage called Ardean, which sits about 300m from the main hotel. It is a homely little cottage with an open plan living room and kitchen/dining area. There is a bathroom which has a shower and also the main bedroom has an ensuite with shower and bath. The bedrooms were set up as a double and twin, however, the configuration can be different if required.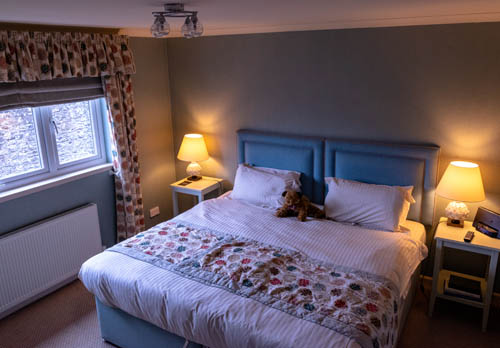 The cottage is named after the housekeeper and the chef who once lived in the cottage which is a really nice touch from the original owners. Taking the first letters from both of their names and combining them.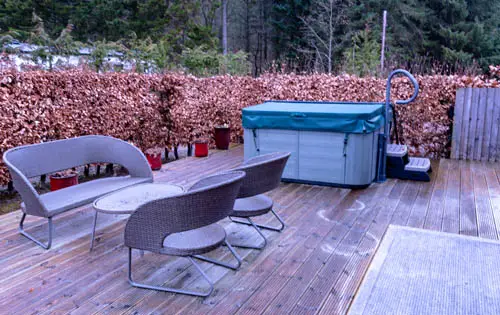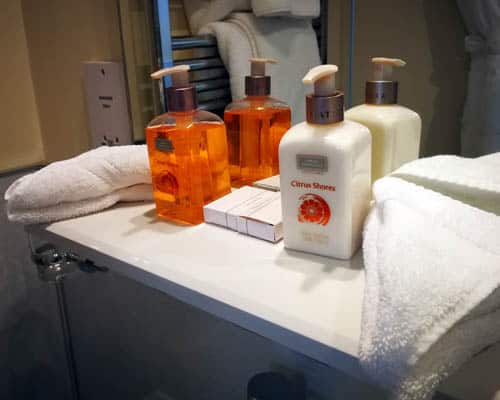 The cottage definitely has everything you need for a stay in the Scottish countryside. There is also a hot tub on the decking outside! Which makes a nice place to chill out once the kids are in bed.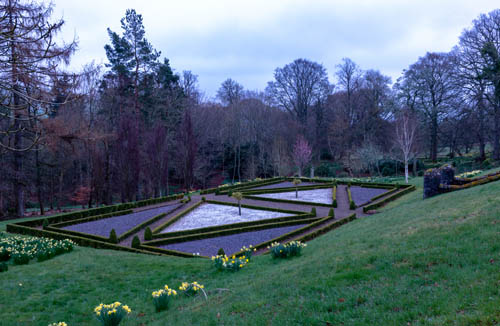 The Grounds & Things To Do
There are plenty of choices of things to do in the area including walking, fishing, mountain biking and even golf. So if you are an outdoor type of family then Peebles is a great base to have. You are close enough to Edinburgh for a day trip or two but also far enough out to enough the good old Scottish countryside in all its beauty.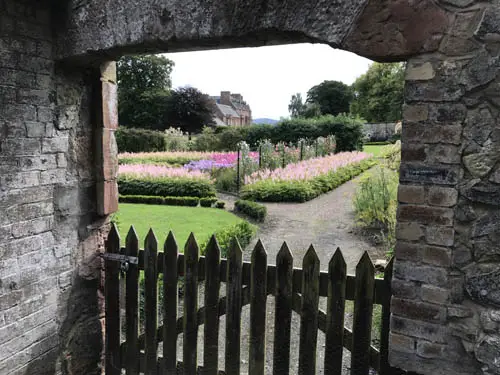 Within the grounds, you can go for walks, enjoy the walled garden and even playing some games on the hotel lawn. Certainly enough to keep the kids entertained while you relax or join in.
If you want to find family days out ideas, then you can check out things to do with kids near Peebles here.
Dog-Friendly
If like us you have dogs, then you will be happy to know that Cringletie House Hotel lets them stay too! There are walks to enjoy and your dog will feel very welcomed. They just ask that dogs are not left unattended, not to be allowed on the furniture and stay out of the public rooms. You can see more information on their main website for dog-friendly stays in Peebles.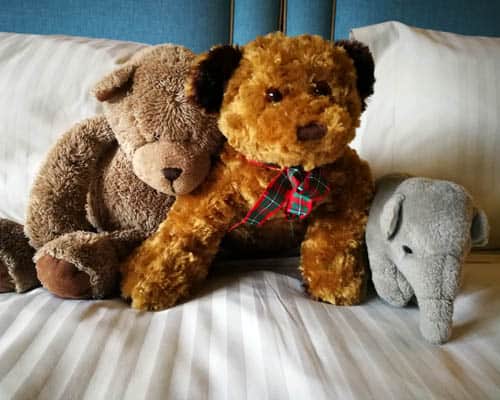 Overall
A luxury hotel is certainly not something high up on my list when I think of a family break away. However, Cringletie certainly didn't disappoint and has changed my views of a luxury hotel. With such high service and lovely staff and food to indulge in you won't go wrong in choosing Cringletie for a family getaway.
I would certainly recommend Cringletie to anyone, not just families. Whether you are a couple, have a dog or dog(s) or even if you just have special dietary requirements, Cringletie works hard to make your stay memorable.
Further Reading – Surviving A Hotel Stay With Kids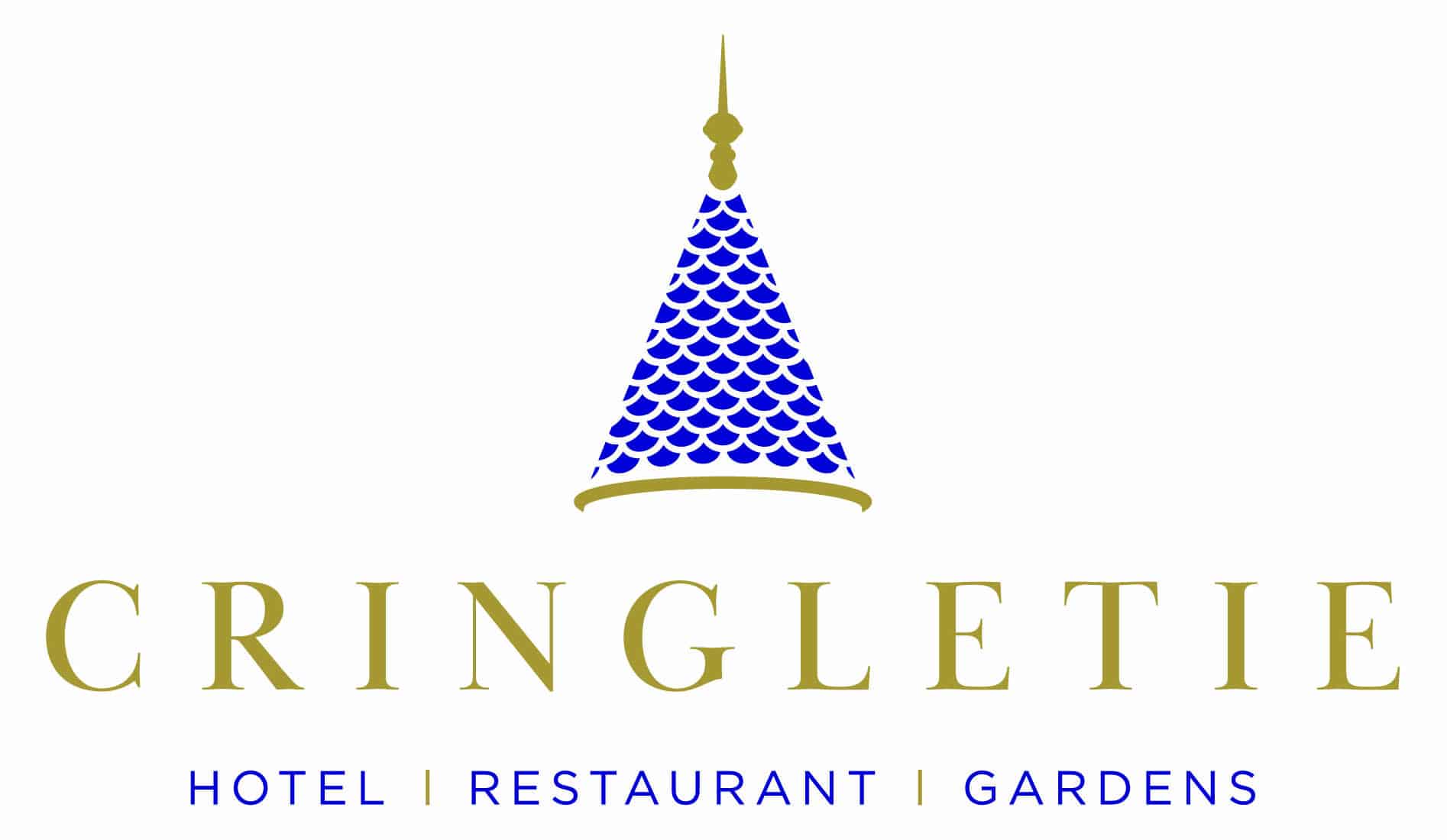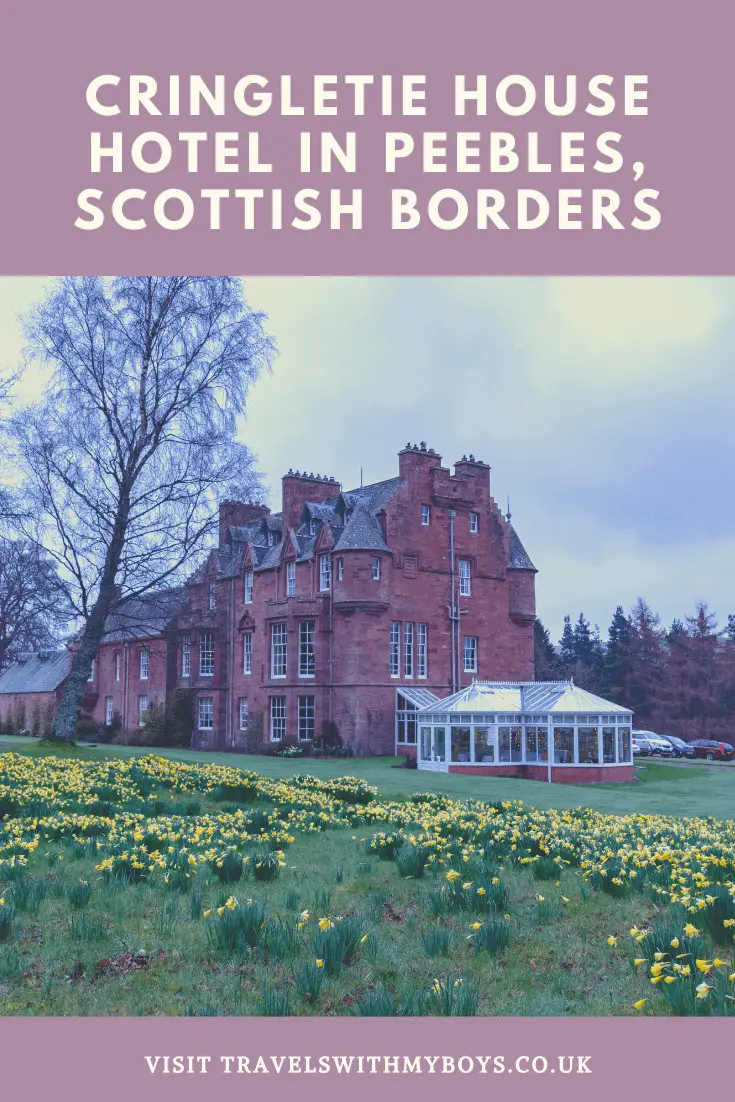 Disclaimer: We were hosted by Cringletie House Hotel and received Bed, Breakfast and Dinner in exchange for our review. However, all opinions are my own.