Welcome to my monthly family travel series where you can find out about other Bloggers favourite family travel destinations. Whether it be in the UK or abroad you will find out just why these bloggers love their destination and what you can get up to while there. If you are a blogger and want to take part then you can send us an email and we will send you more information. My next blogger is Cath from Passports and Adventures.

Favourite Family Travel Destination Series – Bluestone, Wales
Destination: Bluestone, Wales
Age of Children at the time of Visit: Our son was 1, 2 and 3 years of age visiting Bluestone.
Bluestone is hands-down our favourite UK family destination. Besides the fact it was only an hour and a half's drive from where we lived in Wales, it really is a great place for a getaway with the family. We even returned to the UK for another visit to Bluestone after we'd moved to Portugal last year (2017).
For anyone who isn't aware of it, Bluestone is like a Centre Parcs but from what I've read on a slightly smaller, more intimate scale. Bluestone is definitely family-friendly, although it is hugely popular with hen parties and as a couple's getaway as well. Bluestone has everything you need for a great break within the UK and they've thought of everything when it comes to families.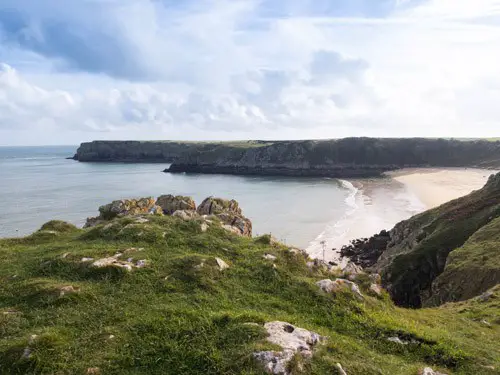 You don't even need to leave the resort if you don't want to. There are activities for kids young and old and there are plenty of restaurants and cafes to eat on-site. One of our favourite places in Bluestone is the Blue Lagoon pool with its wave machine and lazy river. It's always been a hit with our son. There are activities throughout your stay taking part both inside in the Adventure Centre (where Kingdom of the Elves takes place around Christmas time at Bluestone) and outdoors where kids can take part in ranger-type activities.
And if your family love the outdoors, you'll love Bluestone. With forest walks leading to Camp Smokey, to two awesome kids' playgrounds in the Village, and much more, Bluestone is ideal for families who love the outdoors. But, that said, you don't need to love the outdoors to fall in love with Bluestone either.
There's also a lovely spa if mums (and dad's) fancy a few relaxing hours away from the kids. There are treatments to suit everyone, different thermal rooms and an outdoor jacuzzi pool as well. And I can recommend their afternoon tea once you've finished your treatments and relaxing. It's reasonably priced and the food is excellent.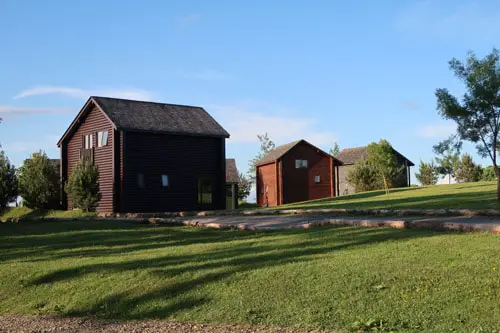 And speaking of food, the variety of food on offer at Bluestone itself is enough to cover any tastes. From the Chippy, serving Fish and Chips, to the Oakwood which last time served Italian food, to good old pub grub in the Tavern, you'll find something for everyone. And if you need some supplies for your lodge, the on-site supermarket is stocked with most things and you can even get a starter hamper delivered to your lodge with things like tea, coffee, sugar and some breakfast items for a fee.
Whenever we visit Bluestone, we do venture outside the resort and we've discovered some lovely places in Pembrokeshire and West Wales as a result. Places like Solva where we enjoyed a delicious Welsh Cawl in a local tearoom. Beaches like Newgale and Barafundle Bay are within driving distance and you can always enjoy a day in the picturesque town of Tenby. In fact, if you are in Bluestone I highly recommend you pop into Tenby for a few hours. You won't regret it,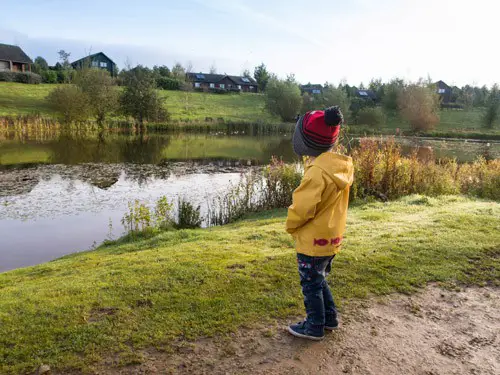 Or why not go dragon hunting at Pembroke Castle, a game we started to enjoy visiting castles with our young son. He loves it, so much so that any time we visit a castle, he's expecting it to be a dragon hunting adventure. We've even enjoyed a full day out at Folly Farm which is only ten minutes' drive from Bluestone. And don't let the name 'farm' trick you into thinking it's just a farm. Folly Farm is so much more and is a full family day out in Pembrokeshire.
Bluestone is our favourite family travel destination within the UK because it always makes for a relaxing time with friends or family. We've enjoyed short weekends there as well as a mid-week stay. There is so much to do within Bluestone itself and lots more within the area around Bluestone.
The lodges are comfortable and have everything a family would need for a home-away-from-home stay. They have been designed with families in mind and yet are also comfortable enough for an adults-only break too. From dishwashers and microwaves to stairgates at both the top and bottom of stairs, and travel cots and highchairs, you won't need to bring anything but yourselves and maybe some food.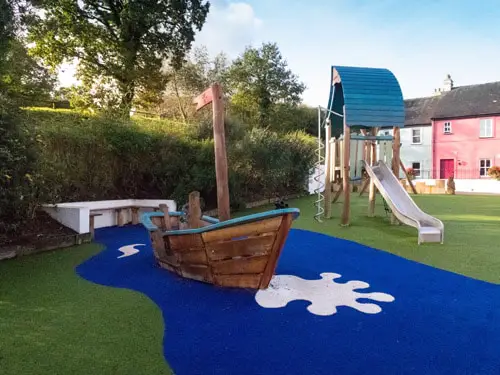 If I could give you one tip for visiting Bluestone, especially with kids, it is pre-book a buggy. Bluestone is a car-free zone meaning once you've dropped off your bags and shopping on arrival day at your lodge, you won't be able to bring your car to your lodge until check-out day. You can access your car in the carpark if you want to go outside the resort but there are no cars, other than those with disabled badges, allowed within the resort during your stay. It makes Bluestone very safe for children but does mean you will need to walk quite a distance to the Village, Blue Lagoon or the Adventure Centre if you don't book a buggy.
And whatever you do, make sure you bring some waterproofs and wellies so that the weather won't stop you enjoying all that Bluestone and the surrounding areas have to offer.
I've written about our stays at Bluestone on my blog and you can read about our most recent mid-week stay and the lodge we stayed in at Bluestone. I can highly recommend you consider it for your next staycation.
And in case you think you're going to have to fork out more money for activities, I wrote a post about 5 free things to do at Bluestone with a toddler that can also be enjoyed with older kids.
---
Thank you, Cath for telling us all about your favourite family travel destination.  I have looked at Bluestone several times but have never gone ahead and booked. It looks great, that I hope to get there at some point. You can follow Cath on Instagram, Twitter, Pinterest and Facebook.