I have written about Blair Drummond a few times now, one being about the Big Spring Fling event and the other being my main review of Blair Drummond Safari Park as a must place to go for a family day out. However, I thought it was important to update about how Blair Drummond Safari Park is now that our new "normal" is here with all the new rules and regulations are in force.
Please do check out my main post to read about all the attractions available within the park as I have updated that to reflect our most recent visit, with this post just about changes that have been taken with the new COVID rules.
Please do check directly with Blair Drummond for updated information as regulations do seem to be changing regularly at the moment as we try and progress towards stage 4.
Main Attractions at Blair Drummond Safari Park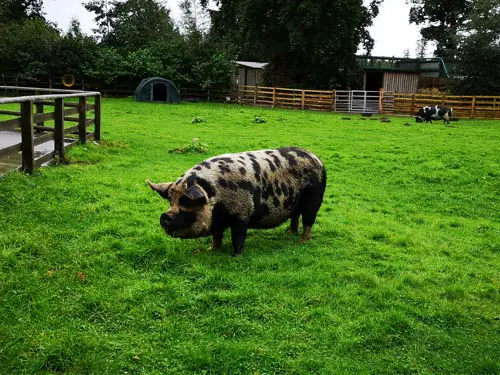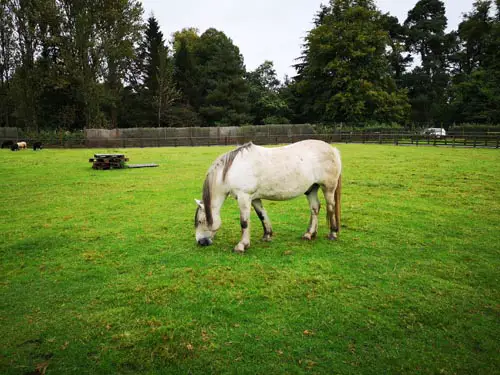 Visiting Blair Drummond Safari & Adventure Park – Post Lockdown
Booking Tickets For Scotland's Safari Park
Tickets for Blair Drummond Safari Park are now all pre-booked online via their website. Ticket numbers are restricted per time slot allocation to make your entry to the park as safe as possible. There are pros and cons to this; with the time waiting to get in as a definite positive. We only had to wait a few minutes in line before getting to the front of the queue, followed by only a minute or so getting our tickets scanned before proceeding through to the safari park. A couple of downsides I can think of for having to book in advance is that you can't have a last-minute family day out and the weather changes all the time so you never really know if you will get rain or not. Then again, it is Scotland after all!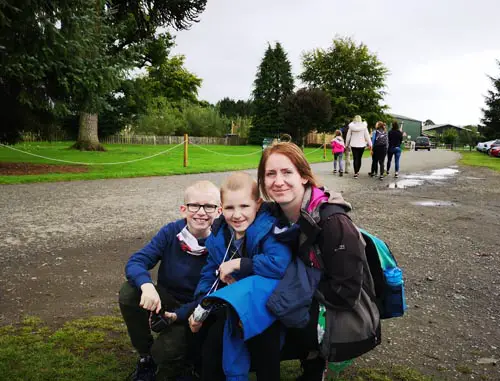 Parking
Parking is pretty much the same as before. There are plenty of car park spaces around the park.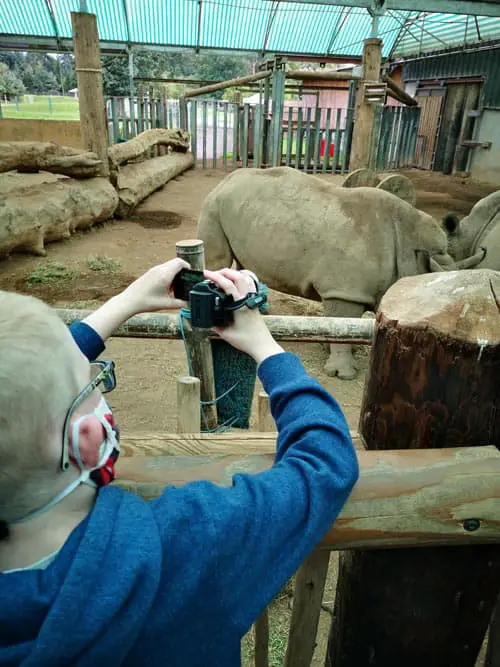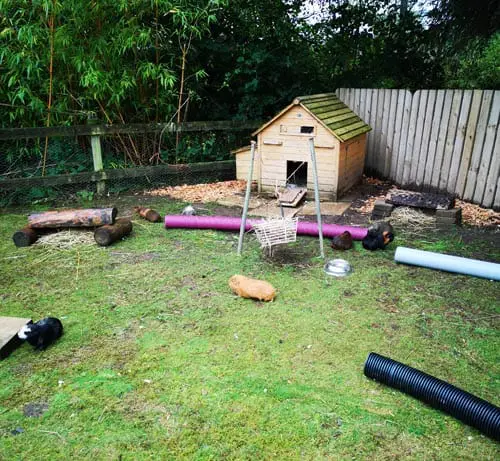 Major Changes Due To COVID
What changes have Blair Drummond made you may ask? They have actually implemented a number of things to make your day out as safe as possible. I have listed them below, however, remember COVID rules and regulations do change a lot, so it is best checking directly for the most up to date information.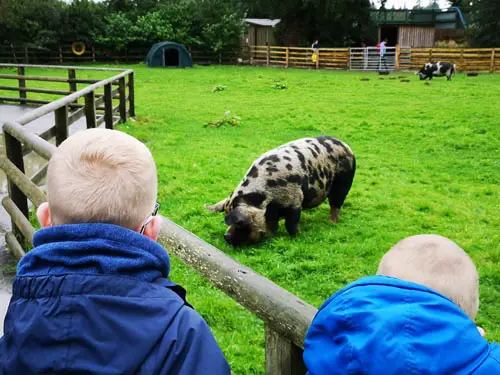 One Way System
A one-way system has been put in place around the main areas of the park. Where required they have built new paths. The one-way system is all signposted and you do get a map upon entry to the park which shows the one-way system and the direction to go. Unfortunately, there were a number of people who weren't following the one way system but unfortunately you can't stop people from doing what they want.
Temporary Closures
There are a number of attractions still closed due to COVID which at the time of posting these were:
Sea Lion Show
Lemurland
Some amusements
Face painting
Safari park
Keeper talks (see below)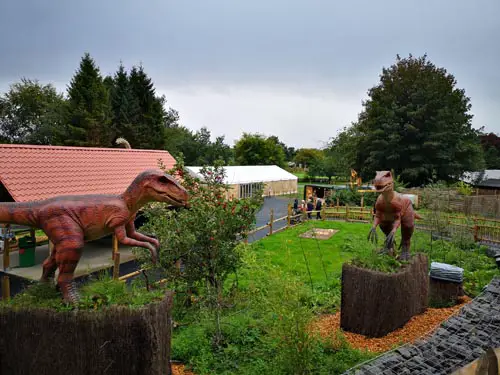 Cleaning
Roughly 60 hand sanitation stations have been located around the park. If they are empty there is a number of them to phone/text to advise them so they can refill the station back up. There are also a number of self-service hygiene points around the park (like the playground). Safari Park advises that there will be cleaning teams cleaning throughout the day to help keep everything as clean as possible. Currently, face masks only need to be worn in the gift shop and on certain amusements.
Food Courts
The main food court has a new phone-based booking system in place. For more information read below. Free Wifi has been put around the park to help with the new phone-based system. There are plenty of places to have a picnic which you may feel safer doing.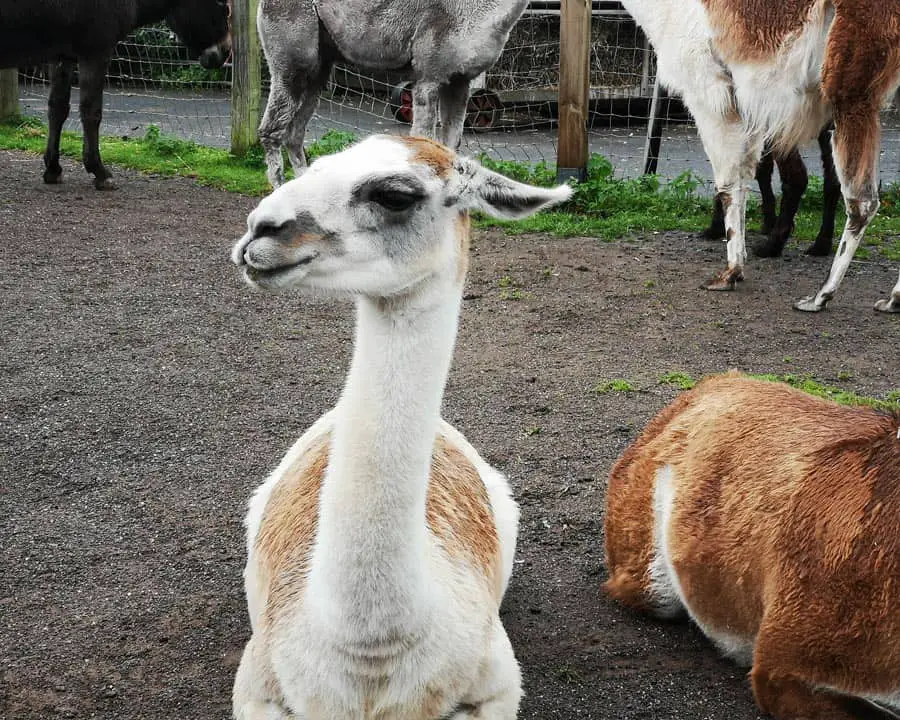 Keeper Talks
The keeper and educational talks are no longer on at the present moment. However, at each location where a talk would have taken place are QR Codes. You just scan them with your phone and can listen to the information at your leisure. I think it's a really good idea as sometimes you can't make talks on time and now you don't have to worry about rushing or planning your day around making the talks.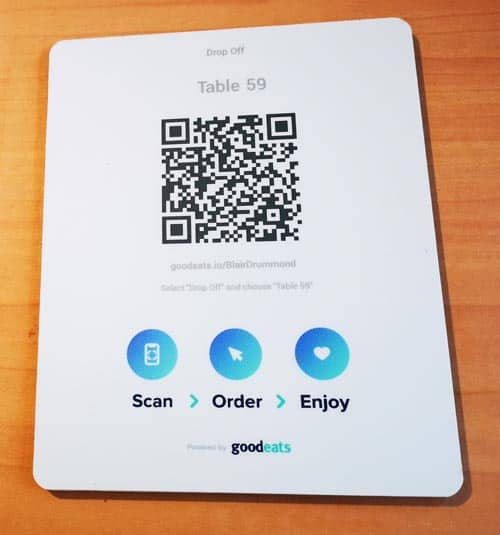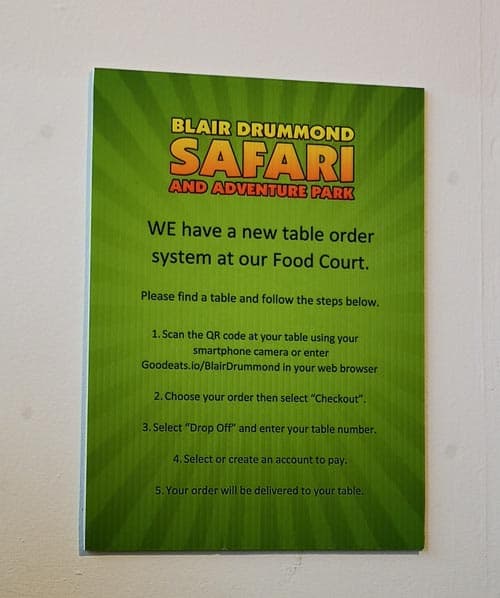 Food court
The main food court near the amusement area you now wait to be seated. Once seated at the table you can scan the QR code on the table and this takes you through to a website to order your food and drinks. After you have selected your food, you then select drop off and enter your table number before proceeding to pay for your order. Food is then bought to your table once it is ready. We had a slight problem with our order, however, there are always hiccups and it is a very good system. I actually prefer this way to the old way of having to queue up. Maybe this new norm isn't so bad after all.
Takeaways
Takeaways from the main food court are pretty much similar apart from the QR code is in a separate section and then you go to your collection point once it is ready.
Allergies
Allergy information can be bought out to you or I phoned up the day before just to go over what would be possible. On the food ordering system, you then put a note in the NOTES box with what meal has the allergy and what the allergy is. Little K loved his food and for a kids meal, it was pretty big!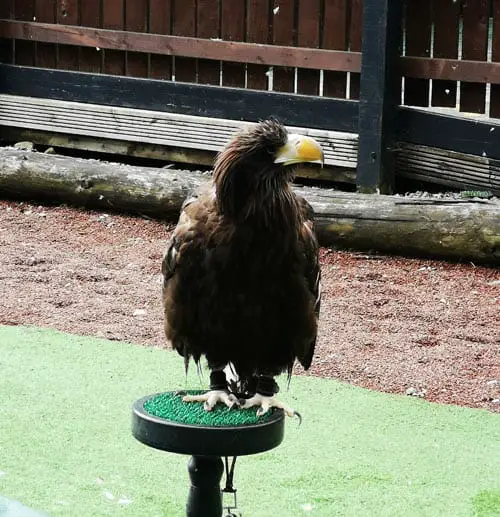 Social distancing
Even though the park has put signs up and footsteps on the floor on where to stand there isn't much they can do when people don't adhere to the rules. Blair Drummond is mostly outside, however, we wore our masks throughout the day as no one else seemed to be socially distancing and even when in the indoor enclosures no one else was wearing a mask/staying 2 metres apart. We felt more comfortable wearing our masks due to the lack of people following the rules and even the boys asked to wear their masks as people were getting too close to them.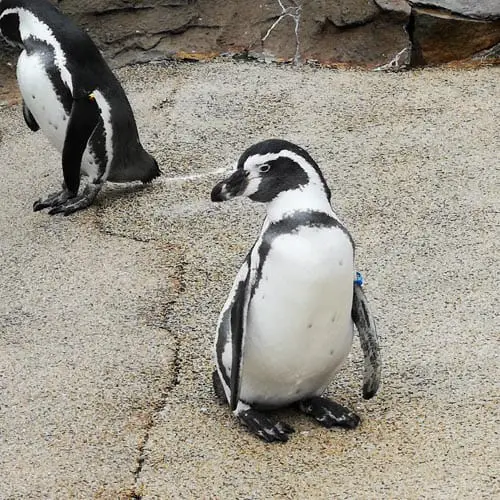 Playpark
The boys played for a little while however again they didn't feel too comfortable with the number of people climbing about. Maybe we are just too cautious but we didn't want to take any risks. There are hand sanitisation stations located in the play park if you wish to clean any of the play equipment before use.
EXTRA READING: Main Attractions at Blair Drummond Safari Park
---
Have you visited Blair Drummond post lockdown? What did you think? Let me know in the comments below.
Pin for later?