West Mill Cottage is a beautiful, self-catering cottage near Berwick upon Tweed. Set on the banks of the River Whiteadder, it is a perfect base for exploring the Scottish Borders and Northumberland with its stunning coastline, dramatic castles, and imposing abbeys. The cottage is a charming semi-detached building with a view of the river from its many picture perfect windows.
The cottage has been renovated to a high standard and it offers superb holiday accommodation for couples, families, and groups of up to 6 people (4 adults and 2 children).
Self Catering Cottage Near Berwick-Upon-Tweed
Location of West Mill Cottage
West Mill self-catering cottage is not even 10 minutes from Berwick-upon-Tweed and yet it is set in such a beautiful setting, that it feels like you are further away from such a big town.
Whether you're escaping for a weekend or planning day trips during your stay then you will have plenty of options. Paxton House is only a short walk from the cottage. The magnificent Berwick-upon-Tweed, with its castles, restaurants and bars, is just ten minutes away. Escape to the coast for an afternoon at one of Northumberland Coast's many castles and deserted beaches — including Holy Island and Bamburgh Castle — or plan a trip any day of the week.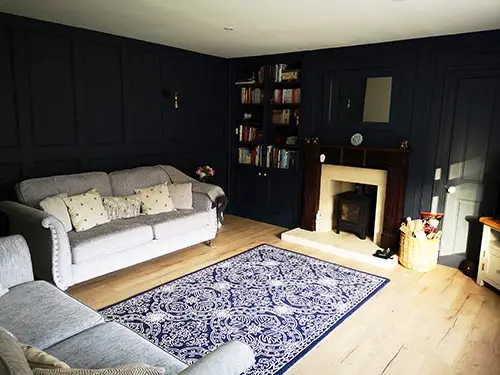 West Mill Cottage – The House
This self-catering cottage has 3 bedrooms, 1 bathroom, kitchen, dining room, living room and downstairs WC/shower room. It was the perfect size for the 5 of us. The two larger bedrooms have nice sized beds (they were so comfy!!) and the smallest bedroom is perfect for children as it has a bunk bed in it which overlooks the garden and river.
The kitchen has everything you need, including all the pots and pans (you sometimes find self-catering accommodation are missing the items you need for cooking). However, you are in luck at West Mill.
The décor is a wonderful mix of old and new and they really do compliment each other so nicely. The owners have done such a wonderful job, and everything has been finished to such a high standard. It is probably one of the nicest self-catering cottages we have ever been to. The boys didn't want to leave.
If you are needing a phone signal then it can be patchy inside the house, which didn't really bother me as I don't get many phone calls anyway! The Wi-Fi is perfect though so you can still sign into that and do video calls if required.
The Grounds
West Mill is surrounded by woodlands and there is also a river running behind the house. It has such a tranquil setting that if you are looking to get away from the hustle and bustle of everyday life then it should be high on your list. There is a garden with plenty of chairs to sit and relax on as well as walks to go exploring right from the front door.
What's Nearby
Within a ten-minute drive, you can visit the Elizabethan walls of Berwick-upon-Tweed, which are well worth the walk around. Or instead of simply walking along Berwick's Elizabethan walls, why not take a stroll through The Lowry Trail that follows in the footsteps of one of the 20th century's most celebrated artists. This trail allows visitors to experience some of the hidden gems of Berwick-upon-Tweed that inspired artist L. S. Lowry to spend his summers in the town from 1936 until his death in 1976.
The world is your oyster! Or at least Northumberland Coast is your oyster, with Holy Island and Bamburgh Castle so close too. There are so many family days out in Northumberland that it's hard to choose where to go during your stay.
On top of days out in Berwick, here are some more family days out ideas are listed below.
Paxton House
Eyemouth
Horse riding
Scottish Borders including Melrose, St Boswells, Jedburgh and more
Walking/hiking
Cycling/mountain biking
Why not check out Sam's blog over at Northeast Family Fun for more fantastic days out ideas.
Would I recommend it?
Yes, I would totally recommend West Mill Cottage. It was the perfect family getaway in the UK for us, especially during the pandemic we are currently in.
The owners were lovely and only next door if you do need anything during your stay. It's close enough to attractions but far enough away too that you can get away from it all and relax. Everything you needed during your stay was provided which is always handy, so you don't need to pack everything including the kitchen sink!!
You can find more information about West Mill Cottage over on the Crabtree & Crabtree Website.
Disclaimer – I was not paid for this post. The post is my own words and thoughts.