Answering that top question on where to stay in Lake Garda can be a huge task as there are so many amazing places around. There are many Lake Garda resorts to choose from including Riva del Garda. However, upon our stay in Lake Garda with kids I found a great place to stay in Lake Garda. That being Peschiera Del Garda, which is in the South.
Peschiera Del Garda is a lovely resort town which also has a port for some of the Lake Garda ferries to come into. I found that Peschiera Del Garda with kids is a great base as it is close to some of the major attractions.
Mini Guide to Peschiera Del Garda With Kids
How To Get To Lake Garda
What makes Lake Garda a great destination is the fact it is easy to get there from multiple destinations. With airports in Verona, Venice and Milan, you are bound to find a flight to Lake Garda that would suit your families needs.
You could also drive from the UK, it would make for a great family road trip.
Another option would be to get a train. Again, it would be multiple trains but would make for a great alternative to your family holiday.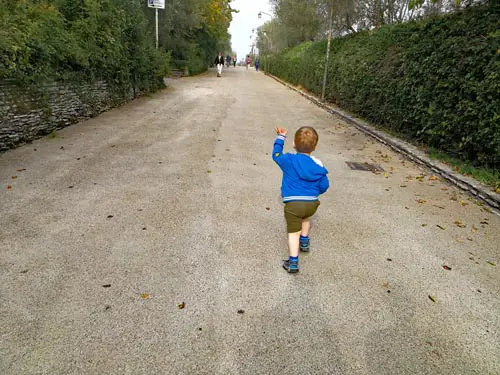 Getting Around Lake Garda
We found Peschiera Del Garda to be the best place to stay in lake garda without a car due to the fact you can use public transport and ferries to get around.
You can easily get to the airports using public transport too. Trains in Italy are super-efficient and great for families to travel on. Remember to stamp your train tickets before you get onto the train to validate them.
Top Things To Do Peschiera Del Garda With Kids
First up in my mini guide to Peschiera Del Garda with kids is the attractions that you can visit. Some require a car, others you can take a shuttle bus or the train to get there. This is what makes Peschiera Del Garda a great base, as you have so many options to get around.
Theme Parks
You have a great choice to choose from, firstly Gardaland which has rides for all ages ranges. From your toddler rides to your big action-packed rides. If you want action-packed adventures then head to Movieland, there you can also find themed restaurants Medieval times and Rockstar. Lastly, there is Canevaworld which is a water-based park.
What makes these theme parks great for families is there are only 5km from Peschiera Del Garda. You also don't really need to have a car to get there as throughout the season there is a full shuttle bus from the Peschiera Del Garda Station. Bonus!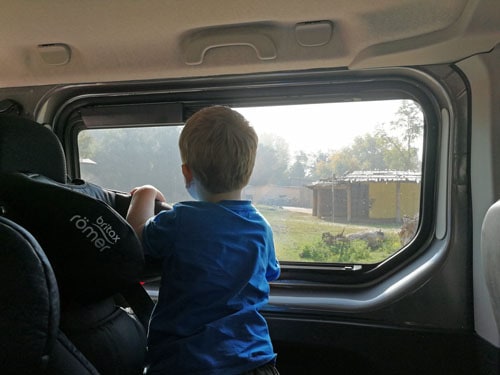 Safari Park
What family holiday can go without a visit to a zoo or a safari park! It can't be just us. At Parco Natura Viva you will be able to drive around the safari park section before parking up and exploring the fauna park on foot. We didn't get around the whole park, so you can really spend a whole family day out here and not be bored.
If you have no car, then take the train to Verona and then use public transport to get there. If you wish to drive around the safari park without a car you need to contact them prior to your visit and ask for their Jeep Service. So no excuses!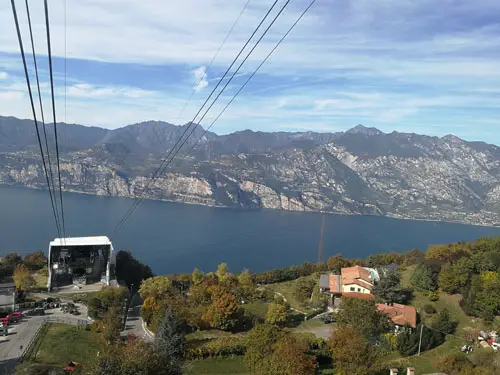 Monte Baldo
This is further away from Peschiera Del Garda but is well worth the visit. You need to make your way to Malcesine, where you can take the cable car (2 in total) to the top of Monte Baldo. At the top, you can take one of the walks, relax and enjoy the views, have a picnic etc. We walked from the top station along to the viewpoint. My youngest who was 2 at the time managed just fine. We stopped a few times to take photos and watch some para-gliders.
It is well worth it if you want good panoramic views of Lake Garda. The cable cars are also great fun for the kids to enjoy (one of them turns 360 degrees!).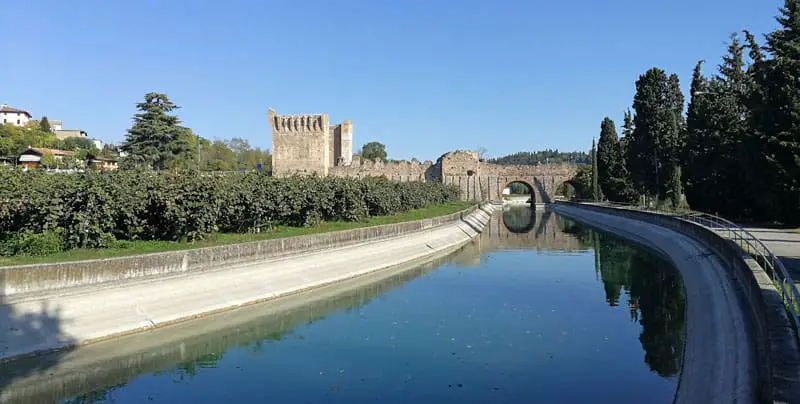 Pretty Towns
As well as exploring Peschiera Del Garda, you could travel to Lazise, Garda, Sirmione or even Desenzano del Garda, all of which are really pretty to walk around and spend a couple of hours at. These are the towns we visited but there are plenty of other picturesque towns and villages around Peschiera Del Garda that you could get to by public transport or by car to go explore.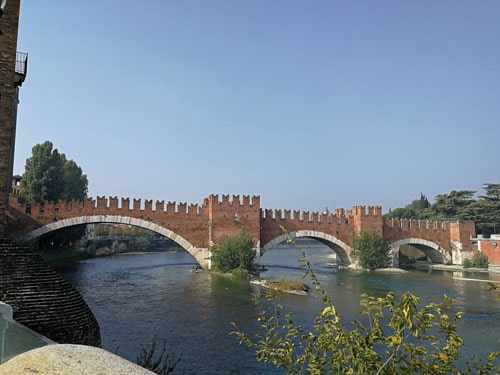 Verona
Save the stress of finding parking in Verona and take the train directly to Verona from Peschiera Del Garda. It saves so much time and its only 15 mins to get there. From the train station is about a 20-25 min walk (that was toddler speed, if you have older kids then it more than likely won't take as long) to get to the main tourist attractions within Verona.
You can check train times on the Tren Italia Website.
Further Reading – Day Trip To Verona With Kids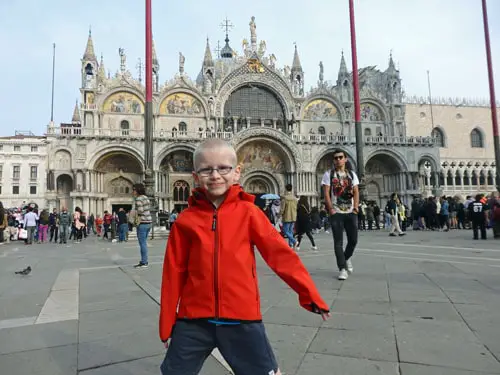 Further afield – Venice
Venice is not too far away. Depending on traffic you could drive there and back within a day, or another option would be to take the train. Again, you can find timetables to Venice via the Tren Italia website linked above.
You will more than likely not get around all the sights in one day. However, you could read my Venice post below to see what we got up to when we visited Venice with Kids in one day.
It is such a beautiful place to explore and even try getting lost in the narrow alleyways was great in finding hidden gems.
Remember having a pram would be a hindrance, so if you have young children make sure you bring a baby carrier/toddler carrier to save their legs from getting tired.
Further Reading – Day Trip To Venice With Kids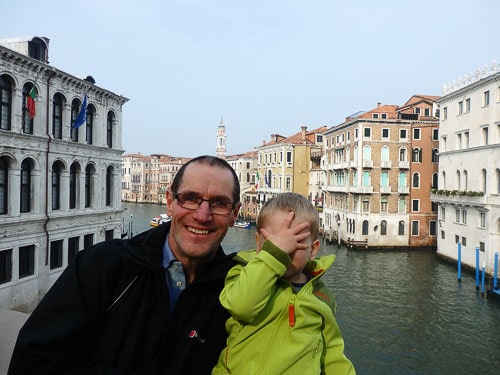 This is only a few places to visit in Lake Garda. I have personally visited pretty much every one of the above so I know families will love these. A great family day out is only going to be epic if it works for families! We have tried and tested them.
You can also check out my post below which includes other attractions to do at Lake Garda
Further Reading – Top 7 Attractions In Lake Garda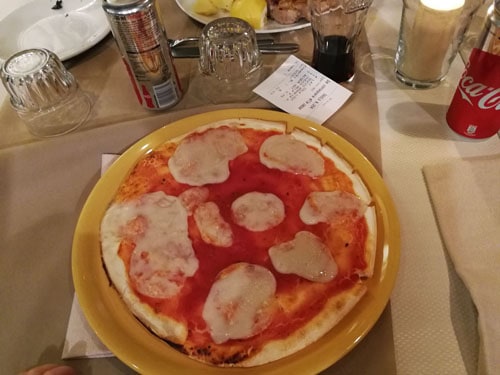 Places to Eat In Peschiera Del Garda
You are spoilt for choice if you wish to eat out at Peschiera Del Garda. Numerous restaurants ranging from budget to the more expensive restaurants.
We only ate at Bella Vista when we visited Peschiera Del Garda due to it being recommended for being able to suit my son's dietary needs; gluten and milk free. It was great food and the staff were great, so I would highly recommend it. My youngest son ate pizza for the first time and he was so delighted that he was able to eat pizza!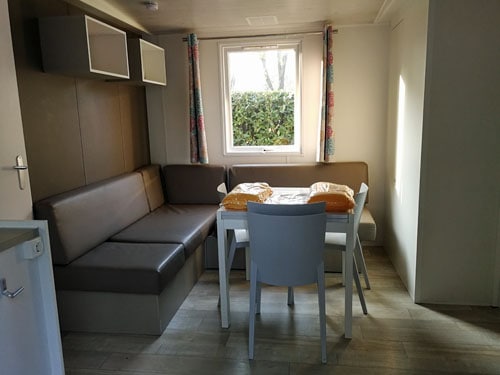 Places to Stay in Peschiera Del Garda
Choosing the best place to stay in Lake Garda all depends on the type of holiday you are after and what you like as a family. So then how do you decide where to stay in Lake Garda? There are plenty of Lake Garda hotels to choose from, but there are also a number of camping sites where you can stay in a caravan, tent or even a motorhome. You could also rent a child-friendly villa or apartment. The choices are endless.
We stayed at Camping Bella Italia with Canvas Holidays. Our Caravan was lovely and in good condition. As we were there at the end of the season we didn't try out many of the facilities and personally, I found it very noisy due to hundreds of children on some sort of football camp.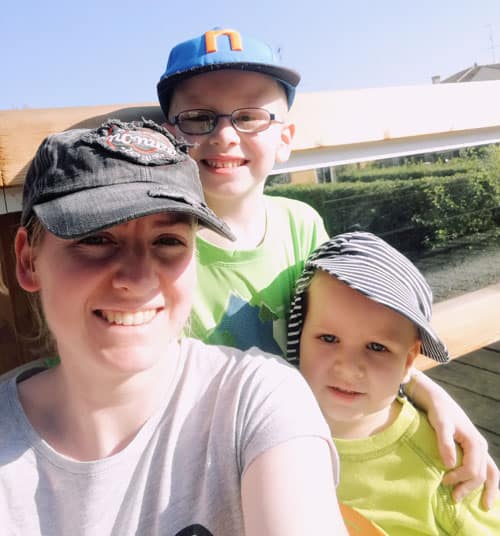 Family Friendly Lake Garda
Overall, I found Lake Garda for families to be the perfect destination for a family holiday. Perfect location for relaxing, perfect for exploring and perfect for adventure.
An Italian Lakes family holiday is a must for your bucket list.
Have you been to Lake Garda with kids before? Did you think it was the perfect family holiday destination?